While we wait for the temperature to drop, now is a good time to start thinking about prepping our homes for Fall. Woven Wood Shades are the natural choice when you're sprucing up your rooms for the upcoming change of seasons. Crafted from natural materials into a rustic, yet refined shade, make Woven Wood Shades extremely versatile, complementing the function and decorative style of each room. Options and applications are diverse with these stylish window treatments, creating the look your window deserves. Since Woven Woods are made from natural occurring materials such as jute, bamboo, reeds and grasses, your windows can be eco-friendly, but stylish, as these materials are woven into a window covering that is resonant with texture.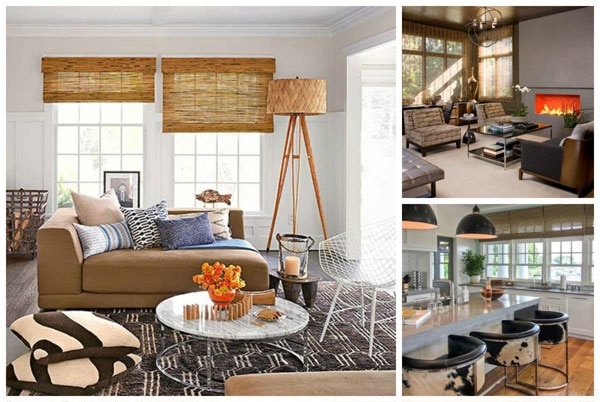 Liners
Most Woven Wood Shades will preserve a bit of the view outside and let some light in. If this is not the look you're hoping for, be sure to add a liner option. Usually available in a light filtering or blackout version, this is another personal selection that will make the Woven Wood Shades fit the particular needs of each room. Light filtering liners present a more uniform appearance to the shade when the sun is shining brightly through the variety of textures in these blinds. Room darkening or blackout liners are, of course, ideal for bedrooms or media rooms as most of the light is prevented from trickling in.

Top Down Bottom Up
The Top Down Bottom Up feature offers an additional layer of light control. This option is perfect for bathrooms or for rooms in front of the house where you'd prefer to maintain privacy, but would like to let some light filter in at the same time. Another application for this feature is to obscure a less than perfect view. The Top Down Bottom Up feature can allow you to enjoy the crisp Fall sunshine and blue sky while de-emphasizing the not so stellar scenery.

Edge Binding
Adding edge binding to Woven Wood Shades gives them a truly tailored look. It's like finding the perfect scarf that completes your Fall outfits. The finishing touch to an already custom product, binding can be selected in a contrasting color or one that blends in with the shade material.

Unique Features
Woven Woods aren't just for your standard windows as the material is also available in Panel Track Blinds and as Drapery. These two applications can cover a much larger window or door than standard sizes are able to outfit. This is a tremendous solution in a room with with oversized windows or a sliding glass door or a room divider. Don't overlook the chance to design with these spectacular rustic, natural shades in large areas of your home.
For Panel Tracks

For Oversized Windows

For Drapery
As with any other shade, the addition of Drapery or Drapery Panels creates a professionally styled look for your windows. Layering treatments never fails to add an extra dimension to a well-designed room. Here are a few of my favorite Woven Wood and Drapery pairings with a few Fall accessories added just for fun.

With these new textured, organic Woven Wood Blinds and a few decorative accessories, you are just a beat away from a fabulous Fall room or really a room for any season.