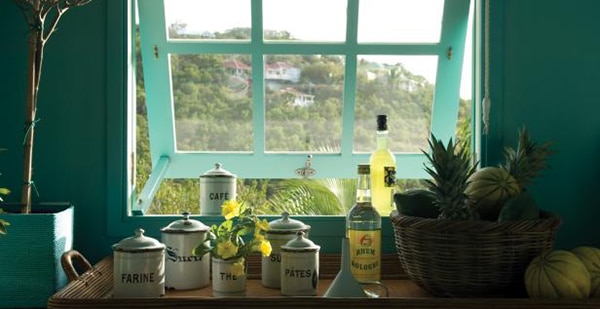 As for me, spring is magical. What was once barren is emblazoned with color and life. As the poet, e.e. cummings, reminds us in his poem, "just spring"… "spring is mud luscious" and "the world is puddle wonderful," let's rejoice at this charmed season.  How does spring look from your windows?  Even if the chill is still sweeping through your home and the buds are barely unfurling and only a few robins or red-winged blackbirds are nesting in the trees, take a few moments and muse on the green of spring.
Triple Greens
Gardening, greenery and growth are the triple greens that shout spring and you don't have to be a "full-on gardener" to bestow spring to your windows. Just a few pots or a planter box will instantly fulfill your spring garden dreams. The cool nights and temperate days are perfect for pansies, geraniums, poppies, or any of the dazzling spring bulbs that the garden center has already prepared for you, ready to shoot up a burst of color. A riot of spring blooms will entice you to easily design a spectacular spring window display. Although many spring blooms are ephemeral, their striking colors and alluring shapes make up for the brevity of their beauty. Spring open your windows and marvel at the view.
Green Window Treatments
You might need to design your own spring windows from the inside if whatever is lurking outside your window is uninspiring and must be obscured. Spring green window treatments may be just what you are looking for to give your home that "green lovin' feeling.' Green window coverings instantly freshen up any space and can be elegant, simple or whimsical depending on the style you choose. Roller blinds and cellular shades are slim and fit snugly in your window and our exclusive solid roller or cellular in Spring Moss is the perfect crisp pop for a kitchen or any lively room. For a patterned flower look, choose from our Expressions Collection, Spring Vine in Moss.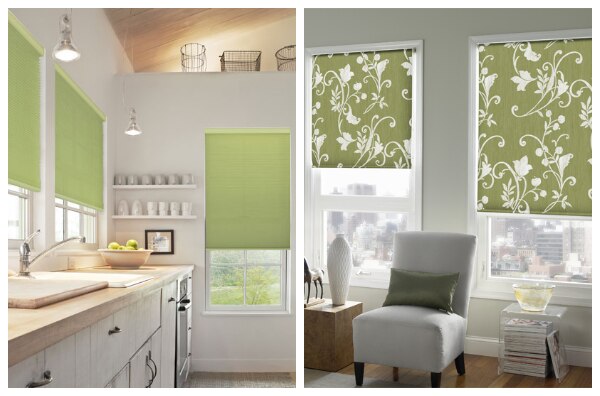 I am also partial to our Blindsgalore Boutique roller designs in Shell Lime, Tide Citrus Green, Tide Sandpipe and a trendy trellis pattern in Fern.
For a more relaxed but graceful style, drapery panels and roman blinds offer the lightness that spring announces. A subtle leaf pattern in Hasting Leaf not only greens up a space but heightens the flair to any window. A plain green drapery is another modern and fresh choice.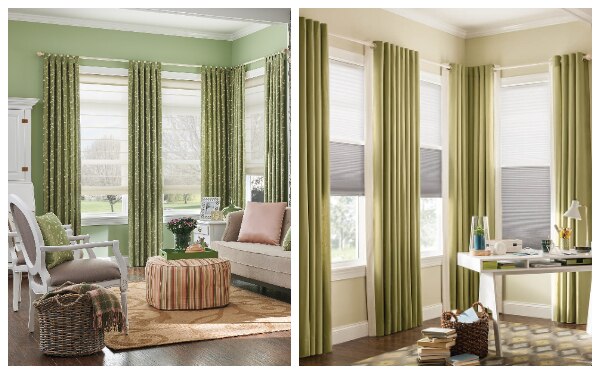 To punch up a snug space, a Spring Green roman shade surely paints a spring feeling.
However, you spring up your windows, our green hues will incite a spring fling in your home.
Green Glittering Nights
Don't think that twinkling lights are reserved for winter. I decorate with outdoor lights through all the seasons. Brighten up the spring night outside your windows with mason jar lights, lanterns, candles or even that lonely discarded string of lights that never made the December show. Wrap the trunks of trees, outline your patio umbrellas or drip fairy lights down the eaves of the outdoor deck.Outdoor lights give you double the pleasure as you can enjoy the light show from inside or in your backyard as you wind down at the end of the day. Seek solace as the sun sets on your new spring green view as a sparkling evening restores your soul.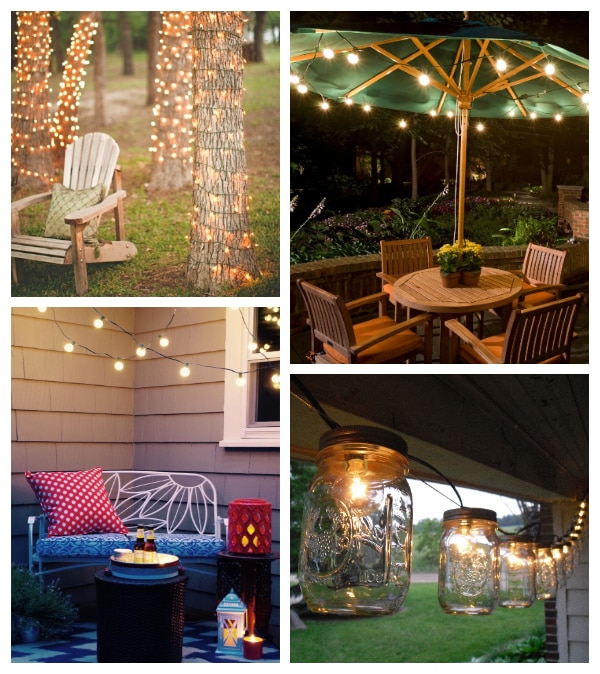 Let a green scene be the peaceful and hopeful antidote to the daily ruckus of our lives.
Featured Image Source: Filli Boya