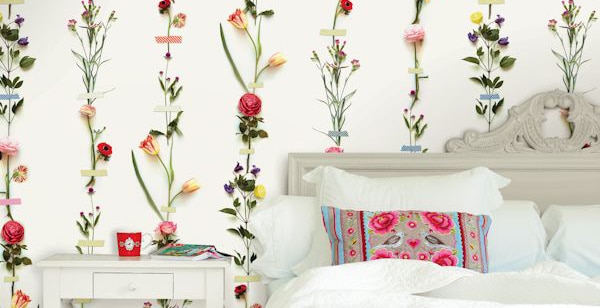 Floral crazes come and go, from dried flowers or grasses to oversized silk floral arrangements to the now popular succulent craze, an ode to minimalism and sharp structure. For me, the beauty of fresh brilliant blooms, whether freshly picked or snagged at the local farmer's market, can never be duplicated, but I am quickly warming up to new and modern floral prints for the home that are making an impressive decor statement today. No longer the fussy, dowdy and dated patterns that might have graced your grandmother's living room, but lively, outrageous blooms or intricate botanical prints are fresh and uplifting elements as we surround ourselves with the beauty of nature at home. Here are 5 places where you can create an ocean of color as you seek to add a touch of floral to your living space.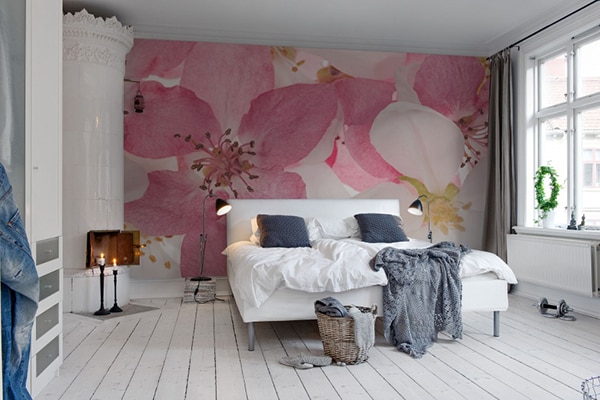 Walls
One word. Wallpaper. Although the design world took about a 20 year divergence from wallpaper as a staple feature, this classic application has a fresh face with a new attitude that demands we give it another chance. These new floral patterned wallpapers grace the wall in a smattering of oversized, lush blooms in both dark and light. Enrobe a half bath in floor to ceiling wallpaper, featuring bold peonies or teacup roses clustered on a black background to create a room of floral wonder. Paper one wall in a utilitarian, industrial space for dramatic effect or cover every wall to transform a basic bedroom into a secret garden.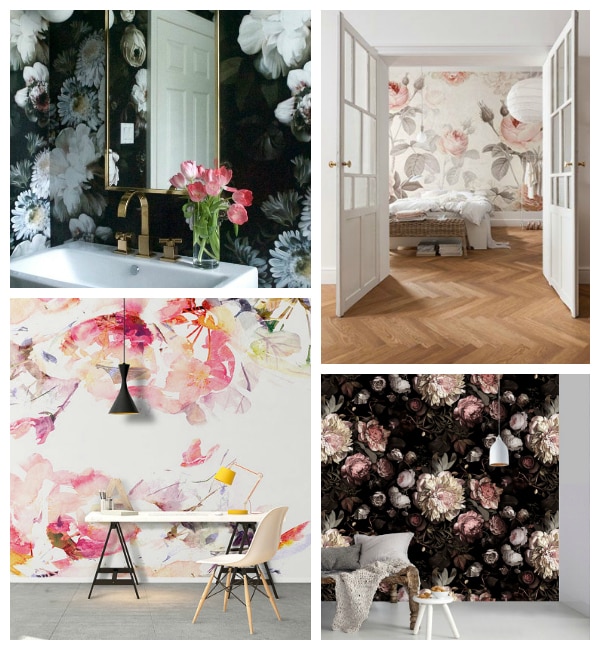 Wall decals continue to be popular and the tried and true gallery wall is an ideal candidate to inject a bit of floral whimsy into your space. Introduce a new take on the feature wall by adding full, bold color floral decals to the corner of a room instead of a covering the entire wall.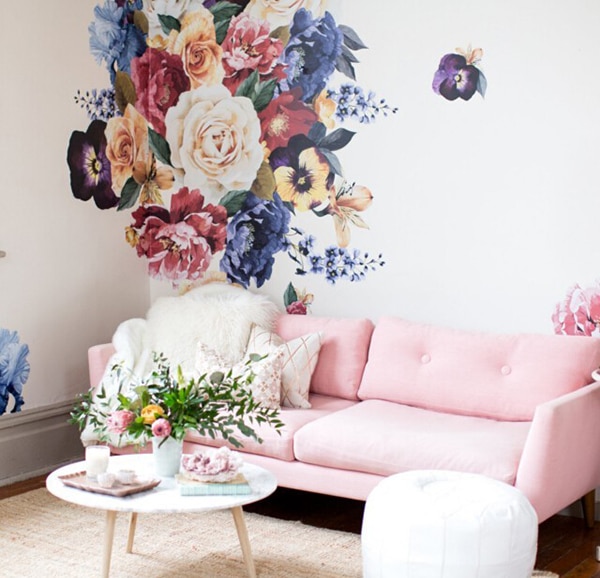 Select interesting, unique, and slightly opposing floral prints and create a gallery wall with similar frames to tie it all together and create a feature wall worthy of awe and conversation. Vintage inspired botanical prints are also a smart choice to showcase florals, plants, and herbs.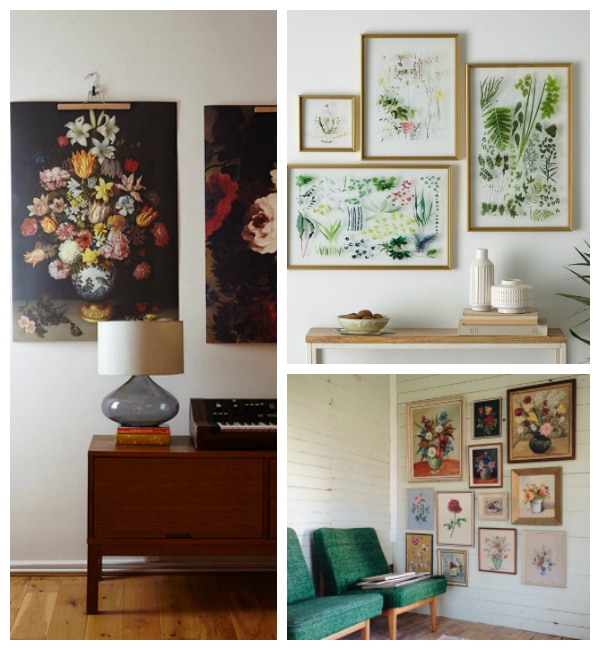 Windows
One of the easiest ways to impact the vibe of a room is to replace the window treatments. Don't let measuring distract you as choosing new window treatments is child's play compared to measuring for flooring or finding the perfect seating. Multi-hued watercolor floral drapes accompanying a nearly neutral, light and bright bedroom injects a fun, modern romantic style. Heavily saturated window treatments in abstract petals add to the sophistication of a midnight conversation space.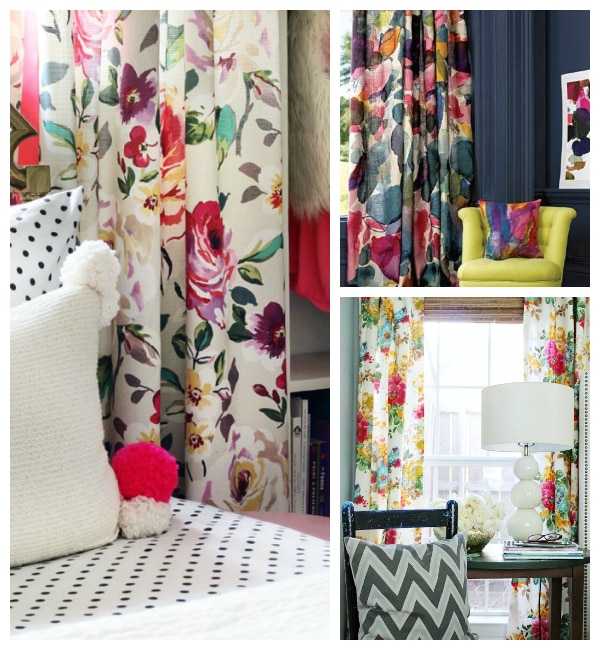 Opting for expressive, eye-catching roman shades does require a little extra work with measuring, remeasuring, and planning, but is well worth the investment for the overall impact they can make. I am particularly fond of our Blindsgalore Designer Roman Shades in Wildflower Pink Thistle. Those brilliant pink brushstroke blooms appear fancifully painted on a crisp white background and emulate the same strong statement of a feature wall.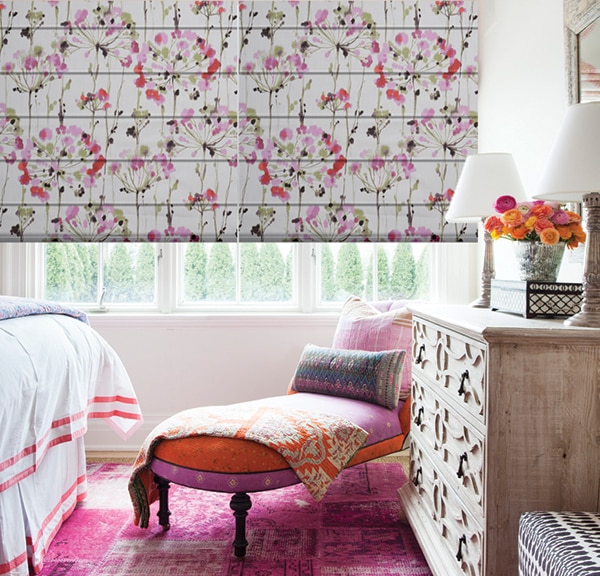 Furniture
That floral couch – that dreaded floral couch comes back to haunt me when broaching the topic of floral furniture. Oh, those pastel shades of pink and blue with pleated arms and a skirted base! Don't get me wrong; it was a sign of the times and a pretty hip couch. I just never warmed up to it. Now the floral pattern pieces of today, those I can get behind. Botanical prints and bold colors, moody dark foundations, and unconventional statement pieces make a strong case for florals. Adding a single piece to your space is certain to entertain the eye and spark interest. Liven up the guest room with a dresser restored with new paint and botanical decoupaged drawers.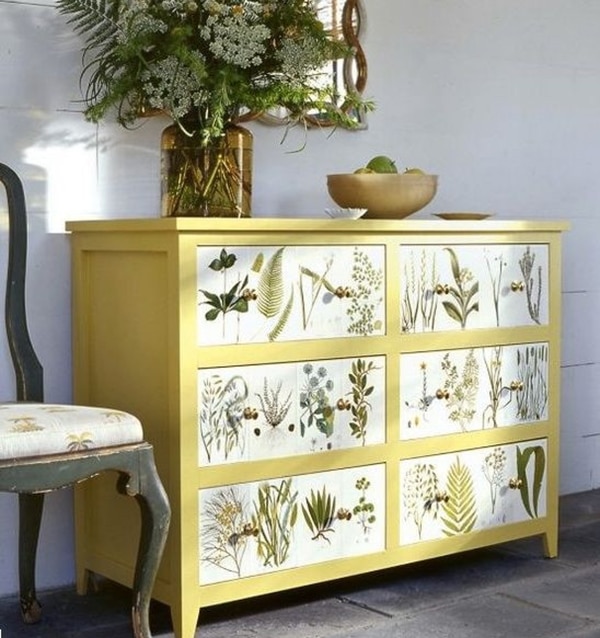 Bedeck a simply designed room with layers of floral patterns; on chairs, pillows, rugs. Finally the couch, considered a major staple of any living space, dressed back to front in what is lovingly termed, "granny floral", will assuredly raise the style bar in any living room.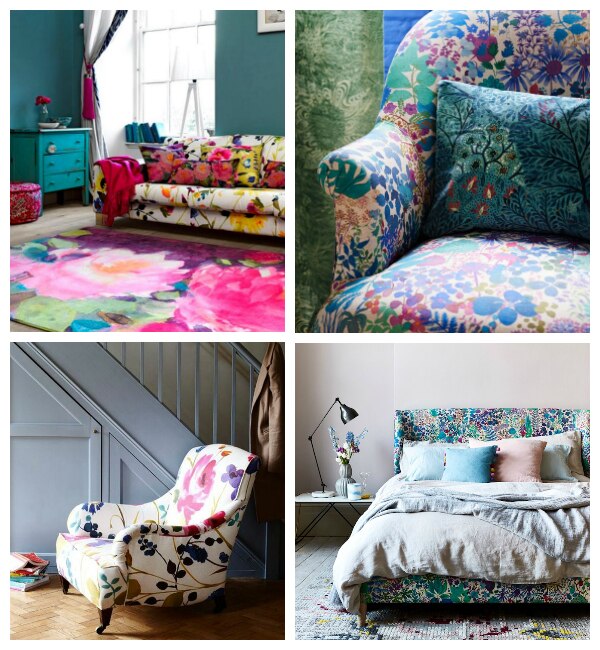 Floor
The obvious choice for floral application when speaking of floors would be rugs and they are a strong contender here, but there are many other options to choose from if you are willing to put in some time and don the creativity cap.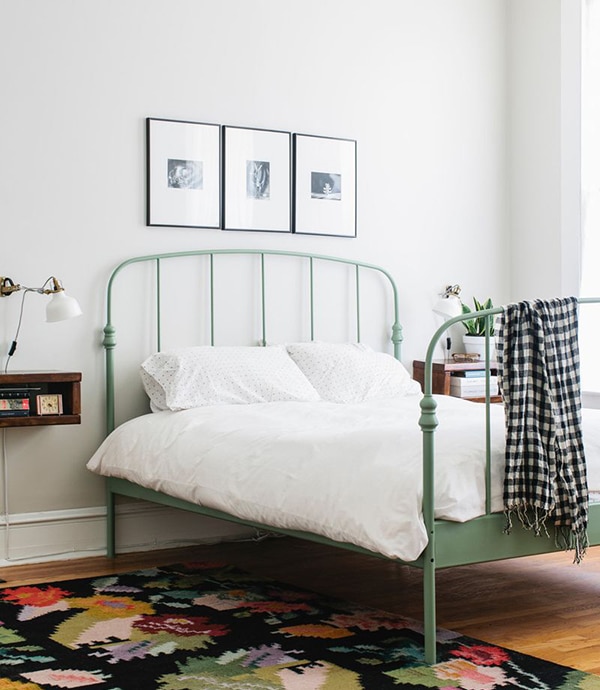 The market for floor tiles has been booming for a few years now and almost any application works; walls, floors, backsplashes, shower surrounds. You name it and it is out there. Although floral options are limited in pattern, they do exist if you are willing to search. Most patterns will be reminiscent of daisies and mums, possibly vintage or vintage inspired, and primarily abstract with more of a flower or star shape. A more traditional, yet whimsical, approach is mosaic tiles. They take a LOT of preparation, planning, time, and patience, but the results are breathtaking and will be the center of many conversations and floor obsessed photos.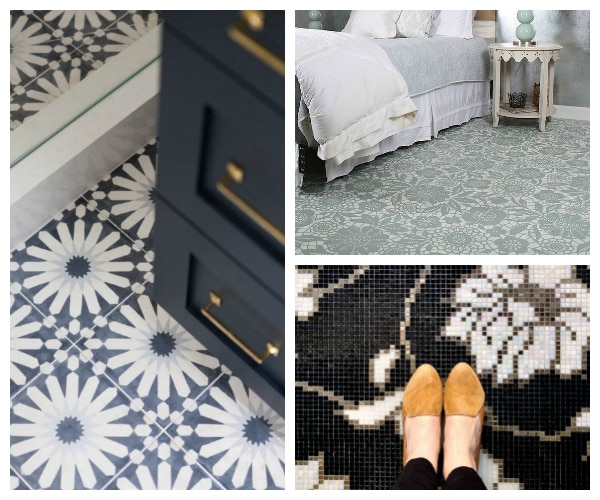 Fresh
Fresh Flowers are my #1 favorite way to add floral inspiration into a home. Colorful blossoms can automatically transform any space and the way you feel in it. Luscious flowers brighten up a room and are always different, making them in-a-sense new, which appeases my incessant need for change.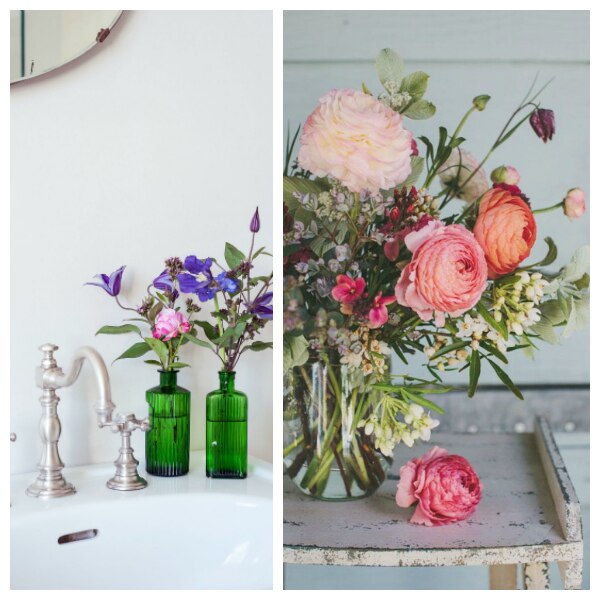 I do adore a compact arrangement on the bedside table, vintage bottles with single sprays on a pedestal sink, and a robust array on the entryway table. A single varietal bouquet is always chic, but something can also be said about a riotous display of colors and myriad stems. Of course, there is always the fallback vase on the dining room table or kitchen island.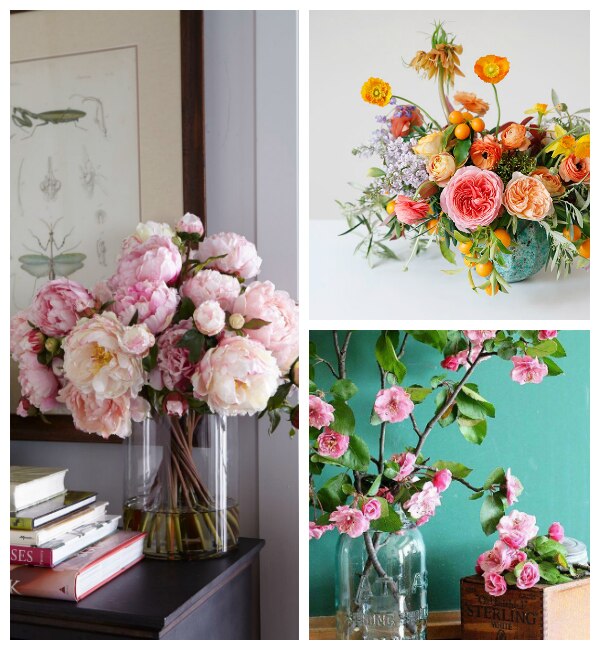 Florals don't have to live in the past when vintage style and influence holds its weight with many types of décor. Inject a little flower power into your life and watch your style bloom.