We all know that Valentine's Day is celebrated in February.  I love decorating my home for each season, but when February comes around I find it's not only cupids and hearts that can put you in the mood to celebrate!
Don't get me wrong, hearts are good, but do not over saturate your home.  You don't want it to look like the greeting card aisle!  I like finding hearts displayed in less obvious ways.

Of course it wouldn't seem like Valentine's Day without reds and pinks.  You can subtly add splashes of these bright colors without your whole room screaming, "BE MINE!"

Adding colorful accessories in your kitchen and bathroom will really make your home festive.
Be creative with DIY personal touches.  Quick DIY tip:  Change the filler within your hurricane vases to match the seasons.   In the fall, I fill mine with small ears of dried corn and in winter, with small pine cones.  February is perfect for candy hearts or red and pink sprinkles.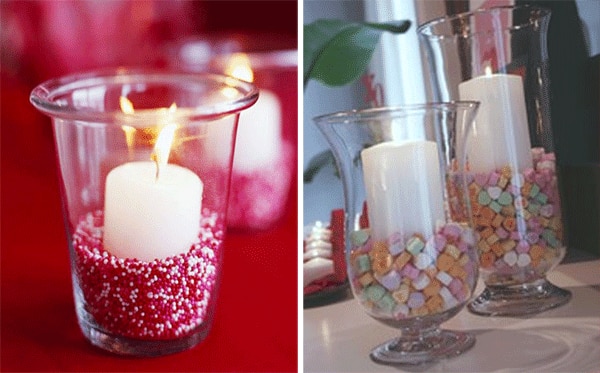 Don't think you need to rely on traditional shapes and colors to make your home Valentine's ready.  Make your own collage or abstract art to remind you that love is in the air.

With a few items and touches, you can turn your home into something simply sweet!