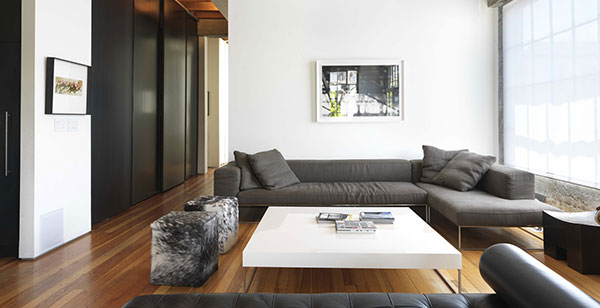 Everyone loves gray! What once was considered a drab and gloomy color is now the most popular neutral in the home improvement world. Although its come up has been years in the making, almost 10 to be precise, it has completely saturated the market as the color of choice. It's no real surprise that it's so in demand. Gray is the color of intellect and wisdom, is sleek, dignified, and if the last decade is any indicator, a classic. It is the ideal chameleon and allows more freedom to add a singular pop of color, saturate with a wealth of color, or forego any color altogether.
The color gray, in all its shades, has quickly become a staple in the land of neutrals, outpacing even white for interior design.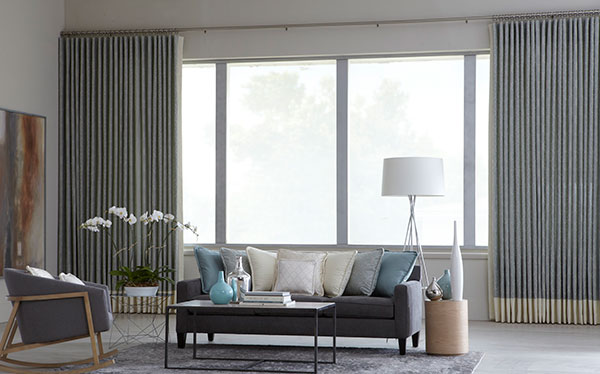 Shades of gray available in the home improvement world have become virtually limitless. What initially began as an interior paint trend has bled into every aspect of the modern home. Deciding on integrating it begins with understanding what goals are in play with the desired mood for your space. Are you aiming for cool and relaxing or warm and inviting? Would you like gray to play the lead or perform as a background actor? Do you prefer just one shade or layered definition? Once you have determined your overall goal, it's time to pick your application.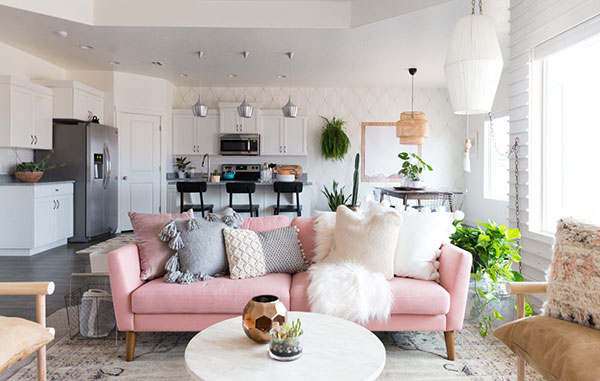 Paint in Grays
The most common and instinctual application for gray in the home is paint. It is a quick and inexpensive way to mix it up and change the mood and overall feel of your space. To determine what type of gray is right for you, consider your lighting and tonal limitations. The color is essentially divided into cool and warm tones with prominent undertones that influence overall color; blue, green, brown, and purple. The most popular grays in the world of walls (and ceilings) tend to be hued in blues and browns. While blue based grays are the most common choice upon first glance, they can quickly turn cold and uninviting when not balanced properly or without a good amount of natural light. With the addition of natural materials to add warmth or polished metallics and white to calm and relax a cool room, blue based grays find a natural rhythm in the home. Brown based greys, think shades of greige, are also quite popular due to their laid back nature and easy ability to be a unifying source for most spaces.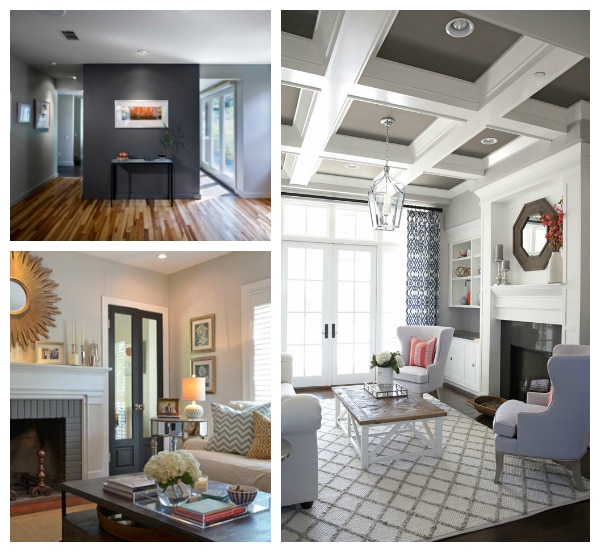 The less popular siblings in the color family fall to green and purple based grays. These tones tend to take more work to ease onto walls and can quickly morph into something muddy or uninspired as the sun rises and sets, but are quite lovely when married with complimentary colors and finishes. More care should be taken when falling in love with a gray based in these tones.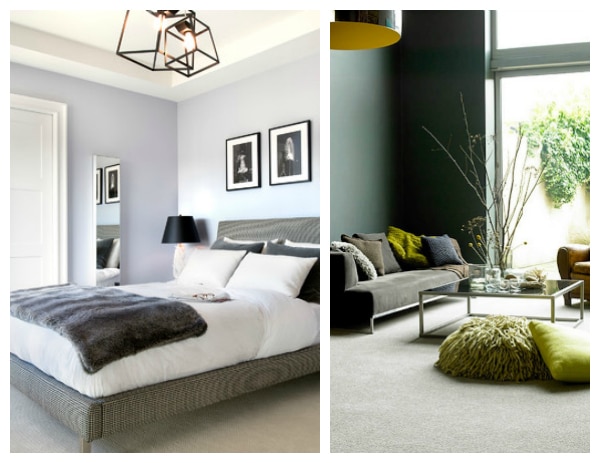 Thankfully, there are a combined 600+ gray-toned paint options available from the prominent paint providers of Sherwin Williams, Valspar, Behr, and Benjamin Moore.
Gray Accents
Upon realizing the growing popularity, home décor was quick to follow the leader. Step into any furniture store or purveyor of accents and you will be swathed in a rainbow of gray. Any option will do really. The lasting power of neutrals makes furnishings an obvious choice to easily integrate gray to your space. An offering of textured seating or a matte media console can quickly modernize a living room in need of revival.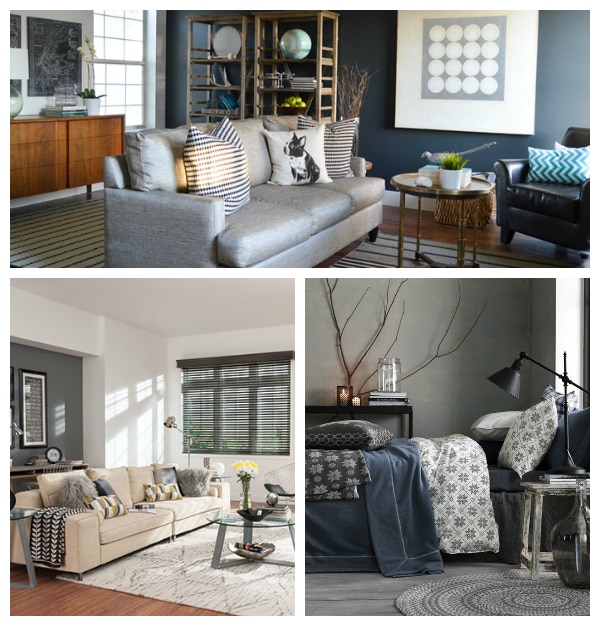 Gray bedding and a moody multi-tonal rug influences a bedroom worth curling up in. And for those not wanting to do a full dip, thinking small can make a pretty big impact with pillows, vases, and wall décor. If you are like me and have a love affair with the color, fully saturate your space in hues of this ultimate middle man. If you love gray like I do, wander through our Pinterest page on this soothing color.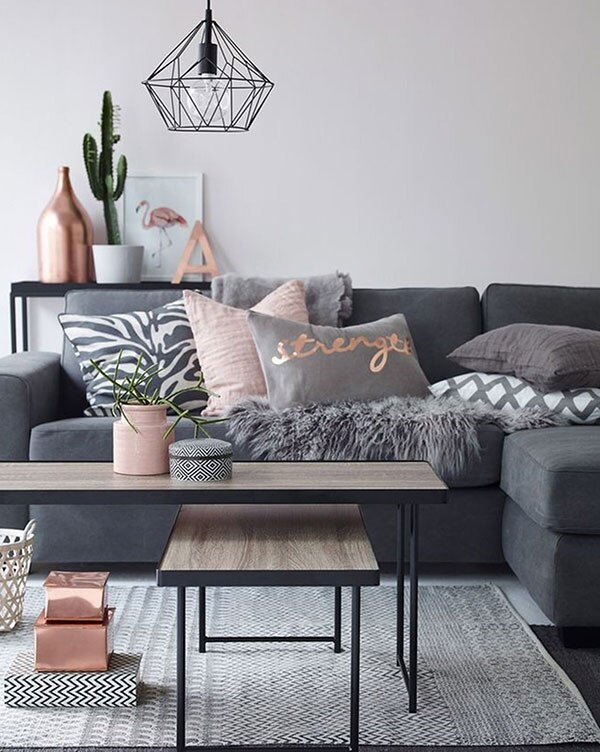 Gray Finishes
Given kitchens and bathrooms impact on the home and the traffic that both receive, it is a bit surprising that it took as long as it did for gray to permeate the scene. Kitchen cabinets and countertops, backsplashes and shower surrounds, the options are limited only by the imagination with all the finishes available to deck out a powder room or chef's dream kitchen.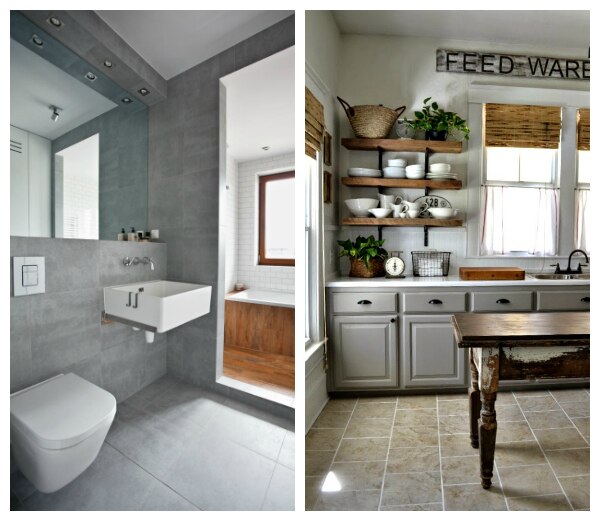 The material options available are more diverse than ever before and can lead to a jaw dropping paradise. My particular favorite installation is a waterfall finish on kitchen islands and countertop endcaps cut from concrete, quartz, or marble resin.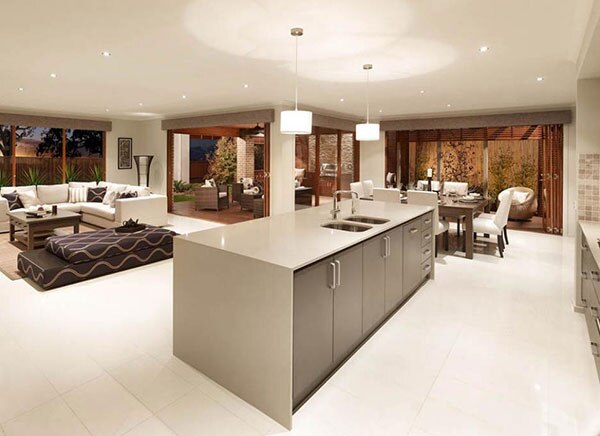 Gray Window Treatments

The most recent development for gray is the saturation of the world of windows. Watch out white, gray is quickly becoming the new neutral in window treatments and I, for one, couldn't be more overjoyed. It's about time! From the pleated folds of cellular shades to the steadfast vanes of wood and faux wood blinds, gray has made its popularity known. How better to add a level of sophistication to a classically clean space then dressing the windows in soft, feathery grays? Or creating a whole lot of dramatic flair with floor to ceiling drapery in deep, moody charcoal? Here are a few of my favorite Blindsgalore gray window treatment ideas.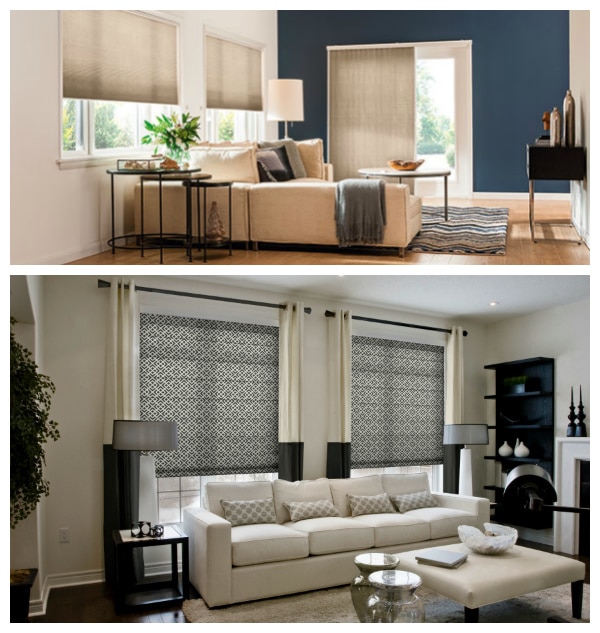 It's been almost 10 years since gray first made its interiors debut and showed the first signs of becoming a decorating heavyweight. There are little to no signs of its popularity slowing. Here's to 10 more years! Hurray for gray!!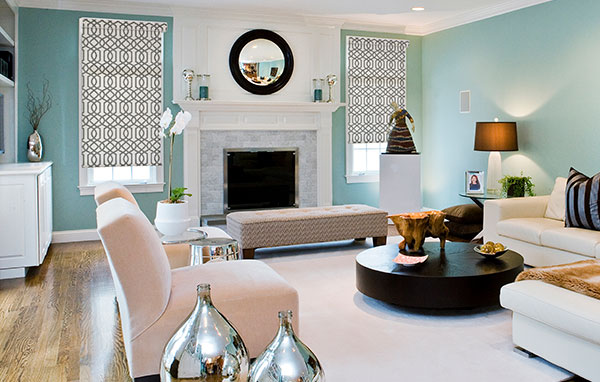 Featured Image: Dwell