Don't lump the serene color of blush pink into your mindset of Barbie dolls, bright pink nail polish or sugar sweet bubblegum. Blush pink is a soft pale hue that is one of the happiest colors of nature that veers toward a neutral color to be styled for a natural and contemporary look. Think of blush as the insides of seashells, pale peonies and roses and the graceful swirl of a morning sunrise. Don't you already feel happy? Blush is another comfort color to be used in those places where you want to relax and wind down from your many hubs of activity.
Let's "pink differently" about blush.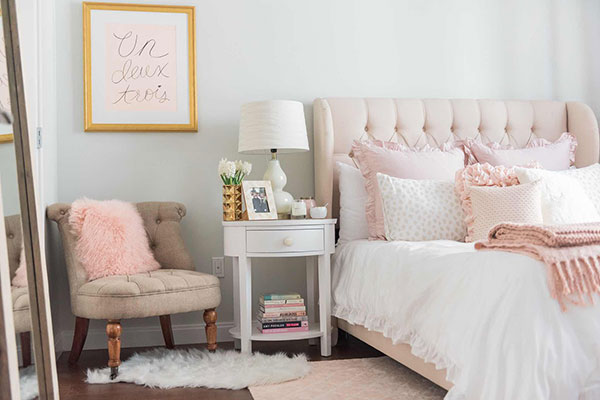 Blush (Bless) The Home
Blush is such a barely-there hue that it can fit in any room. How about two soft pink upholstered chairs or a cushy velvet couch in the living room- even more spectacular against muted gray walls. My favorite palette pairs for blush are also the silvery greens and warm creamy blues. Blush bathrooms calm each morning with a softly patterned wallpaper to coordinate with lush towels as you freshen up to take on the day. Bedrooms naturally styled in blush create a sanctuary at the end of the day where you can effortlessly "de-stress," surrounded with a blush pom-pom throw and all the pink peaceful accents you can crowd on to your bed.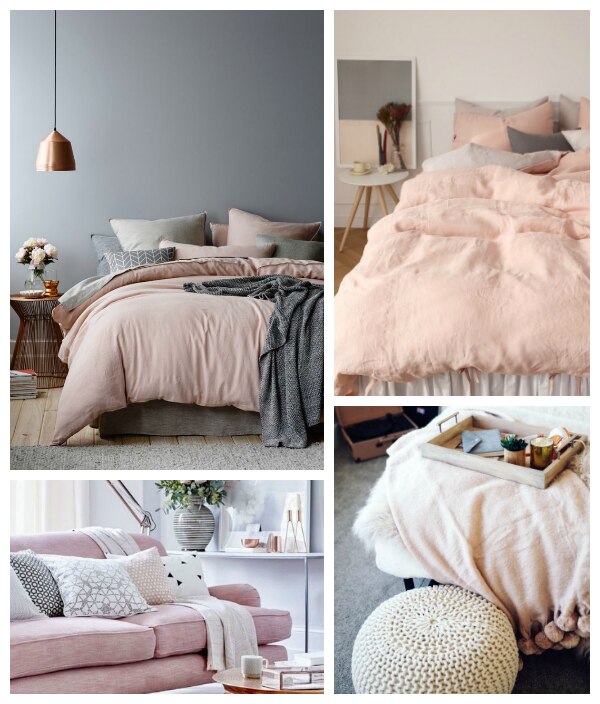 A blissful pink painted accent wall can create a focal point to reinforce a simple elegance or present an unexpected bit of sophistication. As a trendy color, blush pink touches, whether in a faux fur pillow or gingham blanket or a pastel striped DIY dresser to an abstract painting, instantly perk (pink) up any room. A pink lamp or light fixture add another easy pink hint. Blush pink is never bold or boisterous but can softly creep into your home and heart.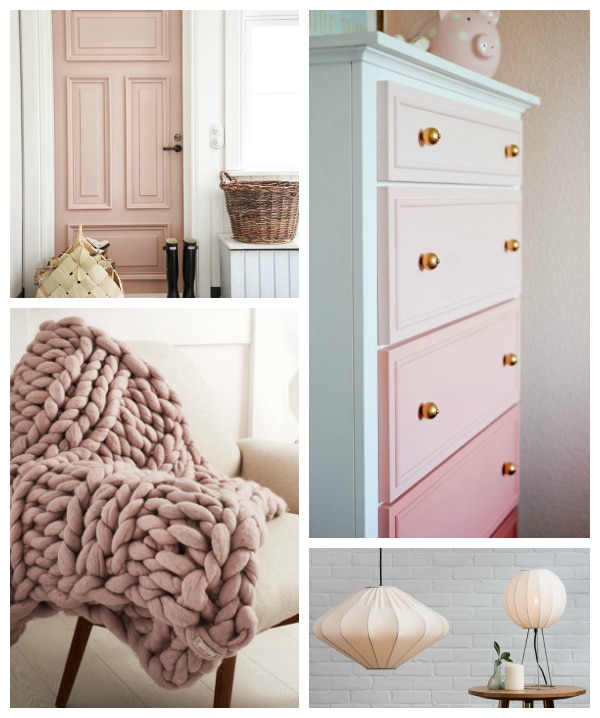 Just Blush Windows
White or off white window treatments still lead as the most favored color for covering windows, but blush is so invitingly pale and muted, it is quickly enticing many of us to crush on this dusty shade. With just a glimmer of shine, as the light flows through these blush window treatments, imagine the warm glow filtering in through your home.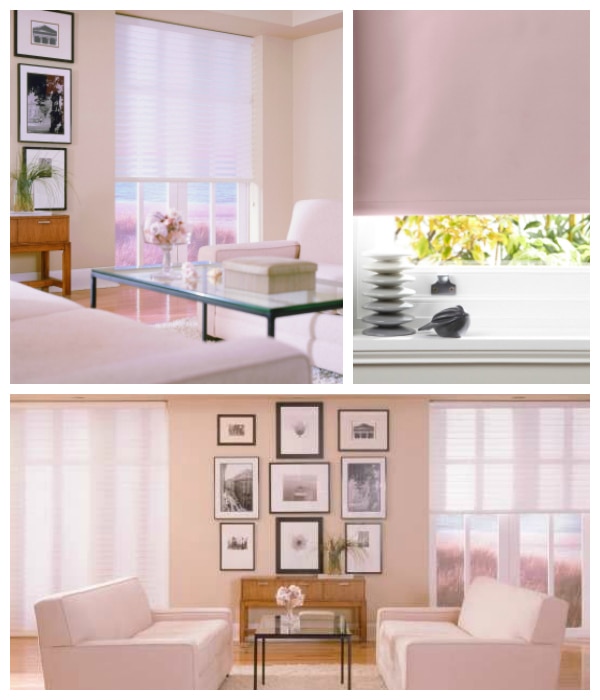 One of my favorite blush patterns is our Blindsgalore Boutique Palisade Rose in a scrolling lattice pattern which is available as a roman shade or in custom drapery. A roller shade in the palest of pale blush, Arcadia Blush, is just like cotton candy on your windows and our Perch Pink Expression Roller Shade is just as lovely. Another graceful hue, Orchid, in a Gallery Cellular Shade, flows up and down on a breath of fresh air. For those on the adventurous side of blush, our Simply Chic Cellular Shade in Bubblegum is a fun pink pattern of whimsical circles that adds flair to your girl's bedroom. If you are longing to try a bit of blush, did you know that the Simple-Fit Pop-In Cellular Shade seamlessly fits into any window with a tension rod that requires no holes, no screwdriver- just pop it in. Cherry Blossom is our blush color to order for the simplest of light pink window treatments! What could be easier?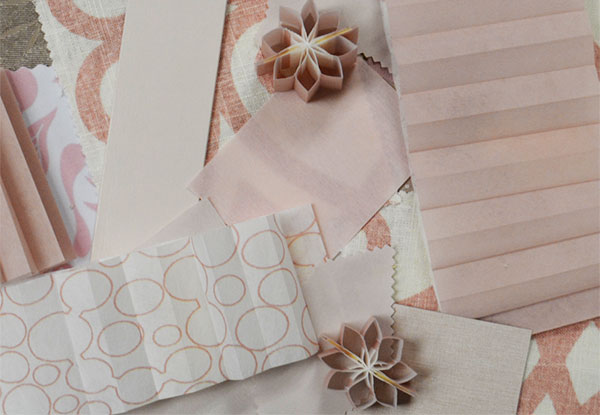 With so many pink blushes to choose from, if you are not blushing, your windows will soon be rosy pink in love with this new barely there hue. To help think pink, you can
find even more inspiration on our blush Pinterest page.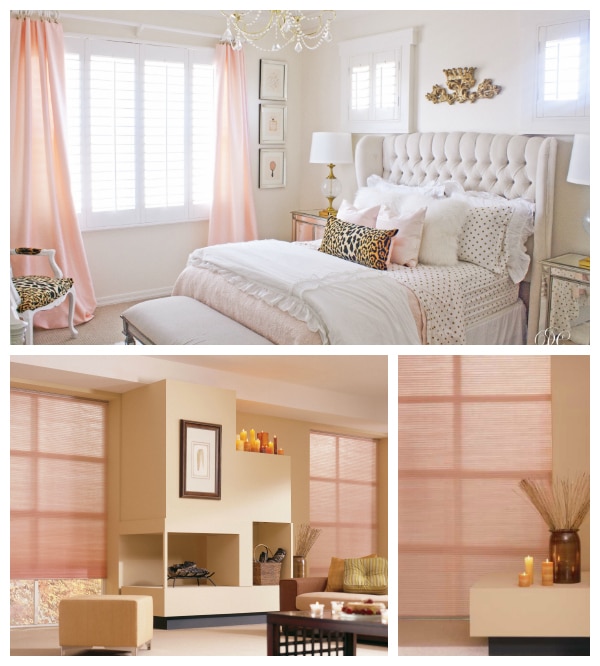 Fresh Blush
As much as our inside home needs to celebrate our way of living, the views outside add another colorful dimension to the beauty of each day. If you only have one pot of fresh flowers or a whole garden of blooming plants, you will be richly rewarded with this delicate color. Here are a few of my favorite blush flowers to deepen this layer of softness. Pale pink peonies with their delicate frills and unique scent are a traditional flower that is chic again. Although peonies have a short blooming season in spring, a bunch of peonies from the local flower store instantly adds a spot of blush.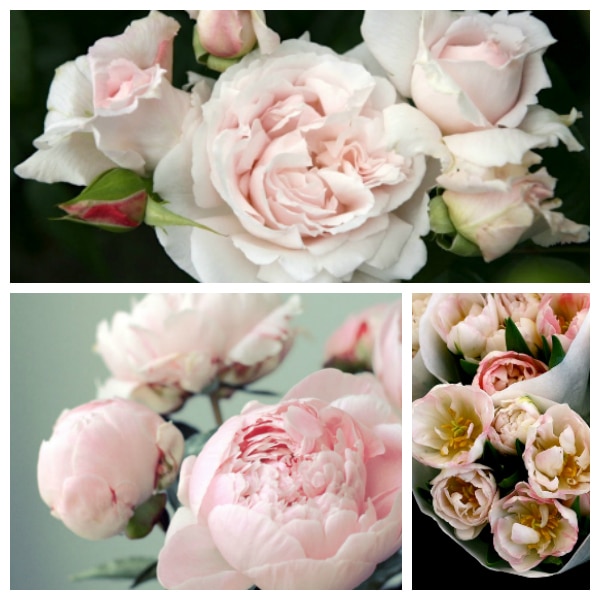 Another spring blooming plant is the Foxglove and its partner, the Snapdragon, which have little cups of intriguing blushing pink color. Pale pink Gerber daisies, Kiss of Blush Lisianthus, Peruvian Lilies, Pale Vintage Hydrangeas, Astilbes and Larkspur all lend a blushing nod to your pale palette. Tulips and Roses all come in many soft shades of subtle pink. If your only chance to design with blush pink is with fresh flowers, in the garden or in the vase, grab a bunch of blooms when you need a smile. Life is too short not to have a few fresh bunches of posies. A favorite Chinese saying of mine: "When you have only two pennies left in the world, buy a loaf of bread with one and a lily with the other."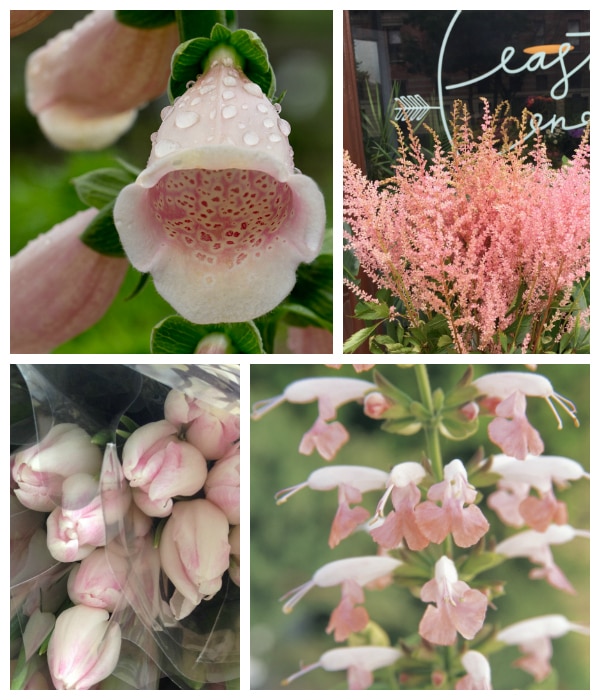 Now is the time to rush for blush!