Yes, you heard it right. We now have motorized outdoor solar shades! With just a flick of the wrist, from your couch or bed or hooked up to your smartphone or home automation system, you can raise and lower our new solar outdoor shades with ease as you please. Now for the best part…drum roll please; these innovative new shades are solar powered so there are no messy external plugs, no cords (so totally child safe) and no hard wiring to diminish any installation anxieties. The solar powered battery is seamlessly placed in the head-rail for an invisible mount and is 100% charged by the sun and even if you live in cloudy cities, your shade will still retain power and light. The Coolaroo Shade was tested for days with no sun and the shade kept working for 36 days. You will have to mount the solar battery panel near the top of the shade towards the sun to maximize the energy of the sun. Need I remind you that this outdoor wonder is a clean, renewable and free energy source. Awesome, huh? The remote battery is also charged for 5 years and is replaceable and will work within a 65-100 foot distance, just like a garage door opener and comes pre-charged, so it is ready to go, once up. Never worry about shock hazard as it is a safe 12 V. What are you waiting for? Your porch, patio windows or pergola are waiting for some shade to cool down your house, now!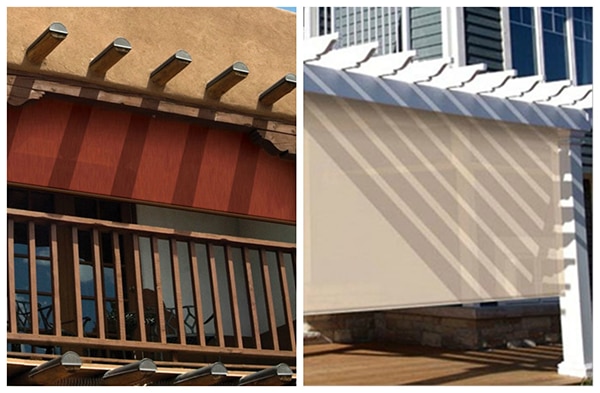 As outdoor living is becoming more popular and personal, outdoor shades are a much better option than awnings as we are entertaining and relaxing more than ever with an emphasis on our patios and gardens and making our homes a nest of comfort with ultimate shading from the sun and privacy from nosey neighbors or glaring lights. Now, with motorization, those hard to reach, oversized windows are a cinch to operate as you please with no effort or stress. Solar shades are so beautiful, durable and practical, you can even design them for the interior of your home. As a reminder, sun shades save you money by reducing your AC and heating bills as these shades do the heavy lifting to reduce summer heat and winter chills. With their excellent ability to reduce glare with a minimal reduction of the view to the outside, your enjoyment of the sunrises and sunsets, mountains or just a cloudless bright day is never compromised and your privacy is always protected. if you are like me and so careful to avoid the burning UV rays that seem to catch us anywhere, Coolaroo fabrics are designed to keep your furniture bright and pretty but also have an SPF rating just like your favorite sunscreen to deflect the harmful sun rays from hitting you. You know I would never recommend a product that isn't stylish as many textures, weaves and patterns are just waiting to complement your favorite design look. Here is one last kicker on these exciting shades. They are green certified, totally recyclable, made from plastic bottles just like the water and soda bottles you toss in your recycling bin. I am really excited about this new product as I just installed these solar shades outside over two large patio doors. Bright sun, glare, streetlights and even some noise is deflected. My bedroom is now cozier, quieter and shaded, and drifting off to a peaceful sleep is a dream come true.
Solar shades are truly a magical window treatment.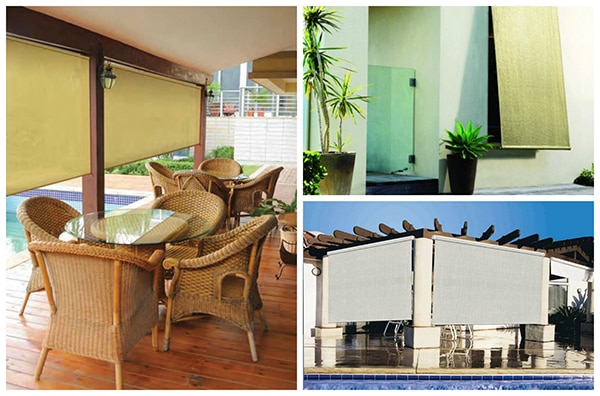 Treat the outside with love, too.