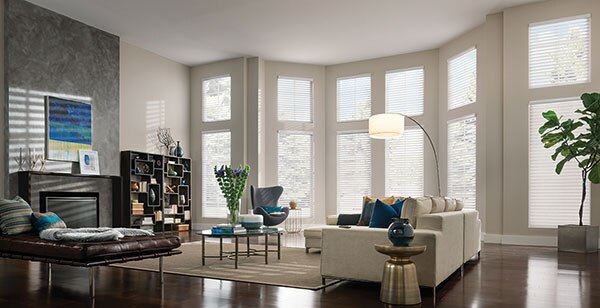 Sheer Shades are those resplendent blinds that are also a shade, gently filtering light through transparent panels to create an ethereal glow. Once considered a designers secret, sheer shades are now available to the modern design enthusiast in an array of neutral colors and textures. Wait, you don't know what they are? How can that be as Solar Shades have been covering the windows for many years! It's easy, when you're immersed in the world of design, to forget that the majority of consumers don't have access to the pulse of the market the way those of us who dream about windows do. So what are Sheer Shades? How do you use them and where can you find them?
First introduced as an innovative new product in 1991, Sheer Shades were designed to function as both a blind and a shade and were diversely different than anything else on the market. Although the basic components of other window treatments were in place, this new design and function set them a world apart. Constructed of fabric vanes that float between two sheer panels, they closely resemble a horizontal blind but are uniquely different. Due to their fabric component, sheers are now lighter in weight and more pliable, making them easier to tilt, raise, and lower. This allows them to share the functionality of a roller shade, increasing ease of use with a roll up feature and decreasing the bulky stack that occurs with horizontal blinds. Near perfection in design, Sheer Shades are an ideal choice for almost any room in the home.
Sheer Shades provide a clean and chic, modern touch to almost any room, but personally, I recommend them for bedrooms, living/sitting rooms, and sunrooms. The gentle way sun filters through the layered sheer fabric, creates a soft glow that lends itself well to softening a bedroom and creates an even more inviting space. I am drawn to spa-like bedrooms, with fluffy white bed linens, a myriad of textures from pillows and throws, and downy carpet underfoot. White or soft grey sheer shades, both light filtering and blackout, are the just the treatment to flawlessly finish a bedroom oasis. Don't overlook the design of this window covering to boost a tranquil mood to lull you asleep.
Much can be assumed by a name and Sheer Shades are no exception. It would be easy to eliminate these beauties as an option based on the name alone, but don't be misled. The functionality of these shades makes them an ideal candidate for living, dining, and sitting rooms, too. Their unique ability to function as both a blind and a shade is useful for allowing just the perfect amount of light for varied environments and situations. Drop the shades and close the vanes to ensure a darkened room for movie night, bask in the distilled rays as the sun filters through the open, sheer panels while enjoying a lazy afternoon, or take in an unobstructed date night view by simply closing the vanes and rolling up the shade. Sheer Shades can easily charm any room.
At Blindsgalore, you will be surprised by our custom collection of Sheer Shades in rollers, verticals and pleated RV Shades. French doors and patio doors styled in beautiful banded sheers are an artful choice for all of these expansive windows. Add motorized for the ultimate sheer shade experience. Whether you home is function or fashion, or maybe even a bit of both, Sheer Shades are designed to impress and are a truly show stopping, unique window treatment.