Who doesn't like to hang out in the kitchen, even if we are making our smoothie of the moment, mixing up a batch of homemade cookies, mashing up last night's leftovers or creating a new pasta dish. As long as you are not always the "dish-dog" (you know, the clean up one), our kitchens need to be clutter-free, easy to clean and cook, yet filled with inspiration for comfort and good times. Family gatherings are important to keep life going smoothly and your kitchen should be a cozy spot to disconnect from the cacophony of all of our gadgets to chill out and share good food and the day's happenings. Take a look at some design trends to make your kitchen the place to be!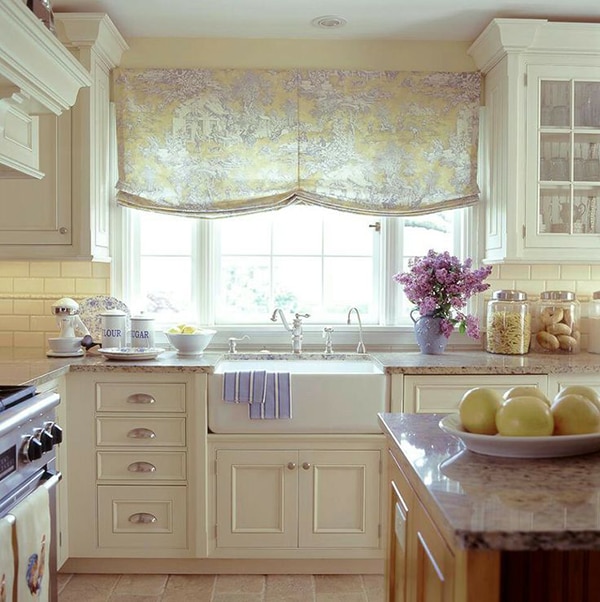 Lighting Redo
Our kitchens are becoming more like a family room or a living room and one of the easiest things to do is change the light fixtures. If you are lucky enough to have a ceiling fixture or two, why not change out the flush mounted fixture with a funky chandelier or a single filament bulb treatment or a hanging basket pendant. Check out World Market for lots of inexpensive choices or you could even DIY a Mason jar pendant light. At least invest in the new LED technology to shed light on your countertops and bathe your whole kitchen in warm light. LED's emit very little heat so you can keep them on forever; they are energy efficient and can last 50,000 hours and are becoming much more affordable. Just switching up the bulbs can showcase your kitchen in a whole new light.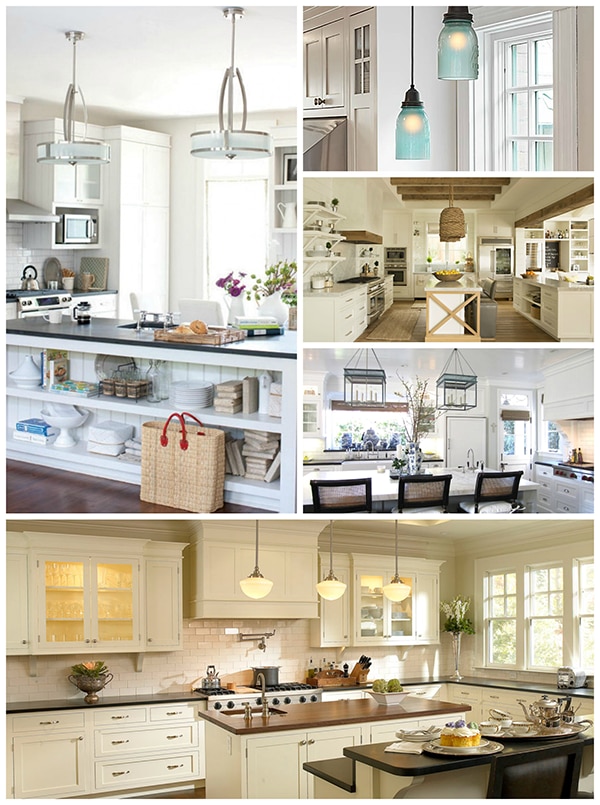 White Is Always Right But Grey Is The Way
White is always a popular choice and gaining more likes than the industrial stainless steel look. Glossy white kitchens gleam even in the messiest of kitchens. Layering white on white is still on trend and need I say that white goes with everything and brightens any dull day. But…gray is coming on strong and is becoming the fastest growing color scheme. Gray can be tricky and become dull and cloudy if you do not pair it with some warm wood cabinets or some hot accent colors of yellow and red. Either way, gray is here to stay and white is always bright.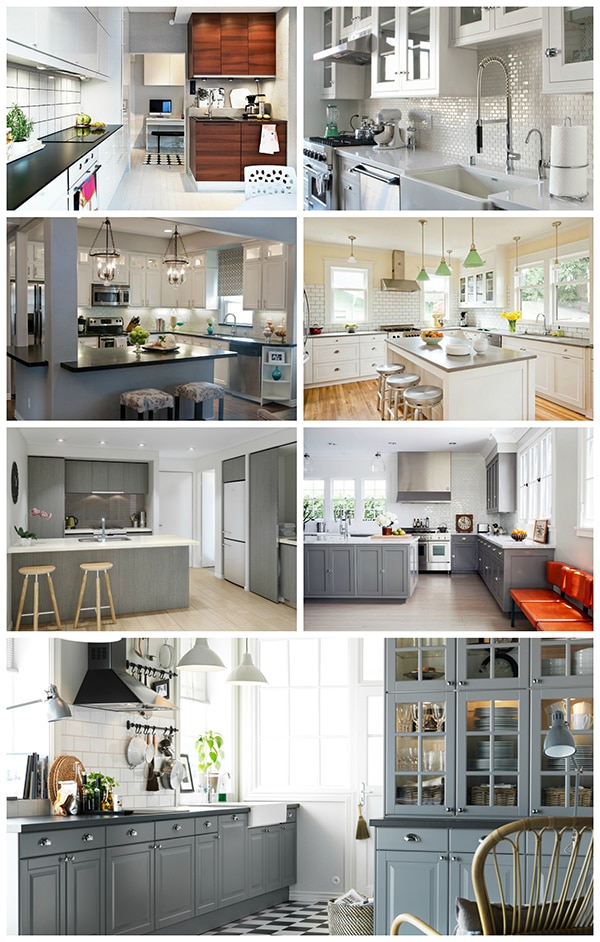 Open Shelving
Ripping off the doors of cabinets may sound like a good way to open up your kitchen to de-clutter and modernize your space, but it is not as easy as you think. I do love that casual look and not having to open and close and dig around for what you need sounds enticing, but to make this look work, you have to be very organized and a clean nut and love rulers, straight edges and maybe even a level. Your dishes and cookware need to stack neatly, be in the same color palette and be minimal in design. You have to be strict when you organize and be willingly to keep your shelves in tip-top shape. But for those of us with that temperament, go for it, and for the rest of us who are always in a hurry and can never part with a chipped dish, just try one or two open shelves and stuff everything else in the hidden messy drawers.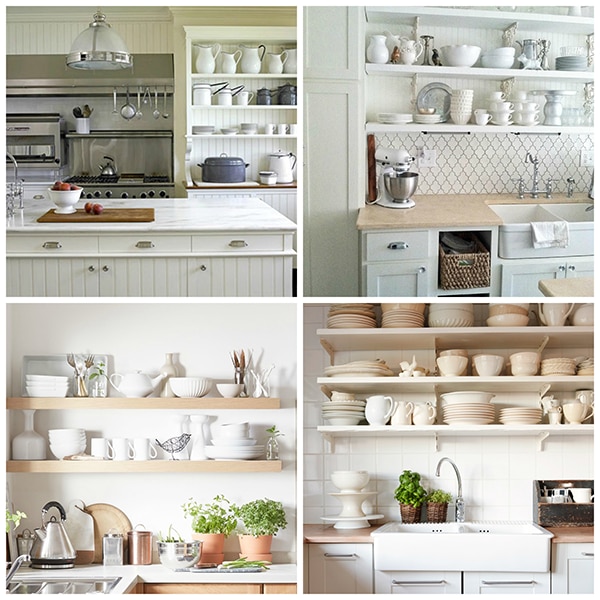 Simple Windows
If your kitchen has windows, count yourself lucky as the sunlight revives every cook and makes the daily duties in the kitchen happier. If you haven't updated your window treatments, now is the time as the clean and simple look is more popular than ever and choosing a stylish but minimal blind or shade will instantly uplift the spirits in the kitchen. I love our exclusive Expressions collections with its vibrant colors and intricate patterns that fit seamlessly into any window. If you have too much sun but love the view, a solar shade will keep you cool while you cook but not obscure your daily dose of sunlight or hide what the kids are doing outside. Cellular shades are one of the sleekest of window treatments and come in tons of colors and almost disappear when you roll them up. Unfussy is the word today for window treatments, so don't let those windows betray your modern, clean and cozy kitchen ambiance.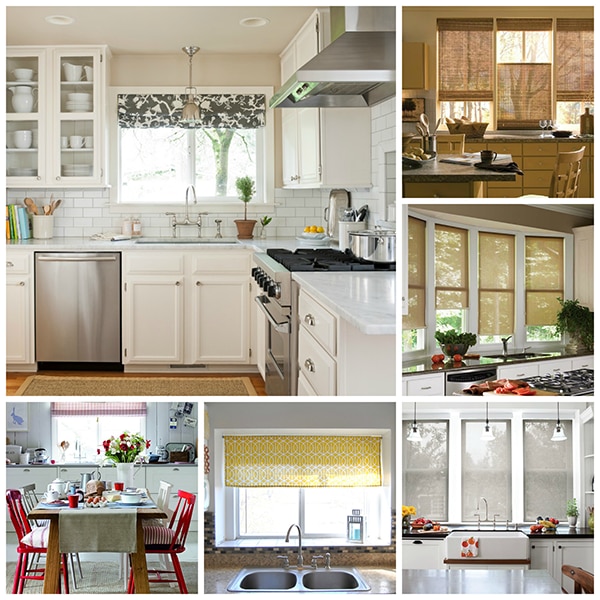 A Farmhouse Apron Sink
The farmhouse sink was originally designed for women who spent many long hours at the sink, often in rural areas where water had to be hauled in from rivers, lakes or wells and a big sink was mandatory. The apron front structure eliminated the countertop which made standing and working at the sink easier, more ergonomic and comfortable. Today's trend has revolutionized this utilitarian sink into our new kitchens as an architectural focal point for design with beautiful new materials and textures, along with its oversize open sink to accommodate large baking sheets and pans. Form and function are at work here, even if we don't bake bread daily or simmer large stockpots of soup. I do love the farmhouse sink as I can stack lots of dishes in a big pile in my sink as I do make my own chicken and beef stock from scratch (my secret sauce to all my favorite recipes).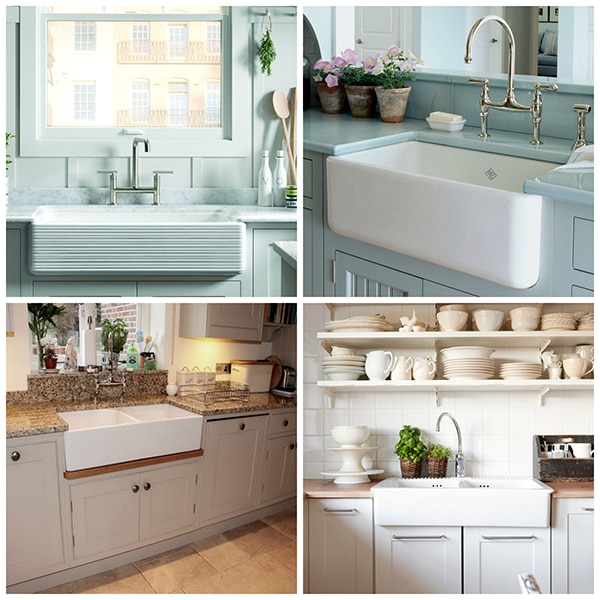 Comfy Seating
Many of us have open kitchens with an eating area with a table or island countertop for casual dining. Banish the formal look and embrace a comfy seating area or add a touch of country with a set of mismatched chairs gathered around your kitchen room table. If you like the "thrown together" look, keep the chairs to one or two wood color stains or if you are going bold with bright glossy colors, go for broke. For added comfort, chairs and benches with upholstered seats and backs add softness and plushness to create a more relaxing space. Since the kitchen has become the multi-tasking center where we read, work on our laptop, relax and chat and hook up to all the events of the day, make this a happy hub.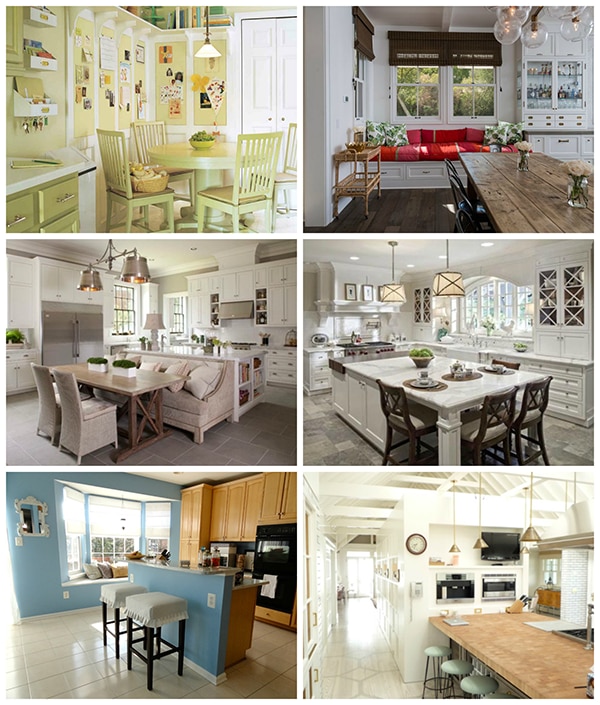 All Hands
Whimsical and artful objects enhance the personality of the kitchen, from a small collection of found rocks, a jar of vintage rolling pins, a collage of sayings, a collection of cheese boards or anything that resonates to your spirit. Whether you find it in nature, at the flea market, at a craft fair or your favorite store, these are the treasures that are uniquely you. It can be as simple as a jar filled with dried seed pods and grasses to a big and bold flower photograph that you scanned on a canvas or a basket collection tacked on the wall. Fill your kitchen with the aroma of good food cooking, a snug corner to relax, a soft light for reading and celebrate the work of handmade details.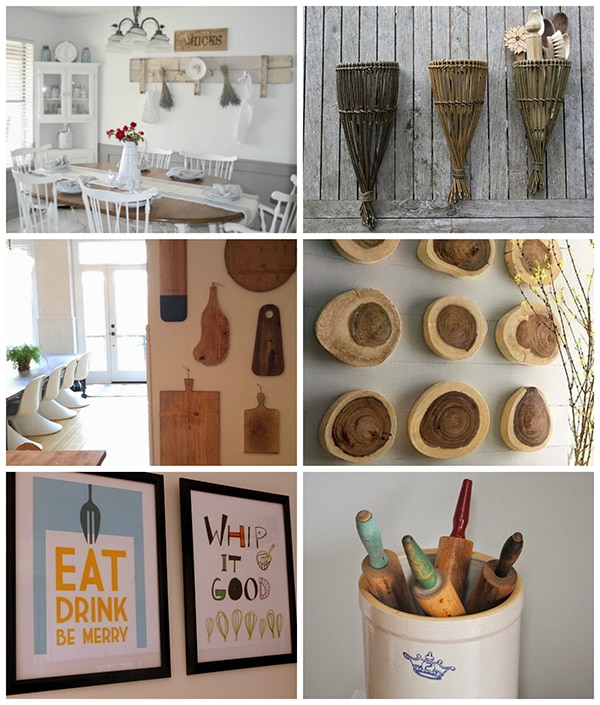 Let your kitchen shine, inside and out!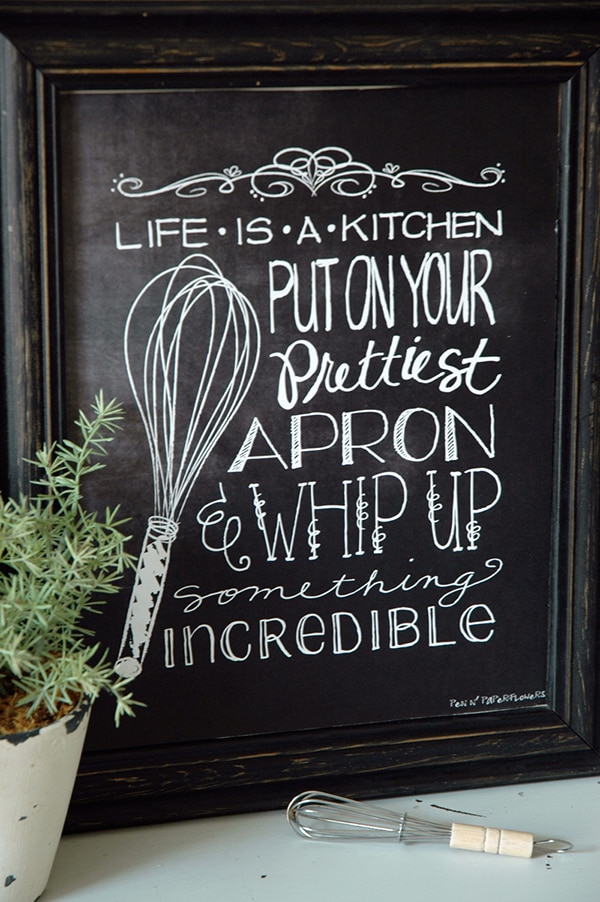 Featured Image Source: HomeKlondike