Golden glamour highlights the holiday season to add sparkle and shine in our homes. Gold tones are warm and inviting and make our seasonal celebrations glow with incandescence. Gold décor does not have to be extravagant or excessive but can be achieved with a simple touch of splendor, in this our most radiant of holidays. Bask in the brightness of these twelve days of golden inspiration.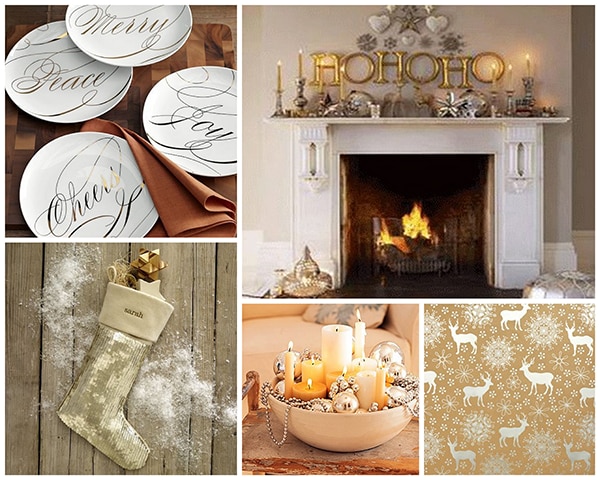 1. Gold Logs
December's chill and crispness of days call for a crackling fire and my wood basket is full of pine and mesquite logs. For the holidays, I love to burnish the ends of some of my logs in gold paint for an added decorative look. Gold dipped wood candlesticks around the fireplace are just as fun. Keep the glow in your fireplace all through the cold wintry weather.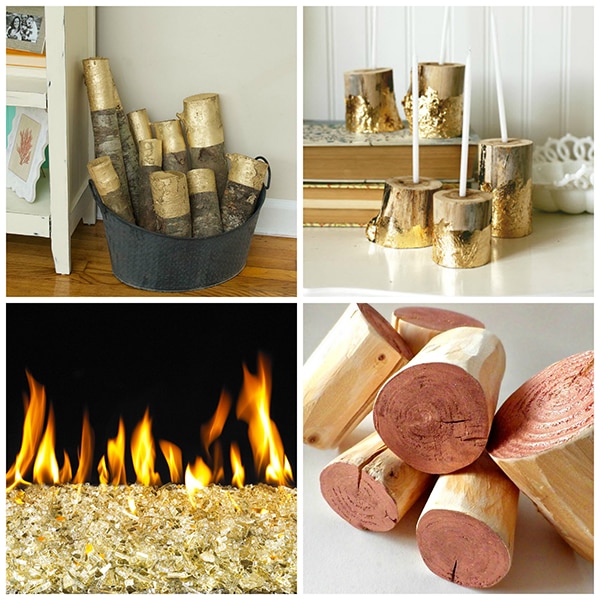 2. Gold Pumpkins
Our fall pumpkins take on a winter flavor, too, with gold spray paint and glitter. In just a quick blush of spray, sparkle and shine are ready to grace your dining table, front porch or mantel. So much easier than making a pumpkin pie!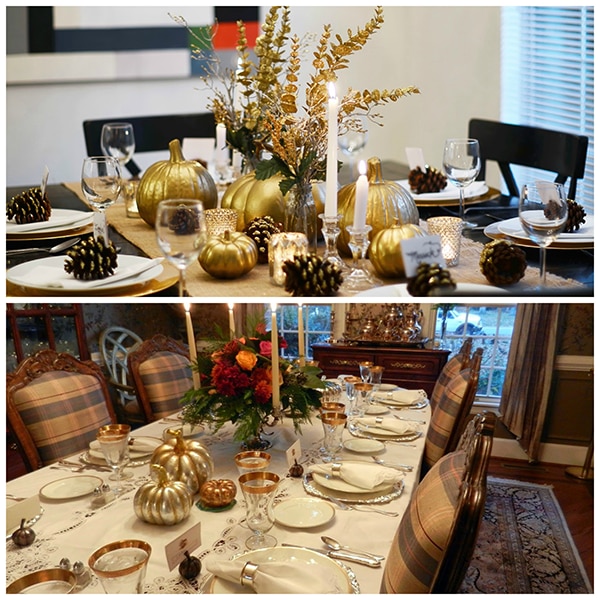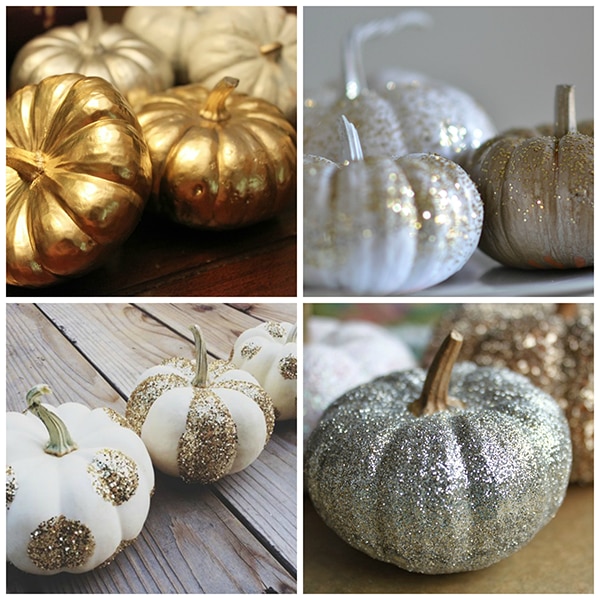 3. Gold Windows
Your windows are just waiting for holiday cheer, whether you choose a glitzy wreath or embellish those bright open spaces with ornaments, twigs, lanterns or trees. The low angle of winter light glistens through the many windows in our homes; take advantage of these perfect windowscapes. If you haven't found the perfect window treatment, now is the time to make a critical decision. Surprise your windows with a winter wonderland.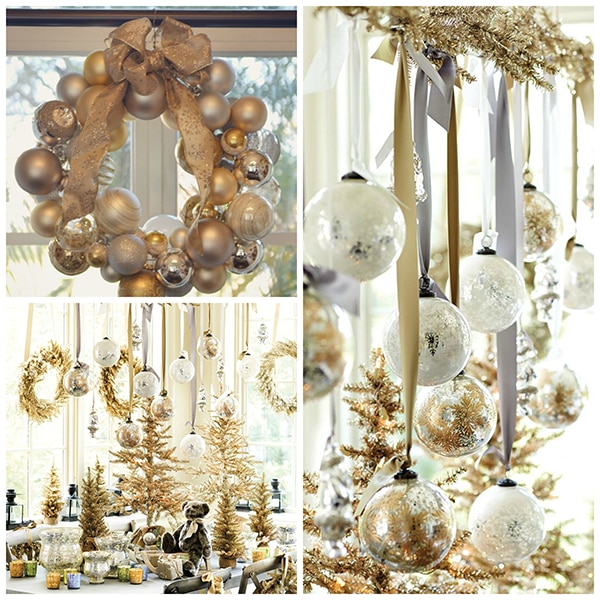 4. Gold Stars
Who doesn't love to see stars which always create a feeling of wonder and magic-an essential symbol at this time of year. A quick holiday pick-me-up is to decorate with star decals, whether goIng up a staircase or as an enchantment to any room. Starry, starry nights light up any room.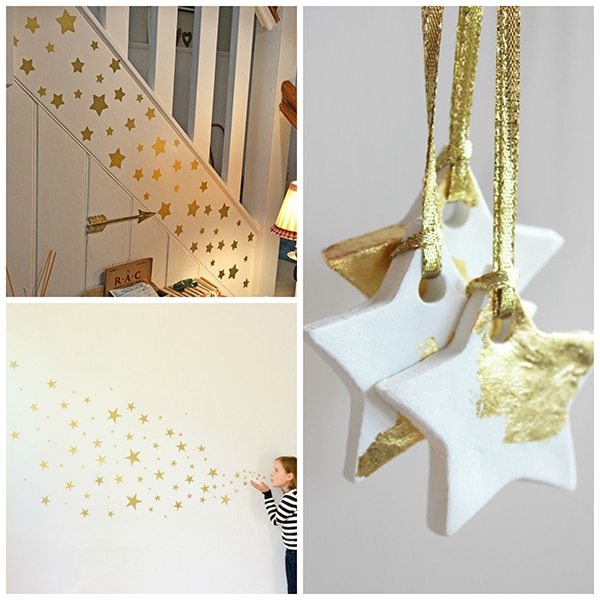 5. Gold Mason Jars
Mason Jars are a must in your cupboard and not just for stashing nuts, dried beans and spices. Chalk paint and glitter can jazz up these jars for stuffing with flowers, candles or candy, or use plain with gold leaves. I always keep a dozen jars of different sizes and shapes on hand for instant decorating needs.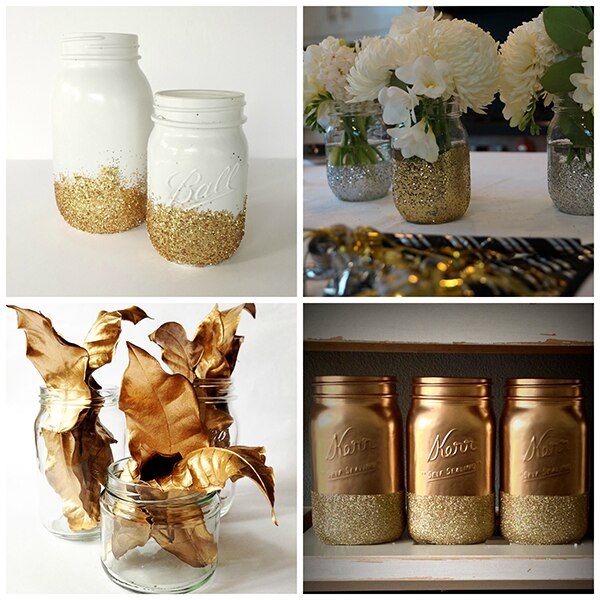 6. Gold Tables
A million holiday tablescapes are waiting for your imagination. Some of my favorite centerpieces are made from ordinary found objects such as twigs, leaves, wine corks, some leftover garland and plain white candlesticks wrapped in gold. Don't overlook what might be lurking in your garage or backyard.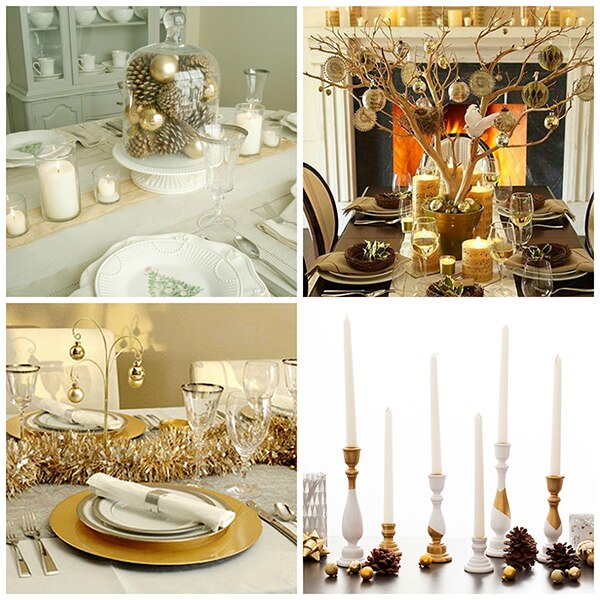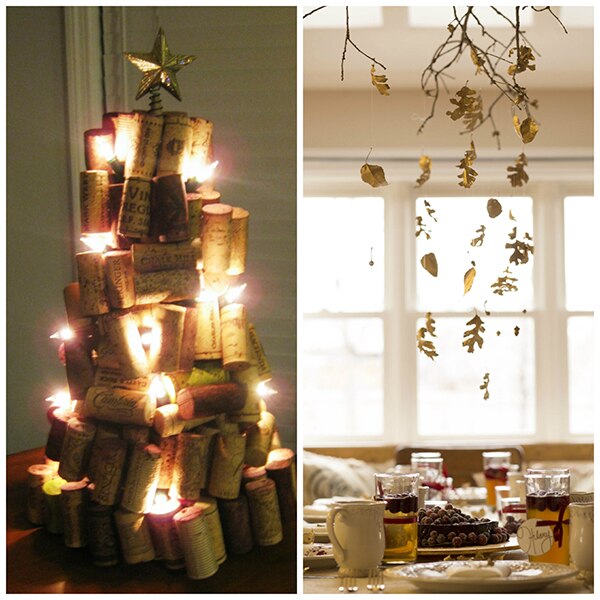 If you feel more adventuresome and need more elegance to the holiday table, a small lighted tree creates a brilliant dimension to any holiday celebration.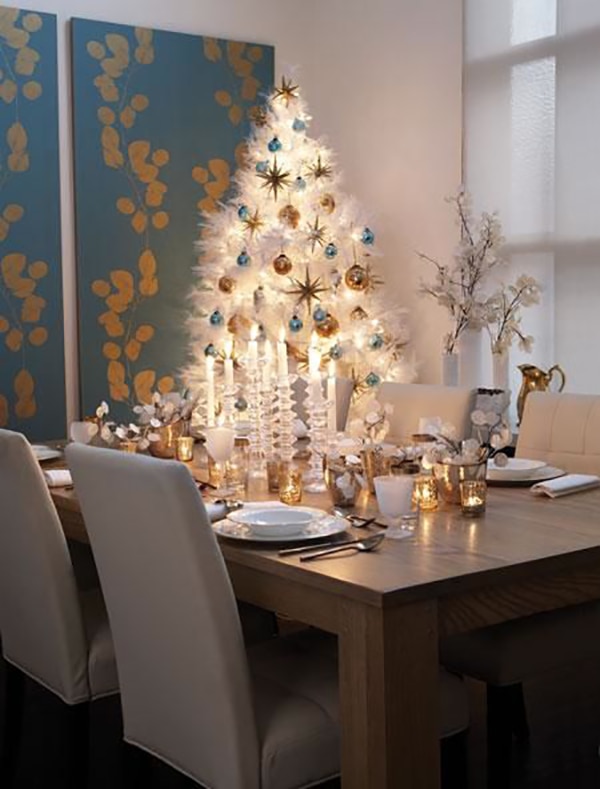 7. Gold Mantels
Mantels, like windows, make perfect holiday tableaus for stockings, trees, candles or cards. Just remember these three tips:
1. Arrange decorations from high to low, using a mirror or artwork or wreath above the mantel as a focal point.
2. Group similar items together for congruence.
3. Mix materials and textures for variety, such as a grouping of rustic organic items with sparkling ornaments and some smooth, glazed pottery.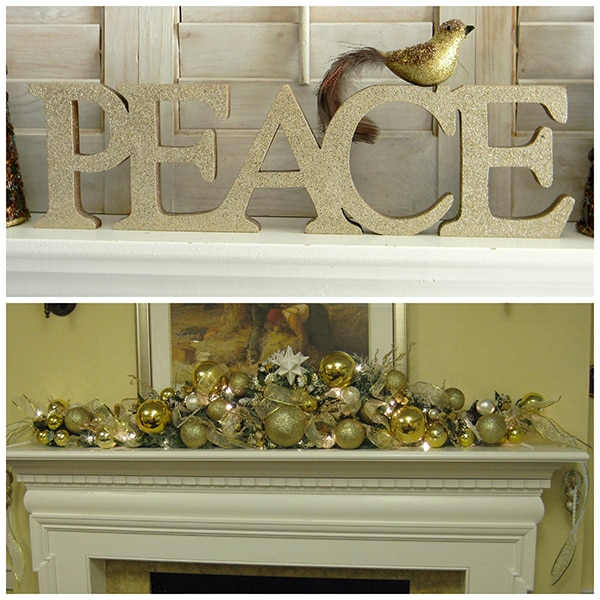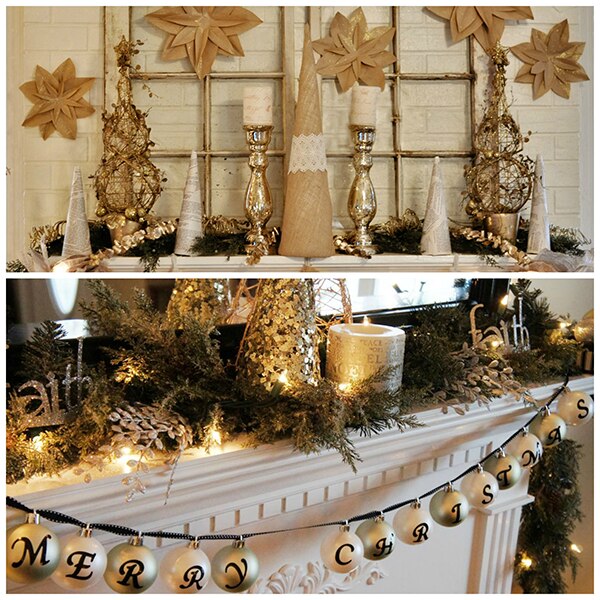 8. Gold Branches
My favorite and easiest gold holiday glam is to go on a hike and gather long and lovely shaped branches and spray paint a bright gold. Use lengthwise as a centerpiece or arrange in a vase or urn or decorate with tiny ornaments for an instant holiday tree. Every year, I do some kind of riff on a gold branch tree-simply elegant!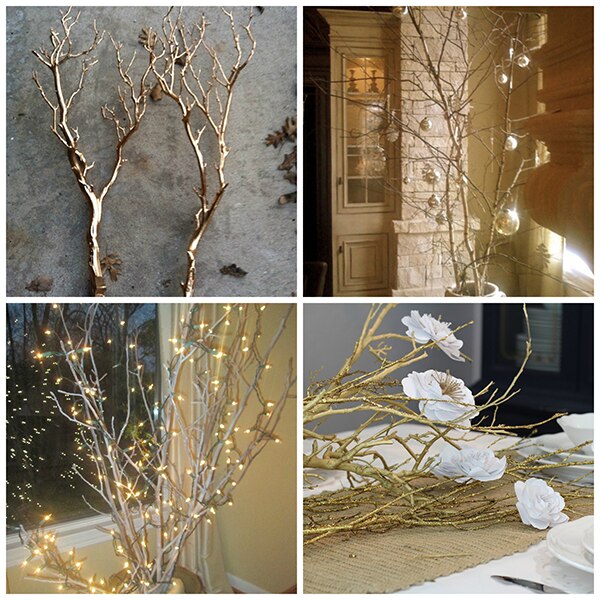 9. Gold Plates
Gold plates are festive and dramatic and don't have to cost a fortune. Go to your local craft store and buy an oil based Sharpie in metallic gold and design as you like on inexpensive white plates. For more golden touches to your table, add gold twine, a dusting of gold stars or gold flecked fruit- pomegranates are a particular favorite holiday fruit to adorn the table…and bosc pears have a uniquely lovely shape.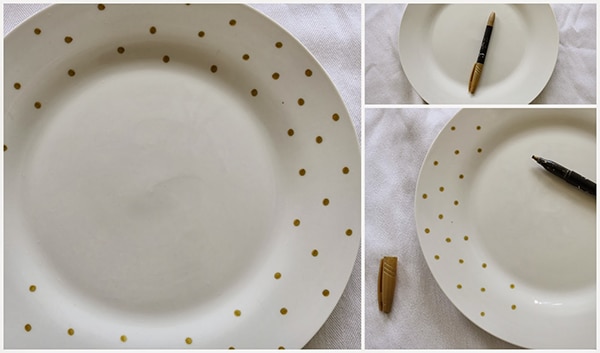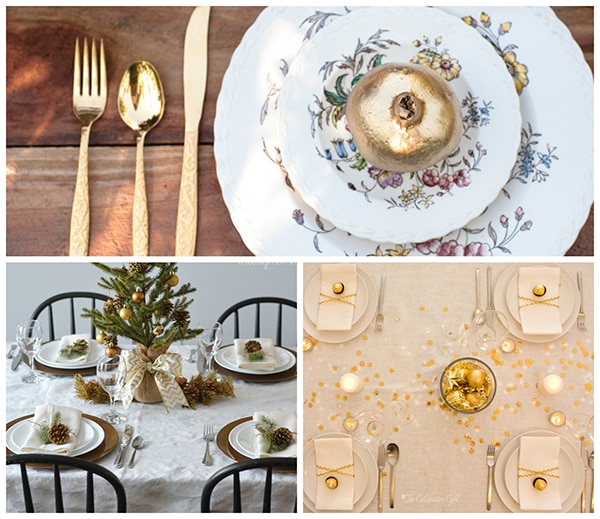 10. Gold Leaf Desserts
Everyone loves dessert; finish your holiday parties with sparkling flair. You don't have to spend hours making a fondant iced cake. Buy any holiday cake and wrap with a gold ribbon and garnish the top with gold dragées. Or use edible gold leaf and scatter over brownies or a yule log or any dessert of your choice. Your guests will erupt in golden gasps.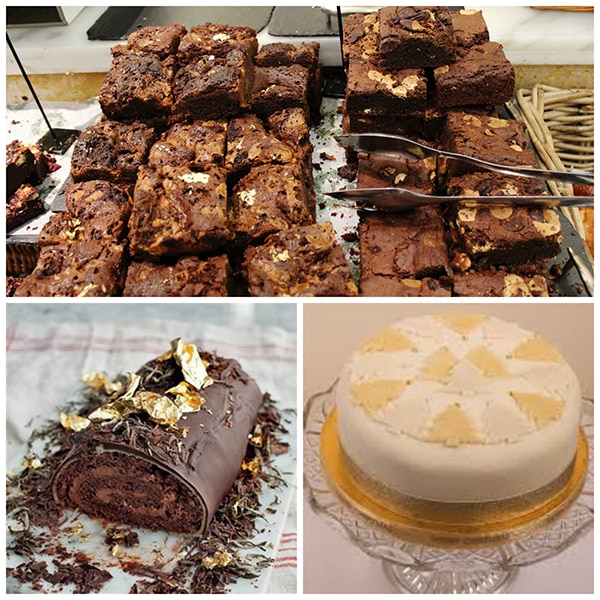 11. Gold Placecards
I love to seat my guests using special holiday place cards. The best parties mix up friends for lively conversation. Gold place cards are soooo easy. What could be easier than these DIY golden names?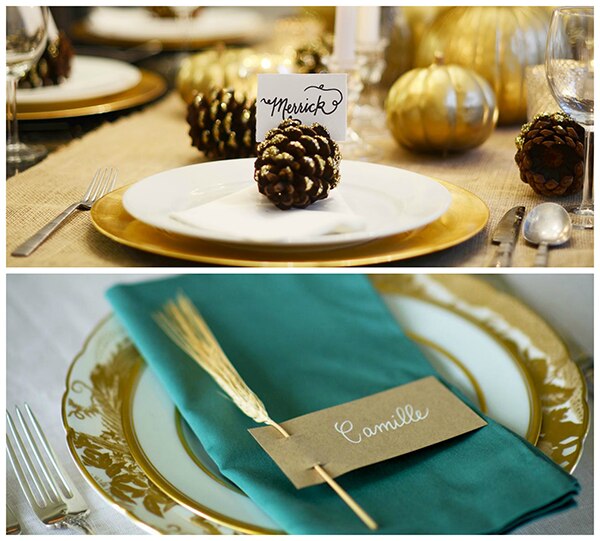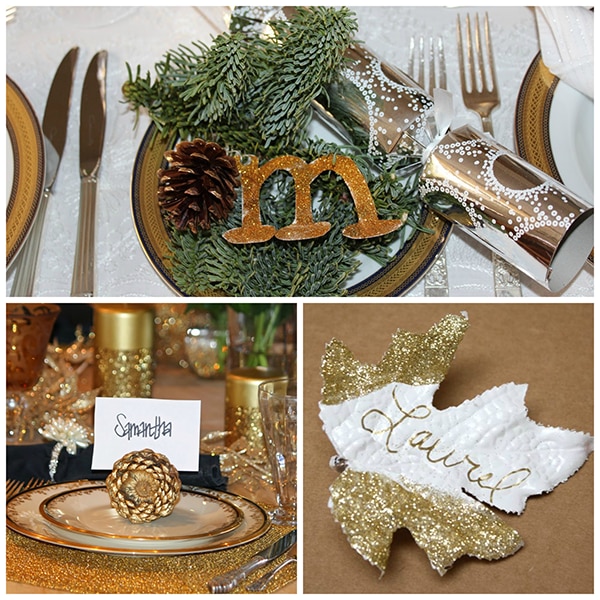 12. Go For The Gold
Now that I have overloaded you with golden holiday inspirations, on this, the twelfth day, indulge in a total golden glow.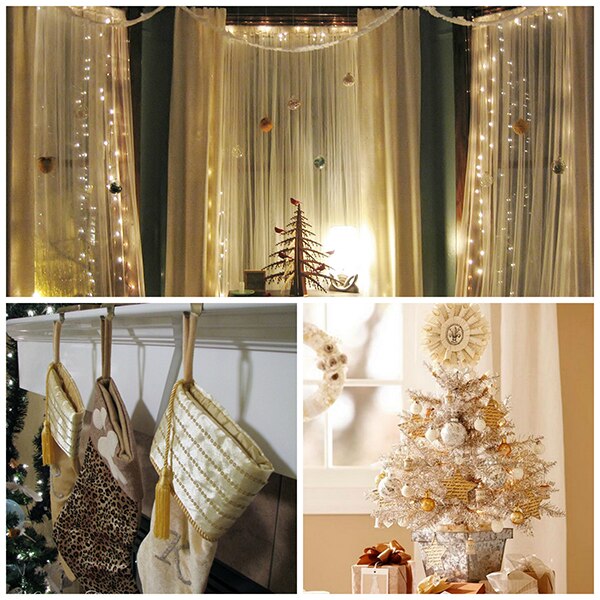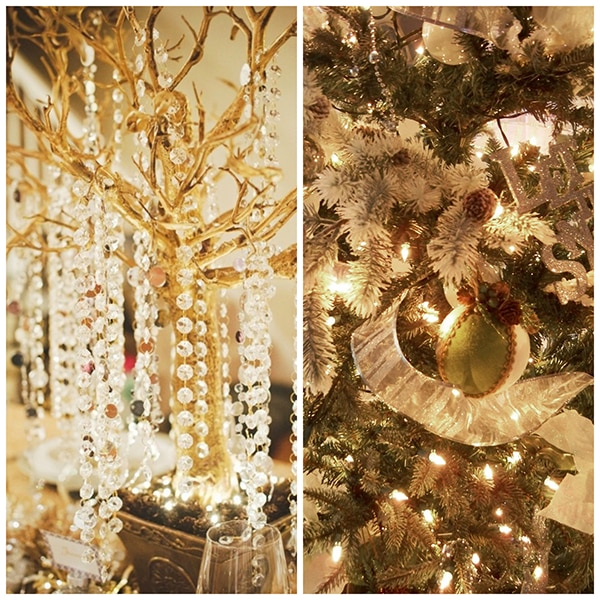 Gold bedazzles this season, but nature can never be replicated or surpassed. A snow laden tree, majestically gleaming in the snow, glowing with lights, stops my heart every time.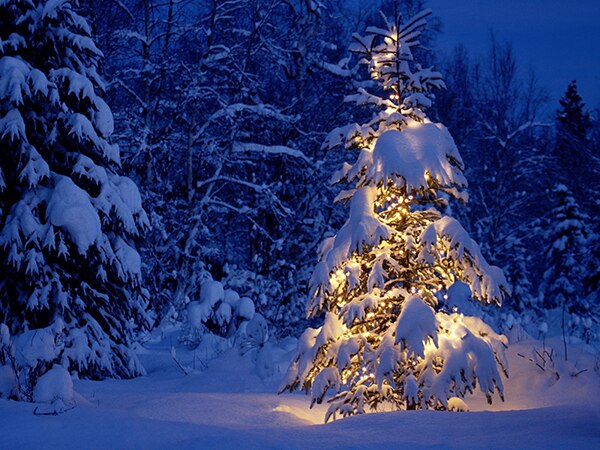 May the golden glow of the season light up each day!
Featured Image Source: Wallpaper Mania