Simply put, sheer shades are an elegant combination of a blind and a shade. The soft inner vanes behave as a blind by tilting opened and closed as they are encased on the front and back by a soft, delicate layer of sheer fabric. To lift the shade, a continuous motion closes the vanes, just as a blind would operate, laying the two outer layers of sheer fabric flat against the vanes, then the shade rolls up, similar to a roller shade, into the top rail to clear the window. With the shade drawn and the vanes closed, privacy and light control are achieved. If the shade is down with the vanes in the open position, light filters in gently through the outer layers of sheer fabric.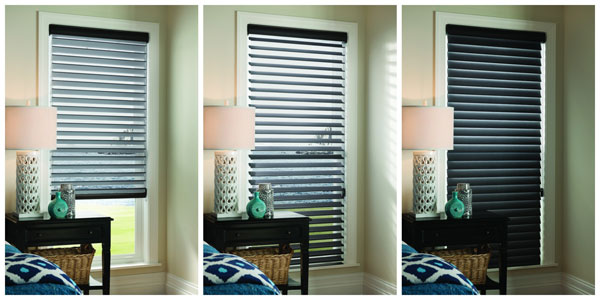 Source: Blindsgalore
A treatment sure to impress, sheer shades are a sophisticated and stylish step up from any basic blind. Their soft and delicate appearance gives off the impression of almost no window treatment at all, yet are still very effective at light control. My favorite rooms for sheer shades are the dining room and bedroom. Their gracefulness lends them to fit right into a slightly more formal dining room. There is something about how these shades transform the light that creates an intimate and cozy environment, perfect for entertaining. Your guests won't even realize why they feel so calm and content in the comforting atmosphere you can provide by installing sheer shades. Also available in light dimming fabric, these help darken a bedroom for a peaceful night's sleep. The softness of the sheer fabric complements the tranquil and calming vibe so often desired when we retreat to slumber.  Sheer shades are surely a striking window treatment.