One of the most sweeping architectural forms is the Palladian arch that was heralded during ancient Roman times when the Emperor Hadrian commissioned many buildings to reflect this detail. However, the Venetian architect, Palladio, enhanced the design during the 16th century and his interpretation evolved over two centuries to highlight symmetry and classical style.
If you're interested in covering an ached or Palladian window, don't hesitate to contact Blindsgalore's window experts.
Today, you can spot the Palladian design throughout Europe and America, with the most popular being Thomas Jefferson's home, Monticello. The Palladian window became an emblem of Palladio's work which consists of a semi-circular arch above two rectangular window casings, creating a stunning window opening. Since a Palladian arched window is an odd shaped window, a few options are advised. If privacy and light are an issue, you will want to cover both of the window openings. The top arched opening is covered with an arch cellular shade with a standard cellular shade underneath. Both of these shades are connected and ordered as an "arch over standard," with no light gap.
The tricky thing is that Palladian arched windows are all different as each arch varies and a template must be provided by placing butcher or office supply paper over the arch and, then, carefully trace the arch and cut out. Place the template over the opening to ensure a perfect fit. Then roll up and mail to Blindsgalore to complete the process, along with the measurements of the rectangular windows. By covering both of the openings, a cohesive look is maintained and the architectural intent is preserved. If the above arch is left uncovered and the window is less than 60″ wide, a cellular or roller shade can be chosen to cover only the rectangular windows. Drapery can be layered over these shades for a more formal look.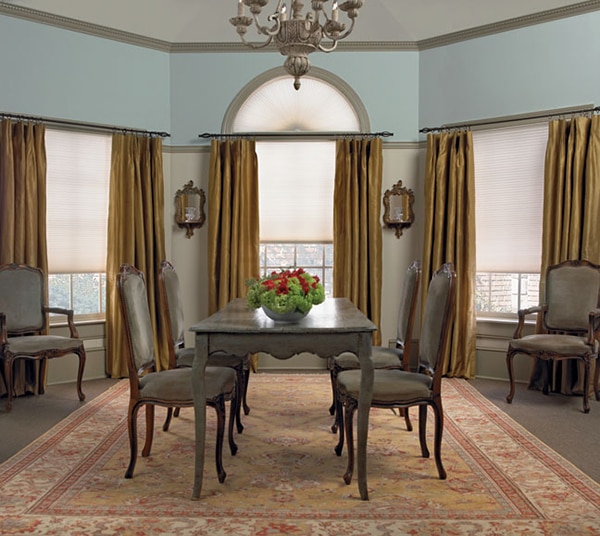 Palladian arched windows are magnificent if you treat them in the classical, more traditional style or modernized and simplified with a sleek and contemporary design. Don't hesitate to showcase this beautiful window in your home.