Outdoor shades are one of those things you never realized you needed until you have them. To get the most value out of our real estate, it is advisable to utilize all of our available space to its maximum potential, and this definitely includes our outdoor living areas. The relief from the blazing sun's heat and light will afford you the opportunity to utilize your outdoor spaces to a much greater extent. Can you only sit on your porch for a couple of hours in the morning before the heat becomes unbearable and sends you back inside? Outdoor shades block UV rays and limit heat transference to keep you comfortable.
These shades aren't just for outdoor living areas, they are also provide a huge benefit when installed on the exterior of a home in front of a window. If you live in an extreme climate, exterior shades work hard to hinder glare and block the sun before it even has a chance to hit the window, transfer as heat through the glass, and raise the temperature of the interior of the home.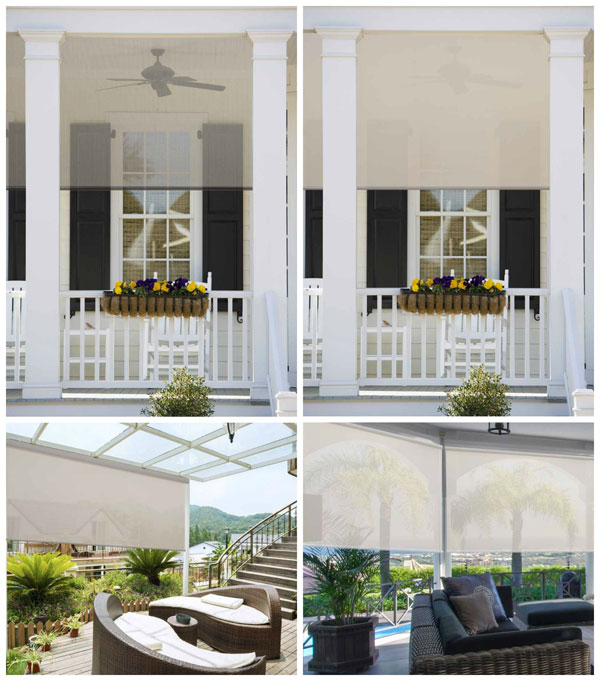 Source: Blindsgalore
Outdoor shades have a variety of openness factors. The greater the openness, the better the view through but not as much light will be blocked. Alternatively, a low openness value will provide greater the heat and light blocking properties, but will also be harder to see through. Deciding whether you'd rather take in the view or block as much light as you can is up to you, but be assured that outdoor shades are an investment worth making. Happy hour on the porch will never be the same. Pull those shades down and enjoy your surroundings as you bring the day to a close with a cold drink. Cheers!