Don't neglect your window treatments and forget to add the "goodies" that make your new window coverings really snap, crackle and pop. Little things often push the style to a new level of design that will add that last little bit of surprise to complete the look of your room. I like the think of these as window accessories, just like your favorite jewelry, bright scarfs or a smashing retro pair of shoes. Think of these additions when you are choosing custom window treatments. You might as well get the "full treatment" for your one-of-a-kind blind or shade.
Decorative Cloth Tapes
For wood blinds, many colors and patterns of cloth tapes are offered to add contrast and texture to hide the route holes. Cloth tapes run down the front surface of the blind and help with light control. You can choose a plain color to blend in and complement your chosen color or choose a different shade of fabric to add interest and pick up other colors in the room you are decorating. Be alrterted that faux wood blinds are heavier and tapes added to these blinds will increase the weight. Decorative tapes add a polished look to classic wood or faux wood blinds.
Borders
Borders give a tailored look and can be edged, outlining the shade or inset. Borders can pick up the other colors in the room and offer a sharp, clean line to roman shades and roller shades. Contrasting border colors provide a unique contrast for any color scheme and create a sophisticated line on your window treatments. I especially like borders on roman shades for that extra design excitement. Window treatments love borders; they thrive when staying in one place!
Edge Binding
Edge binding finishes off any rough edges to natural materials used in woven wood shades that are made from organic materials, such as grasses and reeds that tend to have slightly irregular edges. Solid color edging can contrast or blend into the chosen window treatment and keeps the shade looking smooth and clean and gives strength and stability. Edge binding is needed on panel track blinds to keep them looking sharp and straight. You won't be disappointed with edge binding to keep these type of window treatments from fraying and smoothly shaping your windows.
Wands
Wands are kind of magic like Harry Potter's wand as they are used for tilting slats and rotating and stacking vanes on vertical blinds and on wood and faux wood blinds. Light control and maintaining privacy are easy with wands. Instead of a standard wand, I recommend upgrading to a matching stain or paint color of your chosen window treatment.  Some wands are available in a satin, nickel or bronze finish which adds another layer of decorative style. Selecting a wand eliminates one of the cords (used for raising and lifting wood and faux woods), which helps to childproof the blinds, even though cords really should never be used in a child's room. If you are decorating with vertical blinds, a wand is only used for tilting. Wood blinds and faux woods continue to be one of the most popular and classic window treatment choices. Wands are easy to use, efficient and durable.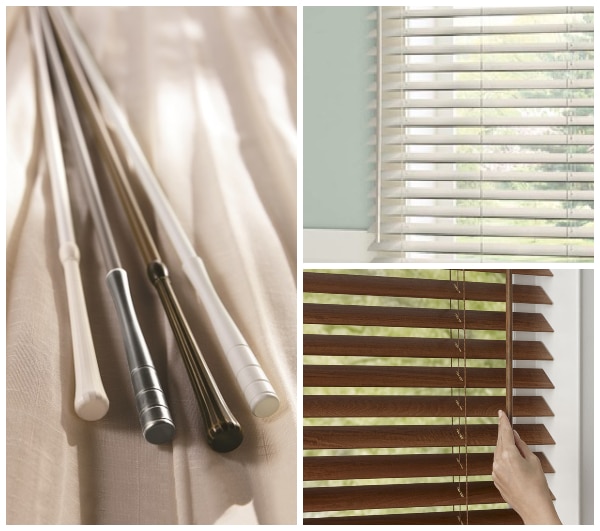 Decorative Valances and Cornices
These two top treatments impact mightily the finished look of window treatments and are the "crown" to your windows. Valances are soft fabric accompaniments that can match or contrast to the chosen window covering. Valances hang across the window and can hide hardware or any unsightly holes. A valance can add a delicacy and color and pattern to amplify any design style. Valances create a casual look and can be used alone or layered. Cornices are the "hard" cousins and are typically made from plywood and covered with fabric or can be carved from wood and stained. Cornices offer a more formal style and can add an architectural focal point with a more sculpted look. Traditional simple valances should always be selected for all of your window treatments to complete a finished window design.