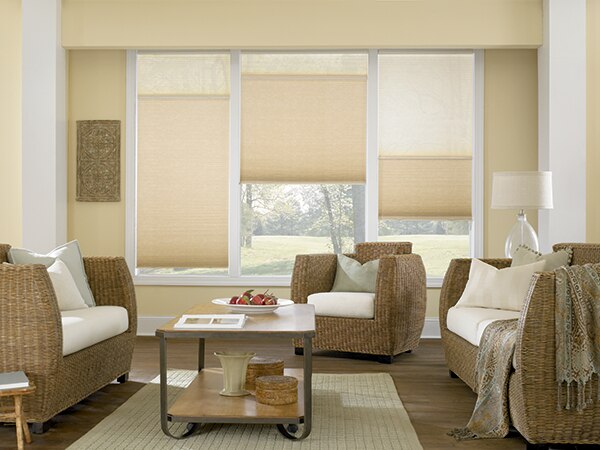 They're everywhere – on the tops of the highest buildings, snuck intricately into hidden corners, and even smack dab right in the middle of our walls. We love our windows but we're quick to write them off without remembering how much they do for us. So…what about windows? Sure, I love to do a little bit of window shopping, but windows do way more than just give us a "view". We need windows to decorate our rooms and light up our lives. Knowing more about our windows will especially benefit energy conscious consumers to help cut cooling/heating costs. There's a lot to learn, so let's take a look at what's what about windows.
Hung-up on History
• Window treatments date back to ancient Egyptian, Chinese, and Roman civilizations.
• In early 16th century England, most windows were covered by internal wooden shutters.
• By 1750, draperies had become very fashionable in many major European cities.
• The first prints available on drapery were hand-stamped with wooden blocks.
• Edward Bevan patented the first modern horizontal blind on December 11, 1769.
• Window coverings with tiltable slats weren't widely available in the U.S. until the early 1800s.
Windows of the World
• The Empire State Building has 6,514 double hung windows – over 26,000 panes of glass!
• Buckingham Palace has 760 windows, which are cleaned every six weeks.
• The world's smallest window is in England at the George Hotel and is barely half an inch wide.
• The world's largest glass window is at the Notre Dame Cathedral, with a diameter of 39.3 feet.
• The largest acrylic window is at the Monterrey Bay Aquarium in California.
• It takes washers over a month to clean the windows on each of the Petronas Towers in Malaysia – the tallest twin towers in the world.
Around the House
• In a typical U.S. home, you will find one window every 100 square feet.
• Windows make up around 15% of the wall space in an average U.S. home.
• It's recommended to replace the glass on your windows every 20 years.
• Skylights can provide almost 30% more light than a vertical window of the same size.
• About 40% of the heat that enters your home comes in through your windows.
Insulation Situation
• A material's R-value measures how resistant it is to heat gain/flow.
• In your average home, about 30% of heating and air conditioning is lost through the windows.
• The right pair of insulating cellular shades can cut your energy bill by up to 17%.
• Light colored shades can help reduce your home's solar heat gain by over 40%.
• Cellular shades not only help to block inclement weather, but also distracting outside noise.
• Installing solar screens can help reduce cooling costs up to 35% during summer months.
Now that you've opened your eyes a bit to see just how wondrous our windows are, maybe you'll pay them a little more attention instead of walking right past them. Without windows we'd all be lost or, at the very least, wandering around our houses in the dark. Let the light shine in!
Featured Image Source: Skitaj