Safe, cozy, and private, patios are an outdoor retreat without venturing from the home.  Creating a dazzling getaway right in your backyard is ideal for unwinding from daily stresses and welcoming and entertaining guests.  Grab a glass of wine, sit back and relax – I have ten ways to create an exquisite patio hideaway.
1. Curtains
Enclosing a patio with curtains immediately transforms your outdoor area into a private bungalow. Keeping bugs away is an additional bonus. Possibilities are endless: sheer or thick material, patterned or solid fabric, loosely flowing or tied back-all in a myriad of colors to match any decor.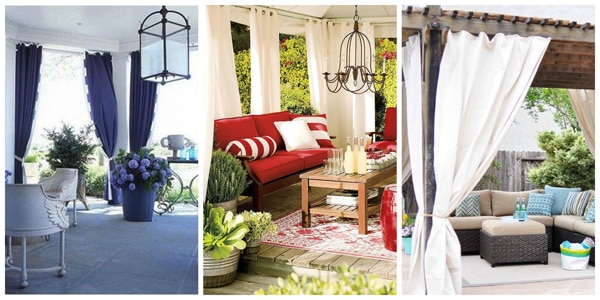 Recreating one of these looks is low maintenance because outdoor curtains do not require much upkeep.  Abundant types, styles, and fabric choices guarantee that you can create a fashionable atmosphere while remaining shaded during the daytime.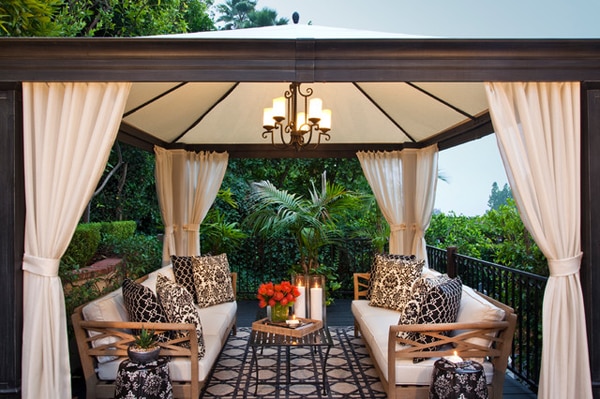 2. Candles
Dim illumination instantly creates a romantic ambiance. Candles give just enough light to read a book or look at the faces of loved ones in the dark. Combining natural elements with candles is a charming way to blend in the outdoors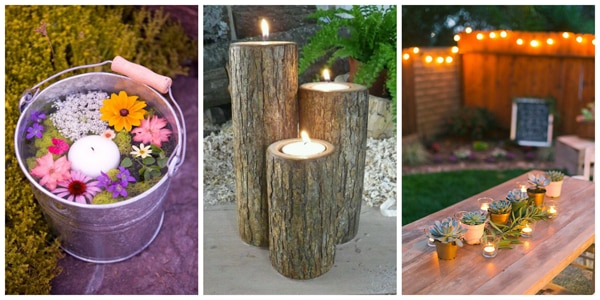 Candles look just as great during the daytime.  Simple, yet stunning, they add visual interest on side tables where junk would otherwise pile up.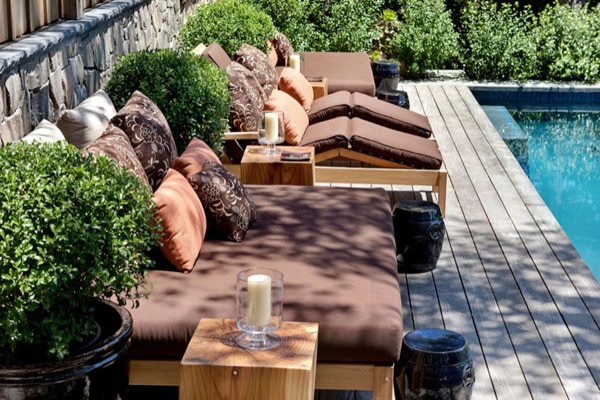 3. Daybeds
Ideal for lounging around, perhaps with a great read or the company of a loved one, daybeds are stylish and comfortable.  Choose your favorite cushion and frame and dress it up how you please with fun throw pillows.
4. Umbrellas
Shade from impending sun-rays guarantees comfort during warmer months.  An umbrella can easily be opened or closed depending on your need.  Umbrellas are convenient; they can be easily moved to your desired spot anywhere on the patio.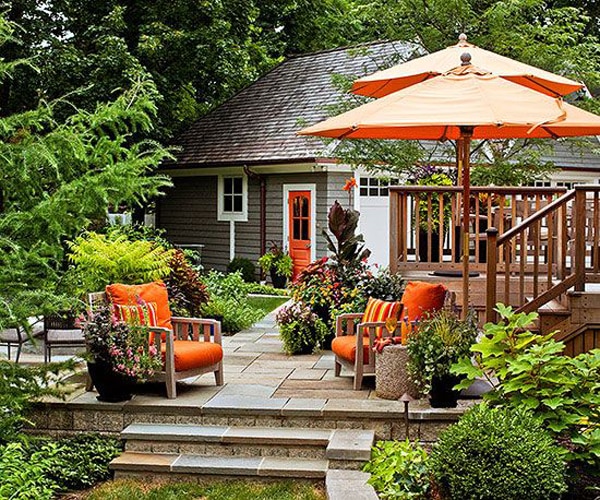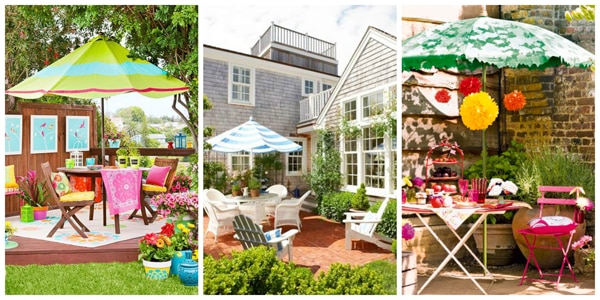 5. Hammocks
Hammocks give off a bohemian vibe. There is something earthy about hanging outside in a crochet bed.  Suspended in the air while the wind blows by, this will surely become your number one nap spot.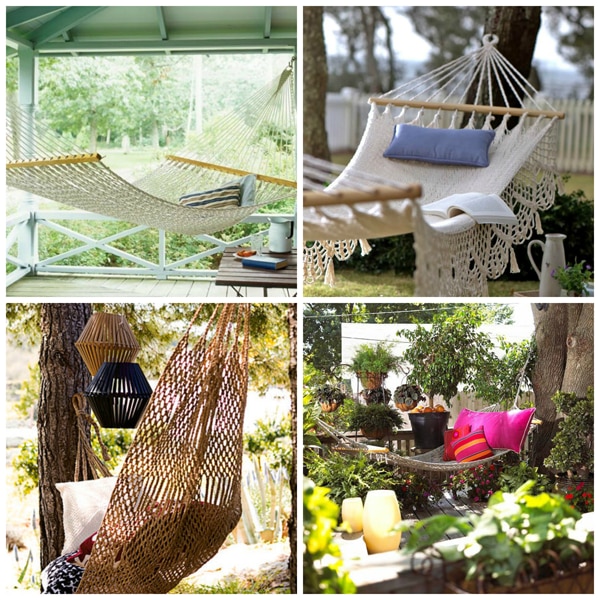 6. Lanterns
Festive and fun, lanterns add a touch of character to an outdoor oasis.  Go old school with a vintage oil look, or modern with colorful bubbles.  Whichever you choose, lanterns brighten the midnight darkness while adding vibrancy.
7. Plants
An outdoor sanctuary would not be complete without lively plants and flowers.  Go bold and have planters lining the patio, spewing with colorful flowers.
Going for a subtle look? Potted plants are just as appealing.  Purchase them well after they have sprouted, and all you have to do is water them.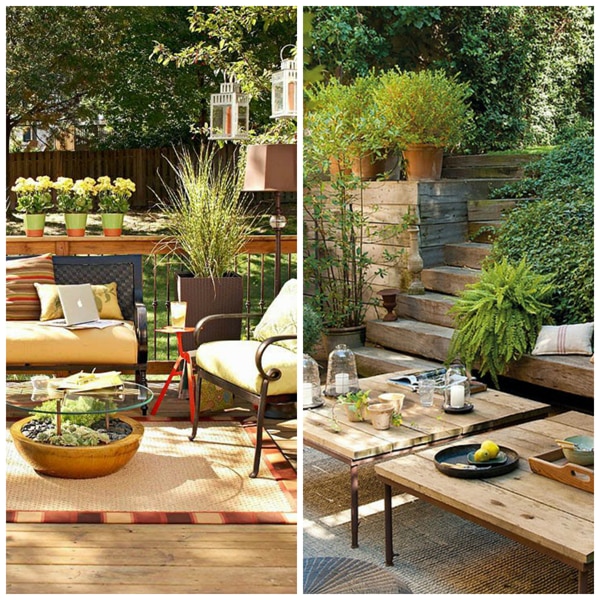 8. Swings
Reminiscent of being rocked as a child, swinging back and forth is always comforting. Love seats, a simple board, even a hanging daybed are some ways you can incorporate a swing on your patio. Trust me, these fun seats are always the first to get claimed.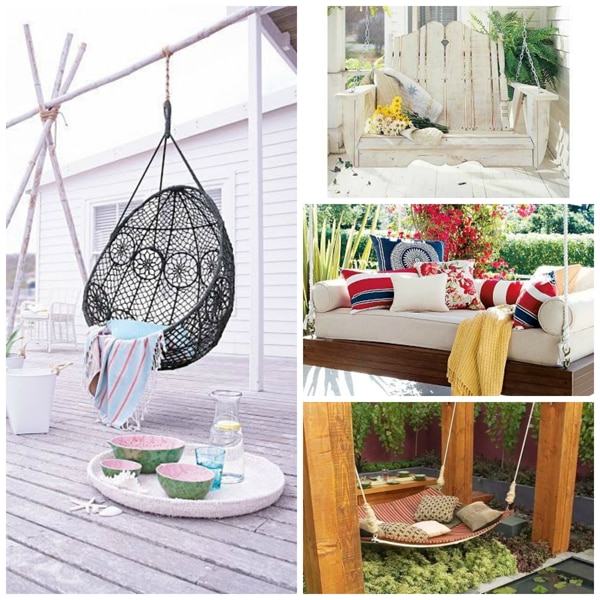 9. Patio Bars
Entertaining is one of my favorite things to do, especially during summer months.  A simple patio bar brings family and friends together and adds a decorative touch.  Many of these options are a breeze to install – there is no need to build anything fancy.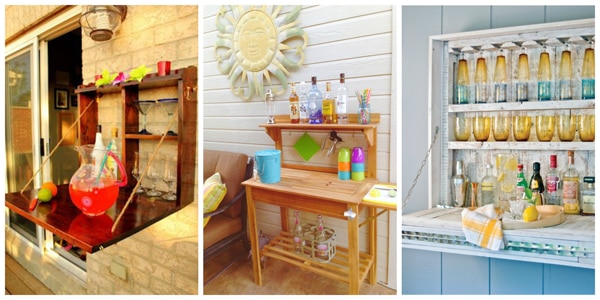 10. Dining Table
Eating, relaxing, and delight are the joys of a patio.  Therefore, your outdoor space would not be complete without a beautifully set dining table that sparkles in the natural sunlight. Add panache with center pieces strewn with organic elements, accented with colorful dishware. Details make the meal endlessly more appetizing.
Invite friends over, escape scalding heat under some shade, kick your feet back and take a deep breath. A striking patio is just what you need for a superior summer! I always believe that we decorate to make our lives a little more splendid and memorable.