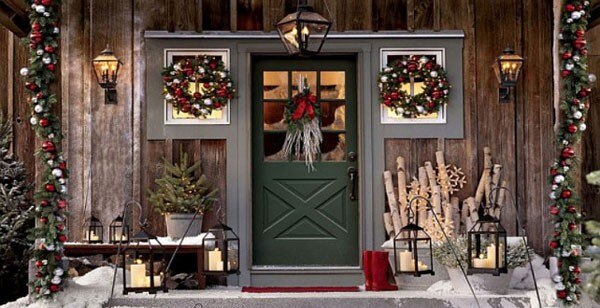 Don't let decorating for the holidays stress you out.  If a simple, homespun look is more your speed, here are some straightforward ways to incorporate a comforting and approachable style for a rustic holiday home.
Source: DigsDigs
Keep It Natural
The most effective holiday decorative items to fit in with a rustic holiday style may be just out your front door.  By keeping a lookout, you can amass a great collection of branches and pinecones from your evening stroll or a quick stop by the neighborhood park.  Pinecones are an effortless addition to centerpieces and are ideal bowl fillers.  While lovely on their own, a swift coat of gold spray paint takes these natural gifts from simple to stunning.  Wrap and secure fallen branches into a circle to form a natural yet festive vine wreath.  Standing tall in a vase or vessel, branches add texture and height to a vignette. Hanging ornaments on your collected branches is optional, but highly recommended.
Sources: Family Holiday, DigsDigs, DigsDigs, DigsDigs, One Kindesign, DigsDigs
Scraps of natural material such as jute, burlap, linen and wool can be used here and there to add a layer of soft texture to your decorations.  Wrap a foam wreath in wool yarn or tie leftover burlap ribbon around vases and candles.  Borrowing from nature and sticking to a natural color scheme of whites, browns, and greens, will prevent your displays from being too overwhelming as well as give them instant charm.
Source: DIY Network
Deck Your Windows
Rustic homes call for neutral, textured window treatments.  Wood blinds, drapery and roman shades are classic picks for this style.  To add some holiday cheer to your windows, drape with a simple swag of greenery or hang simple ornaments to fall in front of the glass.  A simple color palette will unite all elements of the home, bringing permanent treatments and furniture together with temporary holiday décor to create a harmonious interior style.
Sources: Candice Olson, Kelly Nutt Design, Country Living, DigsDigs
Candles Light The Season
Nothing provides the ambiance of the holidays as well as the warm glow of lit candles.  Easily transformed throughout the year, simple white candles are the finishing touch to a brilliantly decorated rustic holiday home.  If you appreciate a little sparkle, add a few mercury glass votive candle holders or gilded candles to your tabletops.
Sources: DigsDigs, DigsDigs, Style Carrot
Trimming The Tree
Since the Christmas tree is the focal point of your holiday décor, it makes sense to extend your decorating theme to your tree trimmings.  Wrapping gifts with kraft paper or recycled newspaper provides a natural, down-to-earth feeling around the tree.  Neutral paper can always be jazzed up with some colorful satin or velvet ribbon.  Another creative idea is to corral presents into a couple of galvanized buckets.  Gifts can be sorted by recipient for easy delivery and, as a bonus, the buckets can be easily moved aside when it's time to add water to the tree.
Sources: One Kindesign, Memorable Decor
Remember that rustic does not mean old and boring.  When styled with some thought, simple and natural elements can come together to create magically elegant displays that any holiday home would be proud to feature.  Happy holidays and happy decorating!
Source: DigsDigs