Green has been the unifying color of Blindsgalore ever since we introduced the first online marketplace in1998, for all custom window treatments. Green resonates as a refreshing breath of life, a transcendent hue that is a call to return to the solace of nature and find strength and resilience in our surroundings. Comforting ourselves with shades of green tempts us to retreat from technology and the harshness and dissension of the past year. Pantone's 2017 color of the year, "Greenery," is a zesty lime green that was chosen to reflect a hopeful, cheery color to brighten the outlook for a new year.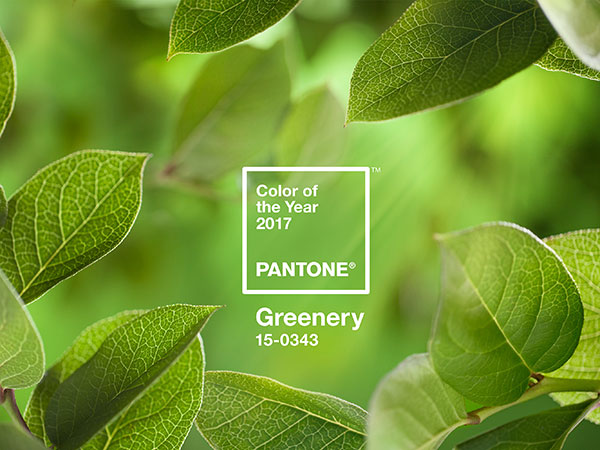 Pantone calls 'Greenery," nature's neutral." Even though this citrusy color, a combo of yellow and blue, may not match your particular home palette, it can easily be paired with blue, yellow, orange or red. Adding an accent of "Greenery" as a small burst can electrify your spirits as we wait for spring and the tender shoots of new life to appear. This new shade is not an announcement of a new trend, but a recognition of the sway of this leafy green in fashion brands, paint colors of tech offices, home decor and even in car colors. A new Mercedes AMG-GT 12 shines in this glorious green along with an even zestier Audi. Matcha Tea soothes with green deliciousness and pea green smoothies are forever being created in my kitchen.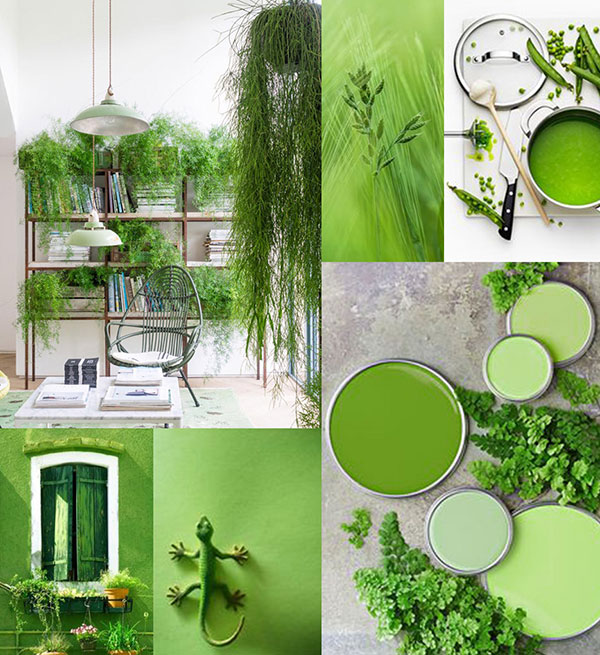 At Blindsgalore we have always been a fan of leafy green. If you have never heard of the Japanese idea of "forest bathing," it suggests that taking a walk in the forest can greatly reduce stress. I have my own way to find balance as I have been a runner for many years, and a run in the early morning as I watch the sunrise, keeps me steady when the winds of change throw me off course. If you cannot find the time to seek refuge in nature, bring Greenery into your home as a subtle reminder to unwind.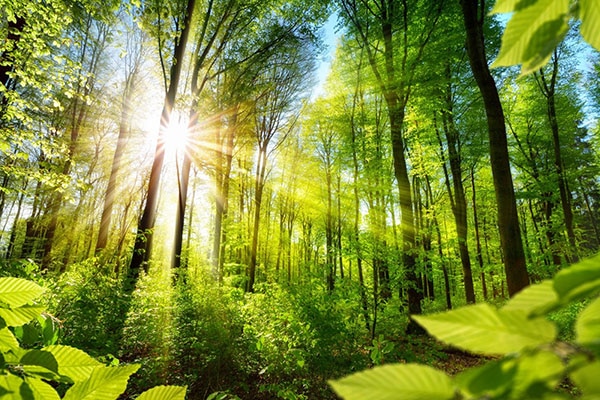 Here are a few ways that "Greenery" can zest up your home.
Leafy Green Window Treatments
Look at our collection of leafy green window treatments. I especially like our roller shades that come in solids and patterns that are anything but ordinary. Take the plunge and refresh your windows with a citrus blast with green roller shades or add a layer of sprightly draperies.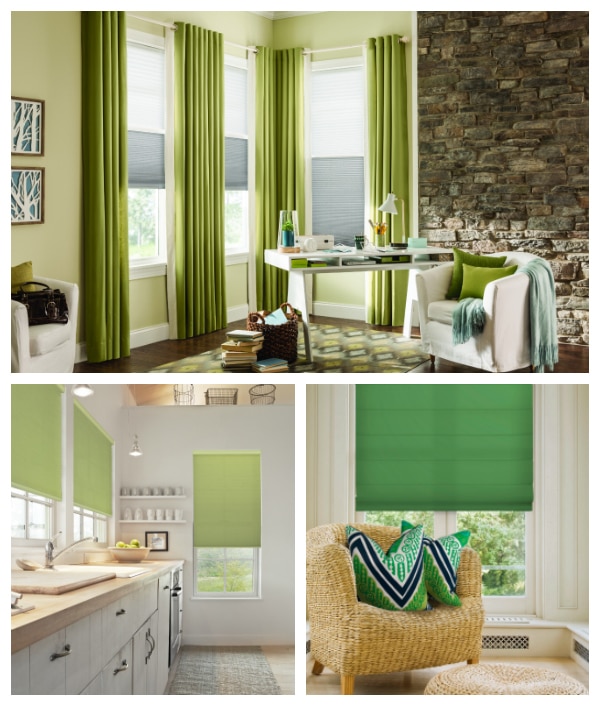 Featured Products: Blindsgalore Expressions Roller Shades in Forrest Moss, Bali Grommet Drapery in Coastal – Caribbean, Kellie Clements Simply Chic Cellulars in Vine Moss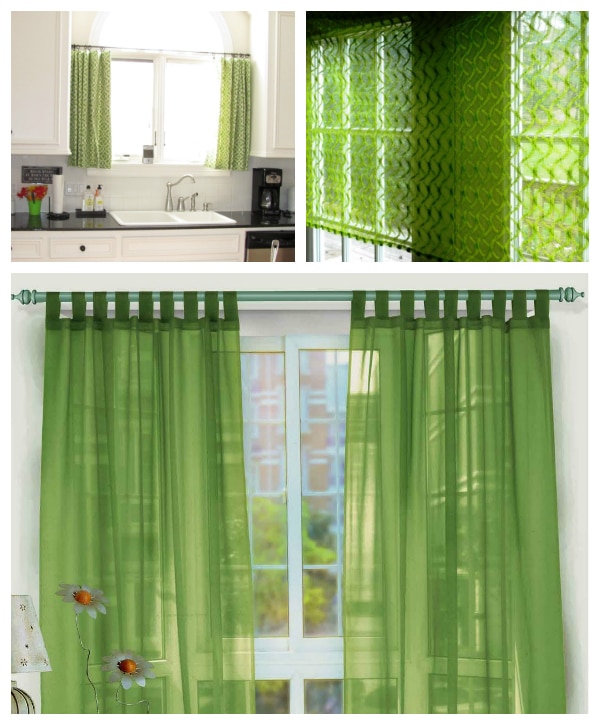 Simply White Against Green
If switching out window treatments is not in your decorating playbook this year, simple white or off/white treatments emphasize the "springiness" in your home against a green wall- in the bathroom, bedroom or family room. Just a coat of paint on one wall will bring you on trend and if you tire of it, just roll on another color- the beauty of paint!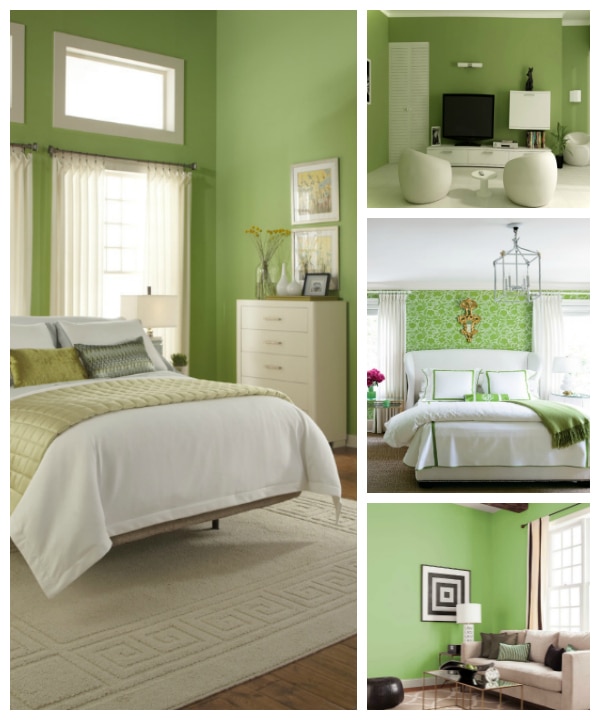 Greenery Glows
If this intriguing color is tugging at you, the dining room is one of our most active places and this hue gives a vibrancy to this space and engenders conversation. If you have wood tones in your kitchen, the organic feel of "Greenery" harmonizes perfectly here. Tile is extravagant but spectacular anywhere.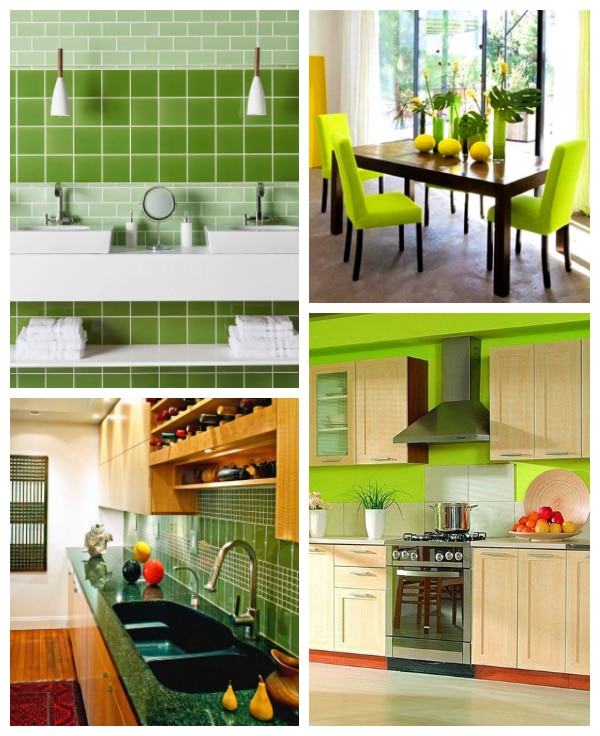 For more glowing Greenery ideas, find some inspiration on our Pinterest page.
Little Bits of Greenery
For those of us who want to inject a small dose of leafy green, simply add a few new pillows, an interesting light fixture, decorative accents or a small swath of wallpaper in a cactus or palm design. Green flowers can do the trick. One of my favorites, Bells of Ireland, always makes me smile. Maybe you are ready for some new dishes or just a few coffee cups rimmed in green.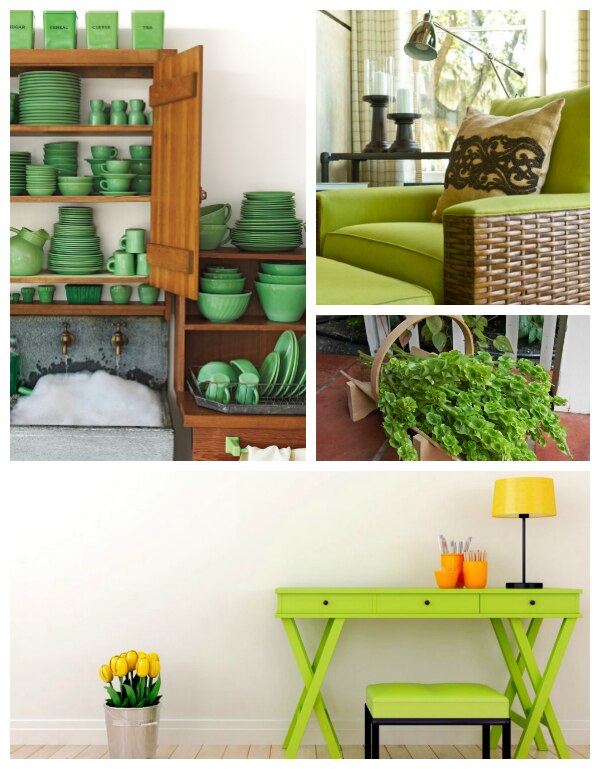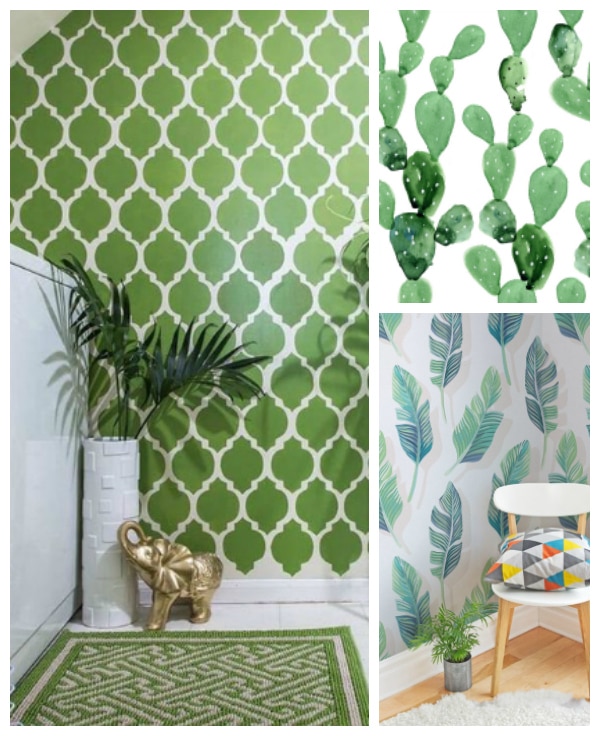 See. It really is easy being green!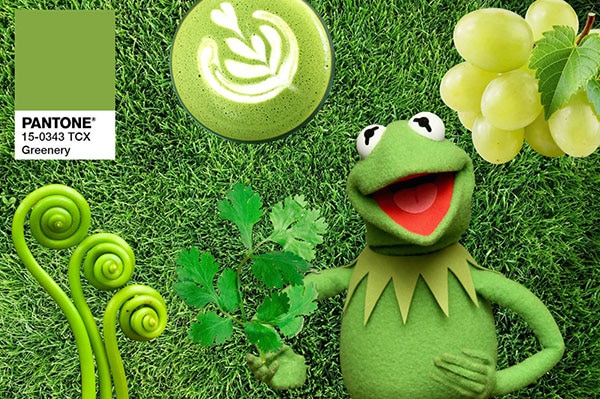 Featured Image: Redfin