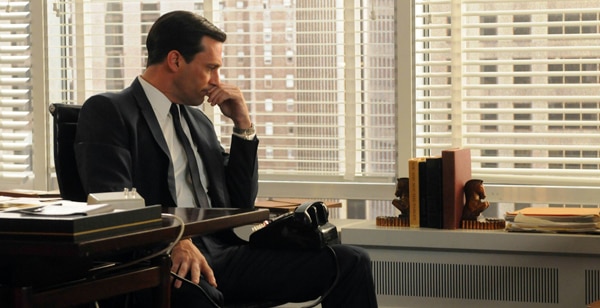 I have a confession to make. I love Mad Men. No, that's not the confession. I love Mad Men for the décor—the blinds, shades and kitschy-fabulous display of drapery, to be exact. With the Emmy awards coming up, I'm wistful of the classy television shows this year that have managed to take set design to new levels, challenging movies, even, in cinematography. Who knew TV could so skillfully embrace the importance of mis-en-scène?
You may have heard that the Mad Men producers are dedicated to painstakingly depicting the zeitgeist of a Manhattan ad agency crowd in the 60's. The window treatments are no exception.
Who is Don Draper? Although it took us half of the series to literally answer this question, we are now on the eternal quest to metaphysically complete the answer. When chillingly pensive on his office couch, Don always has his wood blinds drawn but never fully closed nor tilted shut. He is in a constant state of incompleteness, of searching, of discovering. Whether he feels half full or half empty isn't clear, but we do know that he has mastered the art of mystery. His namesake (a fake one at that) is a testament: Don (a god) Draper (the master of shrouding, concealing, burying and keeping us guessing). We can never clearly see through his window.
Even in the brief flashbacks of Don's childhood in the 20's, which become more vivid with each season, we see these wisp-thin faded (yet fantastically patterned) curtains that manage to tell the story on their own of this complicated home in which Don had his formative years.
We all know Roger Sterling's office is a shrine to the contemporary, including his spare and neutral white wood blinds. The irony of course is that Roger, a boy trapped in a man's body, hardly cares about his uber-modern surroundings, a product for which his ex-wife can only take credit for decorating.
Even though his grey drapes pull together the black and white contrast in the room, Roger is clueless about his path, living in the debris of all the women he's left for a better model. He's practically a farce of himself. His office is our continual reminder.
In the earlier seasons when Don and Betty are still married, their café-like kitchen curtains are nostalgic (these ones are authentic vintage specimens!), but they are also a perfect complement to Betty, herself the converse of Roger, the stunted girl in woman form whom Don can never fully take seriously. She is practically living in a dollhouse.
But I will say that she does know how to work a valance.
In the penultimate seasons of Mad Men, we spend time in Don and Megan's dream apartment for any '68 urbanite, with sunken living room and all. The patterned drapes with the extra-long coordinating valance are a statement, again showing an all around love for valances. Not bad, Megan, but, Betty wins.
We all love Joan as the sultry firecracker, and her apartment leaves nothing to be desired. If Joan were reincarnated as a window treatment, she'd be the drapes in her apartment. Enough said.
When Trudy and Peter move to the suburbs, Trudy picks out some fantastic floral drapes. A minor character in the show, she manages to pack a bright and preppy punch with each frame she enters. They even perfectly match her couch. Trudy's the kind of woman who at face value seems oblivious to her husband's city life, but who shows us she is one step ahead. She may play the part, but she is no fool. Only that kind of woman gets the drapes to match the couch. She doesn't mess around.
And with one season left, we all dangle off the precipice of what's to come for Don Draper and his acolytes. Will they turn their back on their leader? Only the drapes know.