The beauty of Fall is surrounding us with glorious colors and now is the perfect time to round up the kids and go on a fun excursion. With the nip in the air and the cooler nights, I think it is a perfect time to go camping. When my husband and I used to rough it in the outdoors , all we needed was a tent and some strong hiking boots and, of course, a gourmet meal. You know me, the food always has to be delicious and cooking over an outdoor fire makes everything always tastes better.
The little ones do give me an extra challenge now, and with the chill in the weather, I am reconsidering all of us clustering in a tent. I am nostalgic for the retro Airstream. You know, those campers with low behinds that make into expanding funny little pods. I decided I would check out some possibilities for a fun camping experience. I love this one. You can fit everything into such a small space that camping with the kids would be so much easier for me, yet still let us have an outdoor weekend to explore and be carefree. Pulling this little beauty right up to the lake and having a covered deck to watch the sunrise is my kind of wonderful. Will would love sitting on this covered deck and fishing from the deck in the comfort of his lounge chair.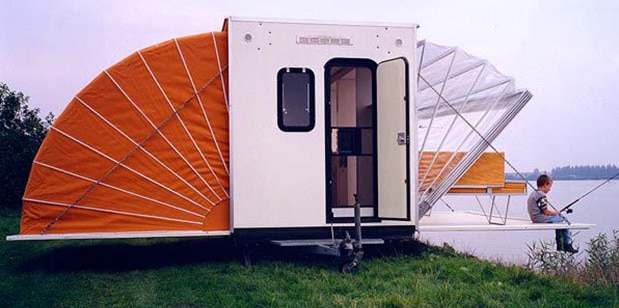 I checked out some other campers that were a bit more rustic and off- road centered. The big, rugged camper appealed to me so the kids could sleep in the tent portion and my husband and I could hang out in the top master bedroom. Camping isn't what it used to be.

The last one I found is the ultimate in luxury. I am not even sure this counts as camping, but the ultra modern design is amazing. The egg shaped trailer has a main room that changes from a reading room with a slide open bookcase to a bedroom with fold down beds and a family room with a tilt-open deck and even a bathroom with a working shower. If this is camping, I'm in!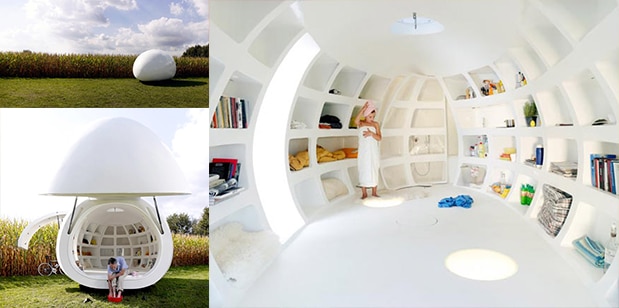 Whatever you choose, old, big, new ,retro, modern, being outdoors in the Fall, cooking, hiking, fishing, collecting snakes, telling ghost stories, making memories is a weekend for everyone.
Happy Trails to you!