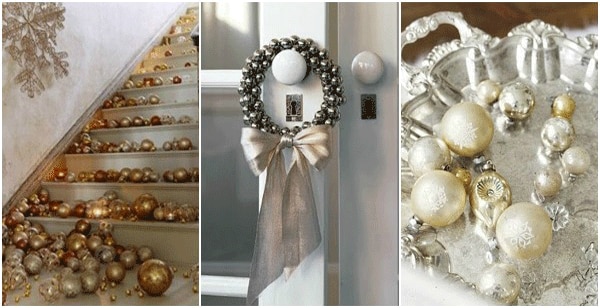 Only twelve days are left to add shimmer and shine to the Christmas holiday to impart a golden glow to infuse this festive season with sparkle. I always say, "Go For The Gold" and why not take a chance and "Go For The Bold!" Holiday time demands a shot of outrageous color and a shock of all things gold to amp up your table, your fireplace, your windows, your tree, your door, yes even you! The dark days of winter will be ever more bright with a few flourishes of sparkling gold. Here are 12 golden ideas to illuminate each day until Christmas.
1st Day Til Christmas: Golden Mantle
If you are lucky enough to have a fireplace and a mantle, there is no better place to begin a golden season. The mantle is a classic platform to create a beautiful scene. With just a few pieces of birch bark sprayed gold, a few candles and some fresh greenery, you are all set. A topiary of calla lilies, candles and pine cones all create a shimmering glow.
Gold branches and pine cones are always two decorative items to have in your holiday grab bag.
If you don't have a mantle, just use your dining room table to design a holiday landscape to last these twelve days until Christmas.
2nd Day Til Christmas: Gold Dots
If you have a room that seems drab and dreary, these gold room dot stickers are so easy to just pull off and splatter around a room to instantly produce a gold glow.
3rd Day Til Christmas: Gold Wreaths
I know you have your tried and true Christmas wreath, but this gold stenciled wreath is so simple and elegant and unique. If a spare white room is pleasing to you, this simple design makes a stunning statement.
Yes, I know you love the wreaths that sparkle and shine; who doesn't?
4th Day Til Christmas: Gold Leaf Treats
If you haven't used edible gold leaf in your cooking journeys, the holiday baking season makes candy and cupcakes or any baked goodies extra special and intriguing.
5th Day Til Christmas: Gold Pillowcase Tree
Holiday pillows abound everywhere and in every store, but this gorgeous gold tree made from satiny and shimmery gold material, stacked in varying sizes, rises to this golden pillow tree pinnacle. All I say is wow!
6th Day Til Christmas: Gold Pears
I am always drawn to the ovoid shape of pears. There is something intrinsically beautiful about the form of a perfectly shaped pear, whether, Bosc, Bartlett, Anjou or Comice. With a long straight stem and unblemished skin, gold paint enhances its brilliant design to use in any holiday scene.
7th Day Til Christmas: Gold Feathers
A plain white feather (buy at your favorite craft store, unless you have a pet goose) dipped in gold leaf or sprayed with metallic gold paint, is an easy and whimsical decor idea. Use as a garland, place in a vase for a centerpiece or let the floating feathers fly anywhere.
8th Day Til Christmas: Gold Ottoman
Ottomans and Poufs are back in style and re-imagined from that stodgy, cracked brown leather stool in a dark library. A pair of shiny gold ottomans will glow in any room.
9th Day Til Christmas: Gold Food
Don't forget to keep a gold palette on your table. Golden stuffing, light and fluffy, studded with apples and spices complemented by golden acorn squash, splashed with maple syrup and topped with melted golden butter are delicious stars at your holiday dinner.
10th Day Til Christmas: Gold Tree
Now, you are ready for the "pièce de résistance" or the gold masterpiece of the holiday-the ultimate shimmering gold tree, an extreme explosion of gold from gold packages to the treetop of gold bow and star.
11th Day Til Christmas: Gold Eggnog
Whip up a decadent bowl of homemade eggnog to celebrate your gorgeous gold holiday adventures. A tip: before serving, add a block of the best vanilla ice cream to slowly melt and chill this treat and don't forget to grate some fragrant fresh nutmeg on the top. Golden heaven in a bowl.
12th Day Is Christmas: Gold Fingernails
Today is the day you become the gold star of the show. Shed your decorating clothes, take off your gray sweats, glam up your fingernails and glow for the holidays with your family and friends.