We believe good design is an integral part of our lives, even when we are not consciously aware of how, why or when design affects our decisions, feelings, reactions and choices in our everyday lives. Design, like beauty, is in the eye of the beholder and creating a warm and comfortable space in our homes does not have to be a mystery, mastered by a few. We try very hard here at Blindsgalore to give you many tools, techniques and inspiration to encourage you to find your perfect window treatment, but putting together an entire room can seem like a daunting task. Not so, just like those painting by numbers kits that you might have used as a child, numbers can also be a design guide for some basic rules for a harmonious room. Just a few math solutions (easy numbers, no calculus here!) can make decorating a room easier and less stressful. Let's go room by room for some simple and quick rules to follow to make you a design master.
Living Room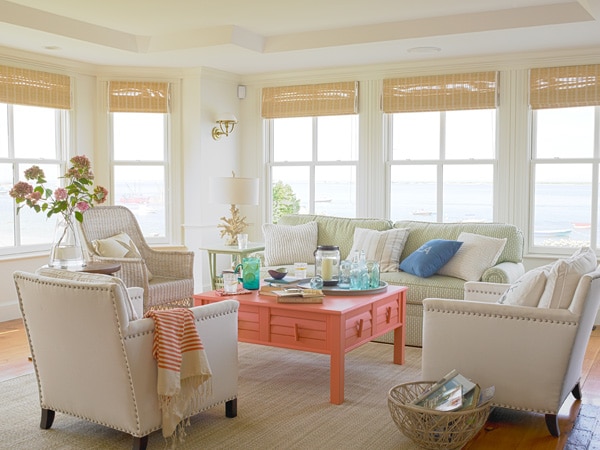 Area Rug
When selecting an area rug, your rug should cover close to 60% of your room, leaving at least 12 inches of additional floor space to create the best balance.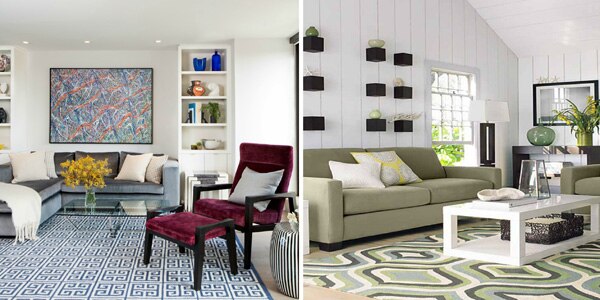 Coffee Table
Choose a coffee table that is 2/3 as long as your sofa and 2 inches lower than the seating level. Keep 18 inches free between the table and the seating so there is ample room to freely walk by.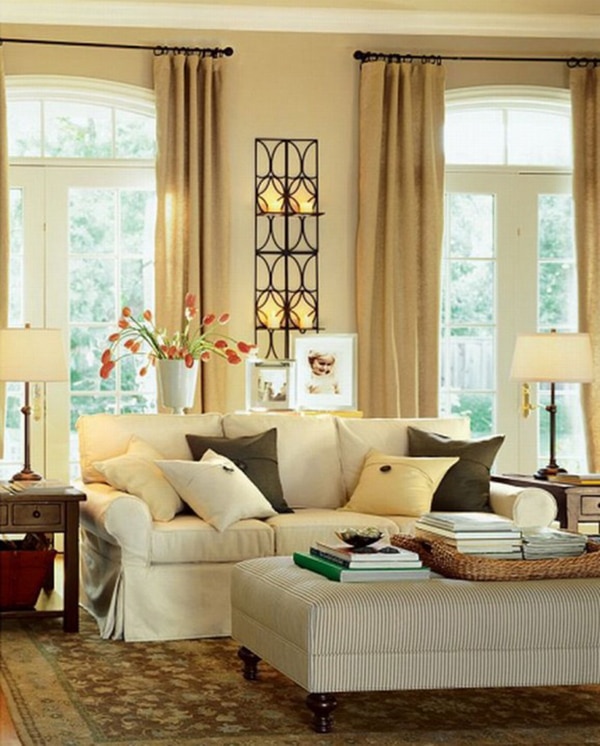 Lamps
For table lamps near your sitting area, keep lamps with shades at eye level when sitting to avoid burning light bulb eyes! A floor lamp should be 68 inches high for a perfect look. How do I know, I just do! Have tape measure, will travel!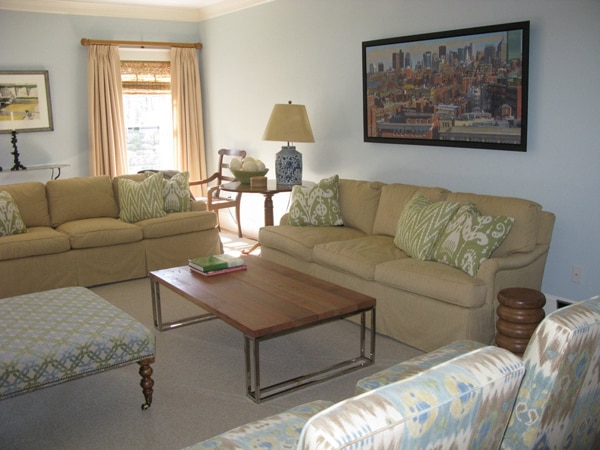 Art
Your sofa dictates a space for a masterpiece. If your sofa backs up to a wall, use this visually striking area to set the mood for your living room. Try to complement the size of your sofa. Select a painting or poster or photo that is 2/3 the width of the sofa and place it in the middle of the sofa, 60 inches from the floor unless your have an unusually low sofa. Place the art 10 inches above the sofa.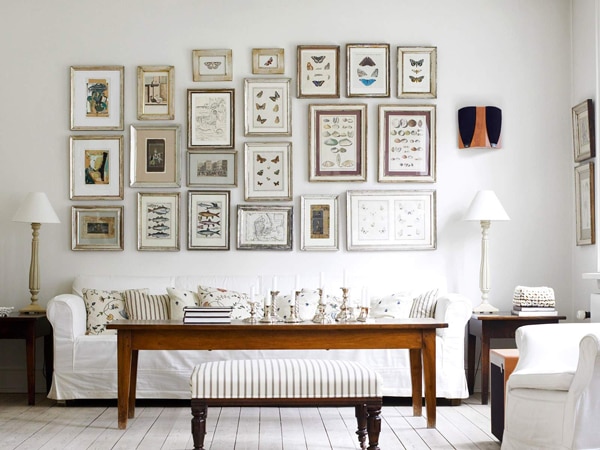 If you love an art collage, which is my favorite design idea, go for it, but know that this is tedious (but so worth it if you have the time and patience) and requires more numbers and a level, tape measure and ingenuity. But don't worry, easier is often better as a large piece of art creates a dramatic impact and math does all the work for you with one nail!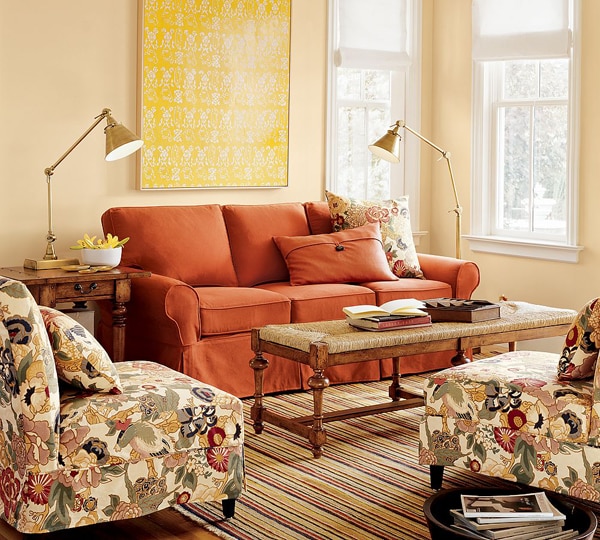 Pillows
We have become pillow obsessed and with so many unusual, colorful and artistic pillows, it is easy to go overboard and load up the sofa until there is no room to sit. Your standard 7 foot sofa really sits two people, so for best practices, start with a 20 inch square pillow-two on one side and one on the other, but if you like a more balanced look, use two pillows on each side.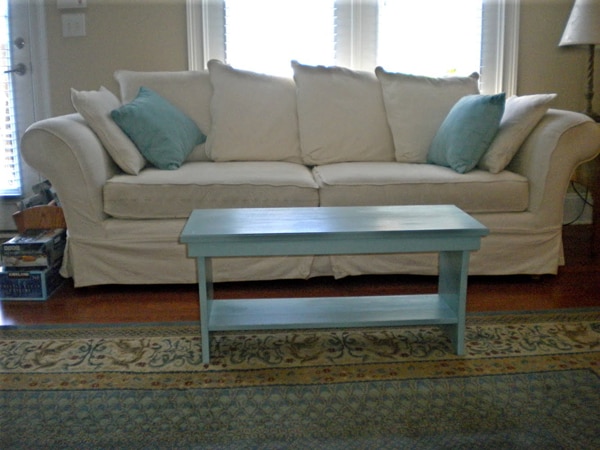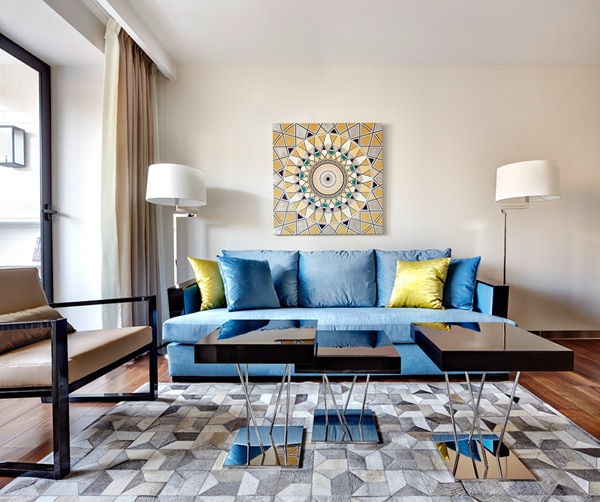 I know that sounds like a puny parade of pillows, so, of course, break the rule; I do this all the time, but complement the colors and patterns.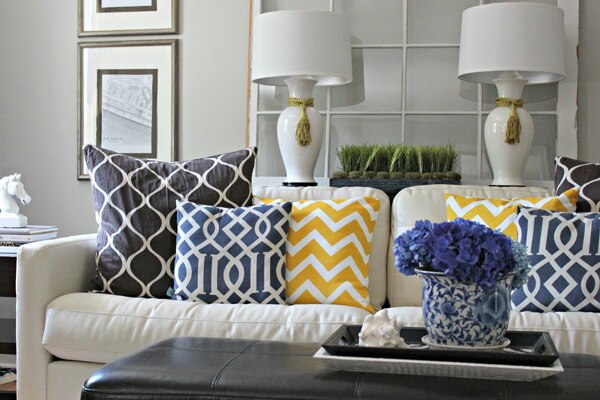 Please don't go crazy and just find pillows at random that don't work in any room!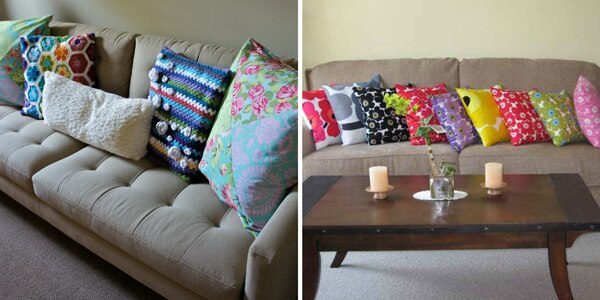 Your living room is often the showcase of your house and can become a design monster if you try to do "too much" and over decorate with too many patterns.
I do think that pattern mixing is an art and not math but when you mix and match patterns, here is an easy rule: stick to one bold print per room and use that large design either on the wall, the sofa or the rug. Then, add one or two smaller, more understated patterns in the same color palette but 1/2 the size.
Dining Room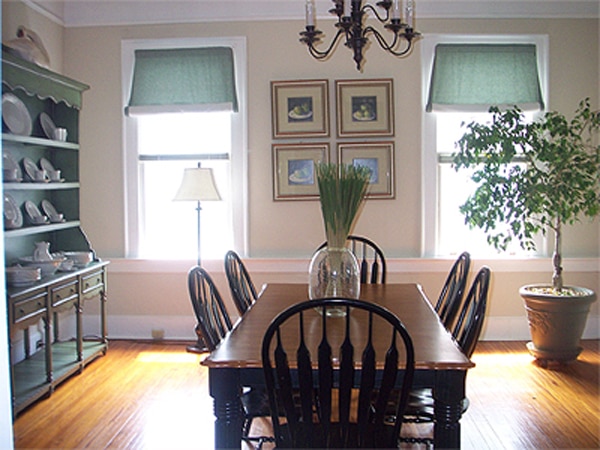 Dining Table
Don't scrunch up your guests. If you can, each guest needs a 24 inch space of elbow room. This can be a challenge for small tables and small rooms, but strive for comfort. Always center your table in the middle of the room. It is best to have your chairs 2 feet between the wall and the backs of the chairs.
Chandelier
A chandelier always adds drama and a focal point to fill up the vertical space. Whatever style you choose, hang it 36 inches above the center of the table for perfect balance.
The buffet should be in proportion to your room and it is better designed for the buffet to be too long rather than too short and the best height is 36-42 inches high.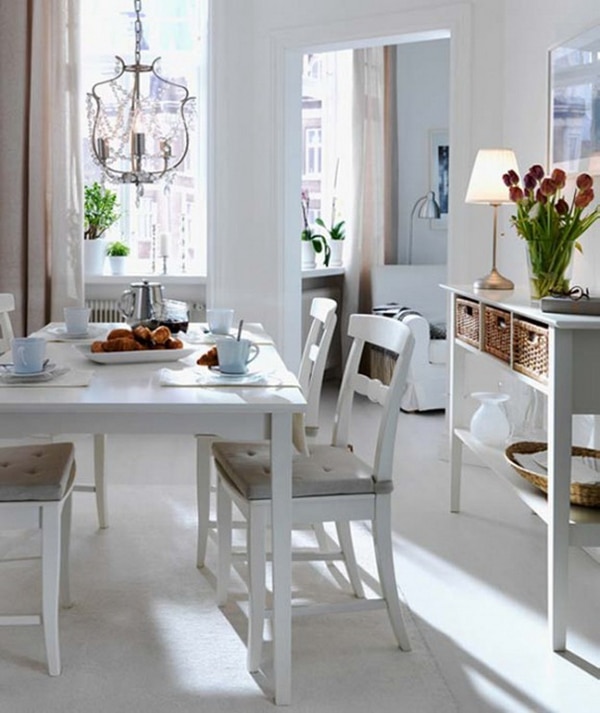 Drapes
Many dining rooms are a natural setting for drapes and I always like to have the drapes "kiss the floor"-with a 1/2 inch break. If you prefer the "puddling effect," add 2-3 more inches to your measured length. Either way works, but go longer, not shorter, when doing the drapery math.
Tablecloth
One last number for the dining room is for the tablecloth. I love tablecloths as they easily amp up the style to your celebrations, whether you use a vintage quilt, a French inspired patterned tablecloth or a crisp, classic white linen tablecloth, try to allow a 15 inch overhang for perfect harmony.
Bedroom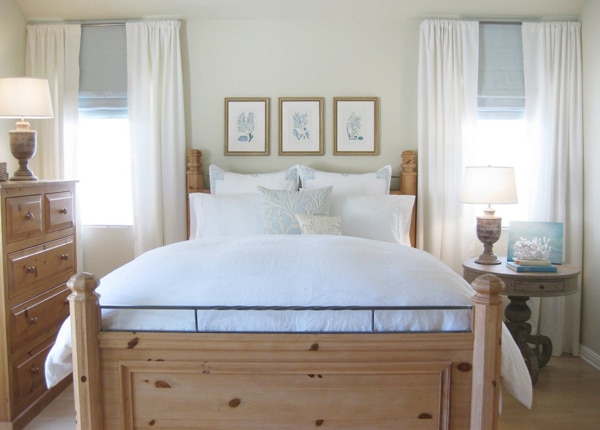 Your bed determines the formula for bedroom design. If you have a headboard, go for 4 feet tall so all those pillows can line up and be seen without hiding the headboard and diminishing the size of your room. I think the bed becomes even more of a pillow catcher than the sofa…just look at any home decor magazine and the bed becomes a pillow canvas and a monumental make-up task in the morning. Ugh, what we do in the name of design. Purge the pillows. Try to pare down to 4 pillows, arranging them in descending order: pillow sham, sleeping pillows, little decorative pillows. If you must be a "pillow monger," at least vary the sizes and styles.
Throw
A folded throw at the end of the bed in a contrasting color ties together your bedroom decor and the throw should drop 6-12 inches on either side of the bed for the best ratio.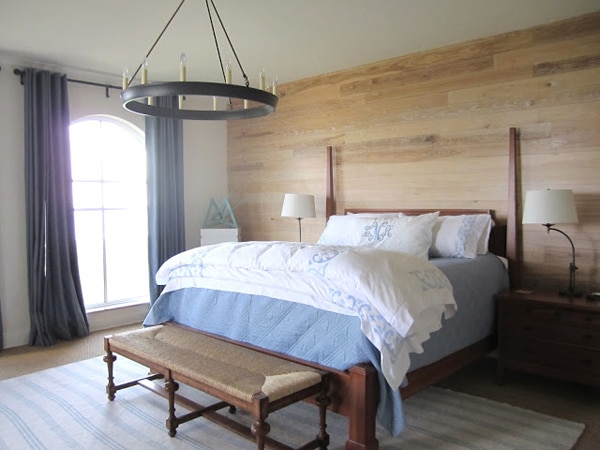 Bench
I love a bench at the end of the bed, even if it becomes a catch-all. Mine is loaded with books but whatever ends up on your bench, it should be 2/3 the width of the bed frame and can be 1 inches to 12 inches below the top of the bed. Your bench should not be higher than your bed frame, not a pleasing proportion.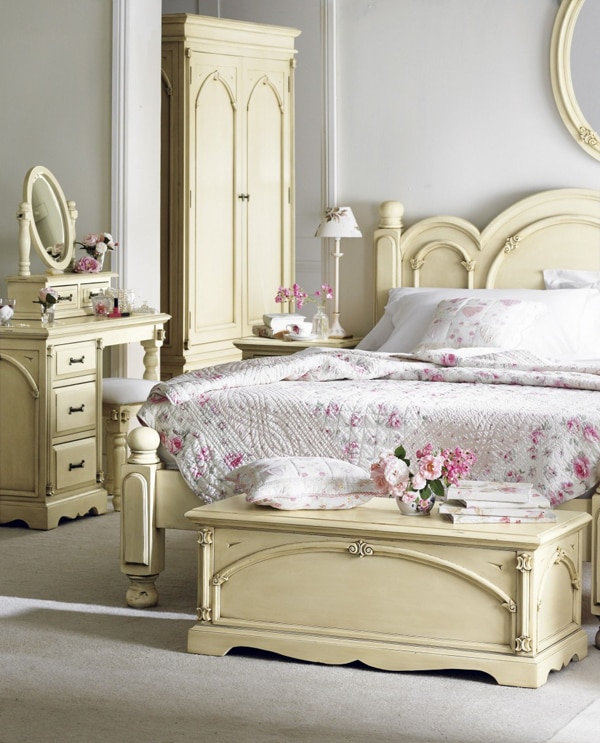 Bedside Tables and Lamps
I can't imagine a bed without tables on each side; they don't have to match but look best when 2 inches or so lower than the "made-up bed"- depending on the height of your bed, from a low platform to a high-step poster bed. 24 inches to 27 inches tall is the magic number for bedside lamps. They do not have to match, but the room looks more pulled together if you have lamps on each table and the tops of the lamps should be of the same height.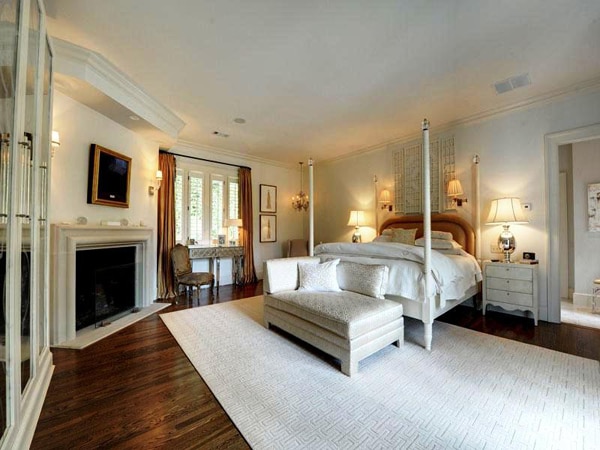 Art
The space above your bed is another dynamic space to create a strong statement, whether you choose a large picture, a handmade wreath or decorative mirror. This bold decor should take up at least 2/3 of the available area above the bed and should not go beyond the edges of the bed.
These are your three big living areas in your house to design with some simple math numbers; follow these easy formulas and your home will measure up perfectly.
Color Palette
My last thought is how to create an overall cohesive color scheme for any room. Choose your favored color and use it in 60% of the room; select two accent colors for 15% of the room which equals 30%, leaving you 10% of free form color craziness to jazz up your room for 100% excitement.
Not that you have to use every color in your room-yikes!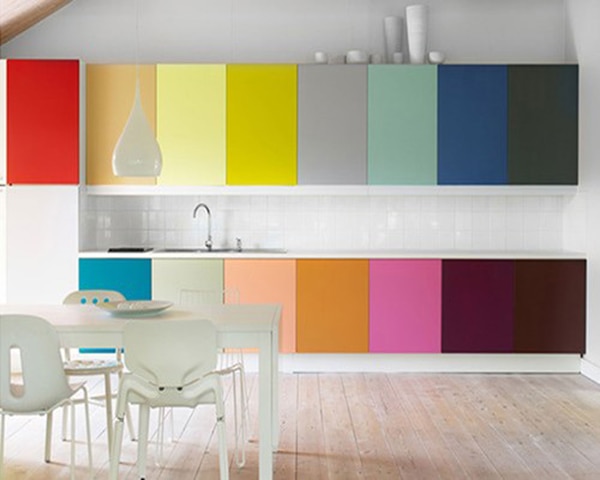 So sharpen your pencils and make use of math along with your design ideas or you can always be brave and break the rules, why not?