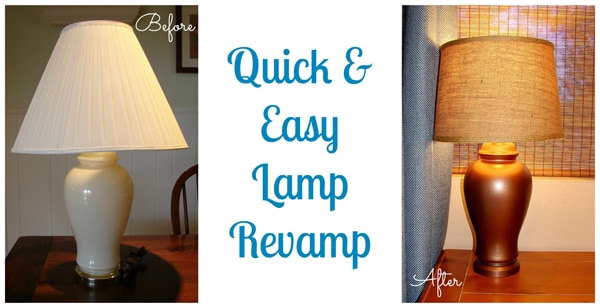 I've been looking for a lamp for my living room for quite a while now. I knew I didn't want to spend a lot and it had to be fairly neutral as the room is still coming together. So, I figured my best bet would be to get a little crafty! I really did get lucky as I came across this lamp at the first Goodwill I visited.
For the bargain price of $7.99, I knew this would be a great candidate for a little DIY love. Even if I royaly messed it up, it would be a fair price to learn a lesson!
I swung by Home Depot and picked up some Rust-Oleum Universal Glossy Metallic Copper Spray Paint.
Then I snatched up this burlap lamp shade from Target.
For the transformation, I just removed the old lamp shade, covered the socket and cord with some aluminum foil, spray painted a few coats, let dry and added the burlap shade.
It really was simple and I'm pretty happy with how it turned out.  Not bad for $30!  I'd love to hear about the latest DIY home decor projects you've been working on.  Feel free to share the tales of your craftiness.
P.S. More details about those woven wood shades in the background coming soon!