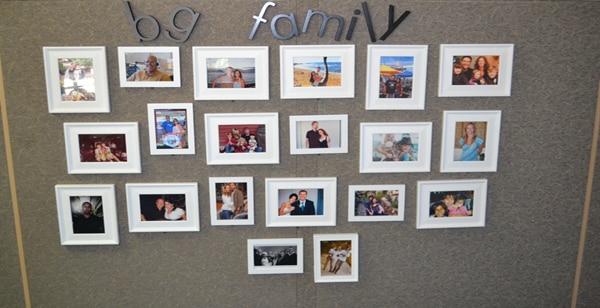 Here at Blindsgalore we honor family in many ways. Today our President, Chelle, is rearranging our family photo gallery with new pictures of weddings, babies, children and grandchildren.
Making a photo collage is simple.
First, place your photos on the floor as you mix and match your shapes and sizes to create an artistic display.
When your design comes together and you are ready to hang your photos, your level and tape measure are your secret weapons to an artful photo display.
Double stick tape is the invisible magic to keep the pictures straight, preventing drooping and swaying. I love this new ultimate red gel double stick tape as it is super sticky and keeps heavy frames sturdy.
Cover the entire back of your frames with tape for super stickiness and press vigorously into the wall. Be fearless. You don't want those photos to fall.
Don't over think your photo collage. The collage will take shape as you create a unique memory montage.
I love our BG family photo collection as it always reminds me that family matters.
Our Blindsgalore is a family owned business whose owners care about each and every person who works here. You, too, a part of our family who love
Comfort
Style
Pizzaz
Color
Whimsy
I want you to love being home.
Katie