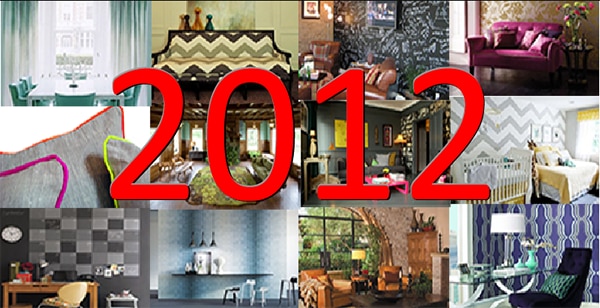 2012 has come and gone and as we look forward to the surprises of 2013, it's fun to look back at the design trends of the past year. From rad retro to patterns galore and a sense of the outdoors; 2012 definitely had a style of its own.
Find your leg warmers and get out your spandex because the 1980's attacked in full force with neon colors.  Not only was it seen in fashion, but neon rocked its way into our homes.  But no worries, this rebirth of neon focused on one bright focal point such as a feature wall, chair, or even a bathtub without overdoing it.
Nothing made you more compelled to be organized and creative than the popularity of chalkboard paint, which turns any surface into an instant writable and erasable canvas.  This paint has covered walls, refrigerators, tables, dressers, and even coffee mugs.  Using the paint to make your own wall calendar is a great idea, but do we really need a reminder of which clothes are in which drawer?
Wallpaper isn't just for your Grandmother anymore.  2012 gave us a new, fresher take on wallpaper with bold graphics and modern colors.  Wallpaper designers such as Schumacher and Phillip Jeffries have updated this centuries old tradition and given us beautiful coverings that make any room pop and any guest say, "WOW!"
In this highly technical and industrialized world, there is a movement to get back to nature and 2012 gave us plenty of inspiration to bring the outside in.
The two big designs seen in fashion and home were the architectural chevron pattern and the organic ombre effect.  Both styles can be incorporated into different design aesthetics.
For accessories, paint and flooring, chevron and ombre can be styled from casual to sophisticated.
2012 saw a lot of great style and ideas.  I am definitely looking forward to the inspiration we find in 2013!  Happy New Year!