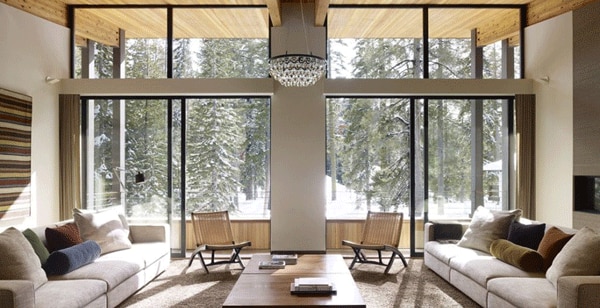 The home décor gurus are already bombarding us with old trends that are passé and new styles that are coming your way. These style data crunchers look at runway fashions, car designs, scour trade shows, blogs, pop songs, and scrutinize the mood of the country to glean lots of information to spit out design predictions for this new year. Don't take these to heart, as I always say follow your own spirit, but after checking out the décor designers from Lonny, HGTV, Elle Décor, House Beautiful, Pantone, Houzz and others, here is a collection of five trends that are so out and the five new trends to follow.
Done, Gone and Out
1. Ikat Prints
Apparently, this pattern has suffered overuse from couches to towels and when it appeared on paper plates, the home stylists bumped this pattern out. The chevron pattern is also following the same fate. As I noted in the Pattern Primer blog, Ikat, in its original process, is a complex fabric dying art form which creates a subtle Moroccan or Indian style motif – another beautiful pattern that has become mass produced and its artistry diluted.
2. All White Kitchens
Too much design zest in the exploitation of the use of industrial steel and shiny and stark materials in kitchen equipment evoked a "cold" mood and overtook our favorite "shabby chic" or "cottage comfy" kitchen look. Don't despair, the all white kitchen still works, just look for a softer way when selecting appliances and counter tops and lighten up the space with natural finishes, wood accents, and relaxed window treatments.
3. Book Stacks
Alas, one of my favorite ways to display books (lack of bookshelves), artfully arranged in stacks, has now been reduced to kitsch with decorators removing book covers and lining up books of all one color, for design sake. Or even worse, books arranged in a store display window floating in a domino pattern. It's bad enough that reading real books is on the wane, but using books only as a decorative element is unfortunate; so the useless stacking of books is also out. However, I am still reading hardback books with actual paper pages that you can feel and turn as the story unfolds you into its trance. I am reading, "Life After Life" by Kate Atkinson and I am keeping my stacks of books.
4. Emerald Green
Emerald green was the color of 2013 which was a sparkling rich, intense green, suggesting growth and renewal. Since the mood of the country is more optimistic than last year and with the burgeoning economy, a brighter mood is on the horizon for 2014, which makes way for a feisty, new and bold magenta!
5. Anything Fake
Stylists are throwing out anything that is fake, tasteless or pretentious, whether it be animals, plants, objects or motifs that are not natural or organic. I, of course, think décor that exudes an artificial or synthetic style creates a contrived and stale look.
IN, IN, and IN
1. New Naturals
Fiber art and the use of natural, earthy elements are making a comeback in a big way. A return to texture on walls that is affordable will be a design feature, instead of mass produced posters and tacky wallpaper. With the increasing importance on good eating and healthy living, our homes also are a part of the way we express our wholesome and fit attitude. So surround yourself with plants, reclaimed wood, woven window treatments, a basket of seashells or smooth found rocks. Or, maybe revive a macramé piece of art. A reminder that gray is the new neutral and a color to embrace for all palettes, for all seasons.
2. Corduroy Fabrics
Instead of velvet or chintz or patterned fabric, soft and cuddly corduroy is the feel for 2014. Whether on a pillow, a couch, or chair, corduroy exudes comfort but looks just as vibrant in a formal room. This cozy and homey fabric accentuates this year's return to feeling good. I am trying to imagine a Roman shade made from corduroy; I am working on it in this year's style book.
3. Window Sheers
Heavy drapes are almost an extinct creature in our homes. Sheers are so chic with new luxe materials that flow and swing and offer light, softness, adding a delicate touch to your windows. Sheers are elegant, easy, and simple all at once. As our society becomes more open and accepting, a window covered with sheer shades mirrors the transparency in our lives.
4. Radiant Orchid
This striking combination of pinky purple will be everywhere on Converse and Nike shoes, to dresses and sweaters, to makeup, to coffee makers, to pillows, and as accents in home décor and on your walls. For 2014, radiant orchid expresses our vitality, ingenuity and creativity as the world continues to explode with new ideas. All things, "the color purple," will be in vogue. Radiant orchid is actually at the opposite end of the color wheel from 2013's Emerald… another reminder of our fast paced, changing world. The "cool blues" also make an appearance as indigo and cobalt for a more muted look, but the smoky, filtered look of amethyst and rose quartz will be popular. Sherwin Williams, a premiere paint manufacturer, announced its color of the year as "exclusive plum," a faded violet. But for the bold color lover, radiant orchid is the color of the year.
5. Pared Down Rooms
Minimalism strikes a chord as clutter in our minds, desks, and homes needs to be banished, once and for all. No more stark and unwelcoming rooms, but clean, inviting, and relaxing spaces that make you smile. Just try to pare down the extra "stuff" and emphasize colors and objects that you love and are memorable. Sleek window treatments, soft pillows, interesting shapes, fresh flowers, and earthy forms are easy touches to make your home ready for 2014.
Trends do come and go and ebb and flow and it is fun to keep up with the times and tastes, but your home is still your oasis where you unwind, refresh, and Behome… that never goes out of style!