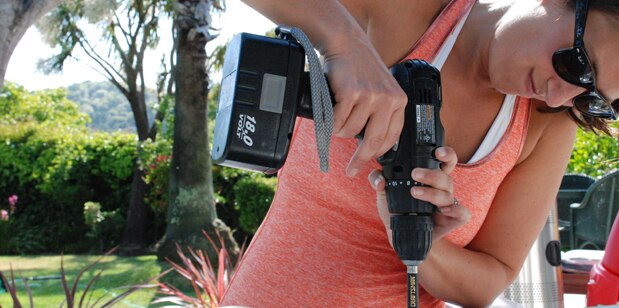 I woke up to a beautiful sunny summer day, grabbed my mug of dark roasted coffee spiked with steamed heavy cream, and plunked myself down in one of my old green rickety wicker chairs to savor the morning sunrise. My chair sagged and groaned and right then and there, I decided my patio needed a new look. Even my solar screens were screaming for a new view.
I hopped in my car, checked out my local outdoor living store and bought four new Adirondack chairs, two tables, and a bright blue and white patterned outdoor rug. I made a quick dash to the hardware store for five cans of glossy white spray paint to refresh my ugly wicker coffee table. It's not in the picture as it is still drying.
Of course, the chairs were in a myriad of pieces in big brown boxes but undaunted, I put the chairs together in a snap, as I always have my power tools ready. Even Will helped me with his advice and inspiration and his own special tools. We finished our project just before Will's nap and I am now relaxing and loving how the pristine white chairs accent the bright blue in the rug.
My patio now has an upbeat new vibe and my Blindsgalore Coolaroo outdoor shades are happy, too. Will and I are going to hang out here all summer long in cool, crisp white and blue.