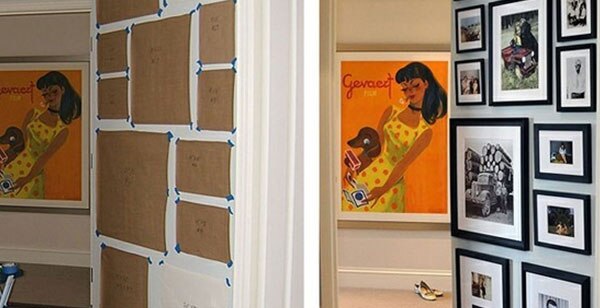 I love being able to show off pictures of my family in my home. With the kids growing so quickly, I often find myself trying to decide between baby pictures and the new photos from school. Throw into the mix the pictures I have from Christmas, Thanksgiving and Birthdays and I quickly run out of wall space. I recently decided to start making better use of my space by coming up with some creative wall arrangements.
By using different sizes of frames and shapes, I was able to create a story within the way the frames were arranged. I started by going online to find a list of common frame sizes, such as 4×5, 11×14, and 10×13. Next, I cut pieces of recycled paper into these sizes and laid them out on the wall to represent where they would live. Once I got an artistic arrangement, based on resolution and importance, I decided what shots would be what size. Then, I took a quick trip to my local print shop and frame store for printing and mounting. From there, it was just a matter of hanging the pictures.
This collage of photos is a quick way to really express my family's journey of special moments through the collection of pictures we have gathered over the years. Try it your self and remember to use oval frames vintage frames and recycled frames to break up the composition for even more variety. Or if you like, empty picture frames that are unique can alone create a decorative wall.
Happy Hanging.