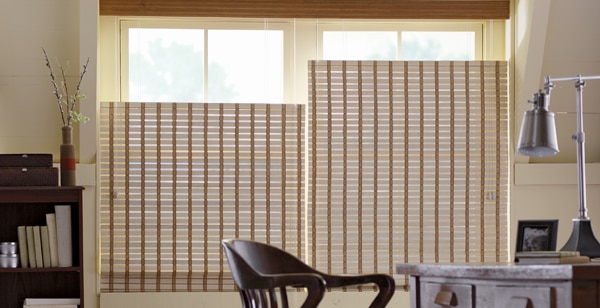 Today, I thought I'd share a question about shades and blinds from a customer in New Jersey, because it addresses a very common issue with customers across the country.
Q. I just moved into my house in New Jersey and my neighbors are right on top of me! What is the best window shade for privacy? I like the look of wood blinds but I'm worried about people seeing in.
A. Whether you live in a densely populated area or not, privacy is important in rooms like bedrooms and bathrooms. If you are starting fresh with brand new window shades or blinds, it's easier to get it right from the start. Consider these things when choosing your new window shades:
If you are buying cellular shades, roman shades or pleated shades, you can choose to have the top down/bottom up option which lets you position the shade anywhere in the window, so you have privacy at the bottom while still letting some light in at the top. This is a great idea for windows over bathroom tubs.
Decide whether you want blinds, or shades. Technically, blinds have slats and shades are solid fabric, but many of us use the terms interchangeably. Any window blind like wood blinds or faux wood will give you the ability to tilt the slats so that no one can see in, but you can still let some light into the room. Shades, on the other hand, are solid fabric and are either up or down, or, somewhere in between if you have the top down/bottom up style.
Blackout fabric. When you are ordering your window shade, select a blackout fabric for the most privacy and room darkening available. In the case of a more semi-opaque blind like a woven wood, add an optional privacy liner. Some shades like roman shades have inherent light gaps at the sides, so if that is a concern, you may want to order yours as an outside mounted shade that completely covers your window opening.
If you have just moved into your New Jersey home and are inheriting some blinds and window shades that don't offer enough privacy, you can save money by keeping them and simply layering them with some affordable drapery panels to give you more privacy and room darkening. Plus, drapery will give you extra insulation value against winter winds and also introduce another design element into your room.