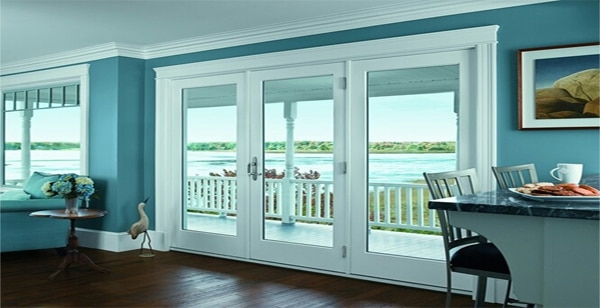 It is becoming that special time of year where the days are longer and the nights are warmer.  The sun shines high and bright all day and you can take full advantage of the seasonal glow and summer air with these 4 summer patio door window treatment ideas. The beautiful weather means your patio will be the gateway to where you and the kids can play in the pool, run around on the lawn, sit down to a yummy cookout every night and finally grab a quiet moment to read and relax at the end of the day. Make sure you incorporate the essence of summertime into your surrounding spaces with these special patio door ideas.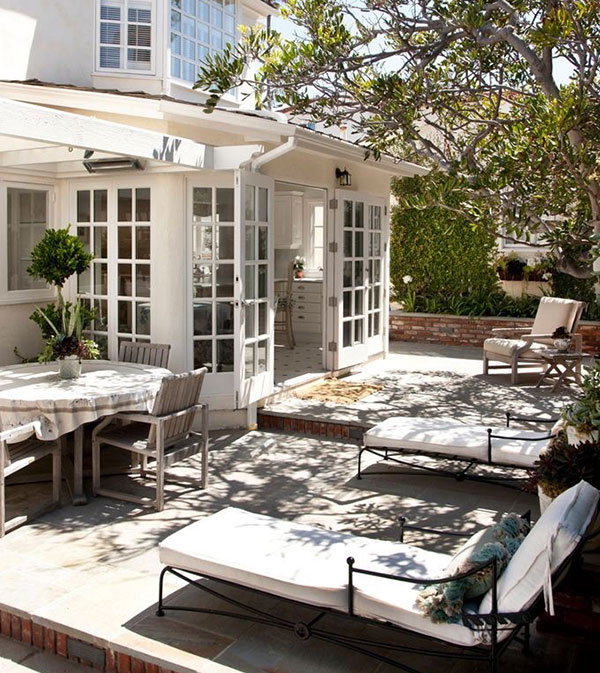 Solar Shades
Solar shades or solar screens are the ultimate window treatment for summer. The name says it all! They block the light, but not the view and are great for French doors or single patio doors. You can still keep watch on your kids while you're making dinner without the harsh glare of the setting sun glinting into your eyes. Solar shades come with added bonuses such as limiting the summer heat within your home, protecting you from UV rays and keeping your furniture and other décor from fading during the bright daytime.
These solar shades of white and cream emphasize a modern and clean look. Choosing a darker shade can add another layer of richness into your home.
Sheer Drapery
Nothing will give you that light, airy feeling during those sticky, hot summer days than sheer drapery. Imagine a warm day; your patio door is open; a refreshing breeze rushes through, rustling your drapery and instantly cooling you down. Can you romanticize window treatments? I just did! Sheer drapery is elegant and swanky, yet effortless. It makes me feel like I am summering in the Hamptons.  Sheer drapery softens the glare on all types of patio doors, but will not feel heavy like other fabric drapery.
Sheer drapery will blend into any environment. These crisp white drapes fit perfectly into the causal living room on the right and help make the blue accent colors shine. The more formal living room on the left looks absolutely stunning with the yellow drapes which add a pop of color and the classical statues and twisty trees enhance the romantic, yet structured look of this room. Sheer drapery imbues any room with a graceful touch of lightness.
Feel free to go over the top with these stunning shades in metallic hues.  Because of their sheerness, these silky drapes scream glamour without feeling excessive.
Cellular Shades
Sure, you've seen cellular or honeycomb shades on windows, but have you ever thought of placing them on your patio doors? For summer living, use cellular shades as their energy efficient design keeps your home cool and the different opacity levels allow you to decide many light filtering options.  If you live in the desert, where the dog days of summer can be scorching, try a higher opacity or even blackout to make sure the heat stays out.  On the other hand, if your home is inclined to more mild summers, choosing a low opacity or sheer cellular will help you get the most of out of your beloved summer sunshine.  Cellular shades are also available in horizontal or vertical formations, letting you decide whether you want to open your shades top down bottom up or side to side.
These top down bottom up shades look elegant on French doors and single patio doors and complement different design aesthetics. In each of these rooms, the windows and doors are accentuated and appealing, but not overbearing. The dark taupe shades on the left add to the richness of the earth tones already in the room. The picture on the right shows how mixing different hues of the same color can really be an advantage; your eye is drawn to each color separately. The whole room looks beachy serene with the light and dark blues playing off each other.
Are vertical blinds cramping your style? Try vertical cellular shades which are a fresh take on an old standby and can really add a splash of color to your doors while still looking soft.  This sleek shape matches this modern living room and you never have to hear "clink clink" as your pet walks through your vertical blinds again. Be modern and chic and banish those frumpy, noisy vertical blinds.
Natural Woven Shades
If you have always wanted a tropical look or want to bring the feel of the outdoors into your space, natural woven wood shades are for you. These are a stylish summer choice for French doors and single patio doors as they let that gorgeous light seep in without you feeling the heat.   My favorite top down bottom up feature lets you decide how much sunlight and privacy is right for you and can make your environment feel as if you are sitting in a tranquil cabana, sipping a Mai Tai.
Woven shades will enhance any room aesthetic whether your style is rustic, contemporary, or traditional. And do not be afraid to mix and match. Experiment with different shades as you can see how different tones of brown can be incorporated to create a handsome, traditional bedroom.
Summertime is overflowing with sun, glare and heat. Your patio doors are the doorway to basking in the sunlight or taking shelter from sunburns, so make sure you beautify your patio doors and make the most of Mother Nature's good tidings with these 4 summer patio door window treatment ideas.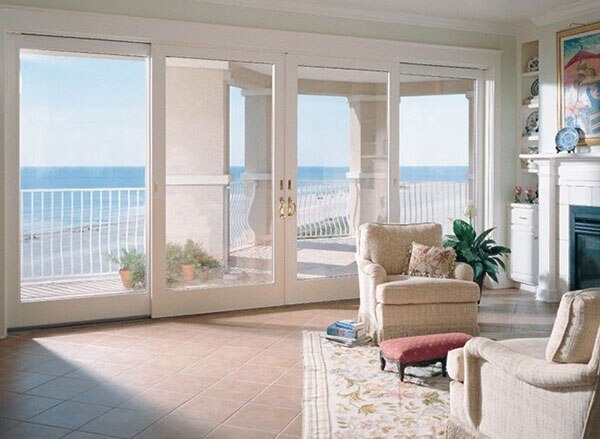 Feature Image Product: Grande Room