If you were to search online for mid-century modern and view the images, you would find Eames lounge chairs, Sputnik chandeliers, and gorgeous, wall-to-wall windows. Notice though, that many of those windows are beautifully bare, perfect for "dream home" imagining but not so practical for everyday life. But, ironically, the center of mid-century modern design is all about accessibility and ease. If you love mid-century modern design as much as I do but don't know what to do with those windows to finish your look and maintain privacy, read on friends. I've got you.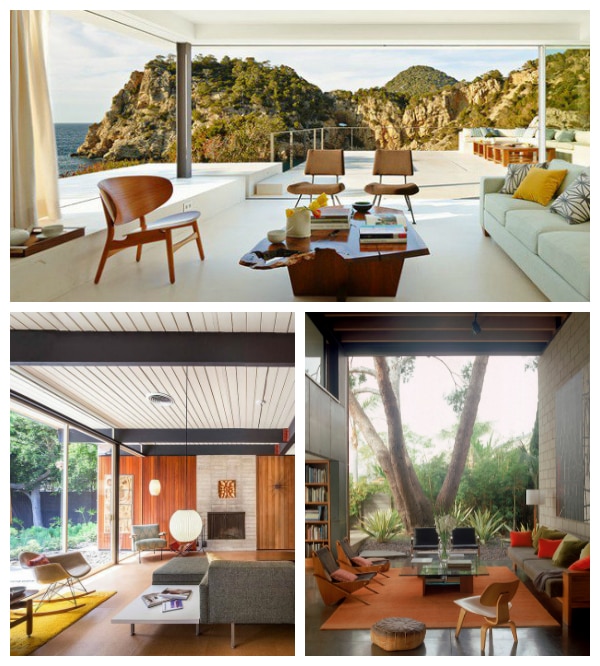 Let's first cover what mid-century modern is. If you have ever seen an episode of Mad Men, then you are already familiar with this style of design. The term was coined in 1984 in the book Mid-Century Modern: Furniture of the 1950's by Cara Greenberg. Most commonly used to define popular architectural and interior design style in a post-World War II landscape, from 1945-1965, although some would argue a more limited window is accurate. This design period created what many term "the heart of American design" and boasts legends such as Florence Knoll, Charles and Ray Eames, and Eero Saarinen. Defined by flat planes, large windows, and integration with nature, many mid-century architectural designs were influenced by Frank Lloyd Wright, who trained architects like Rudolph Schindler and Richard Neutra. The furniture and accessories of the time were organic in style and reflect an ease of living, inspired by nature, avoiding excess detailing and unnecessary flourishes. Bold, graphic patterns and statement pieces were integrated with minimal design to create simple, but impactful, living spaces.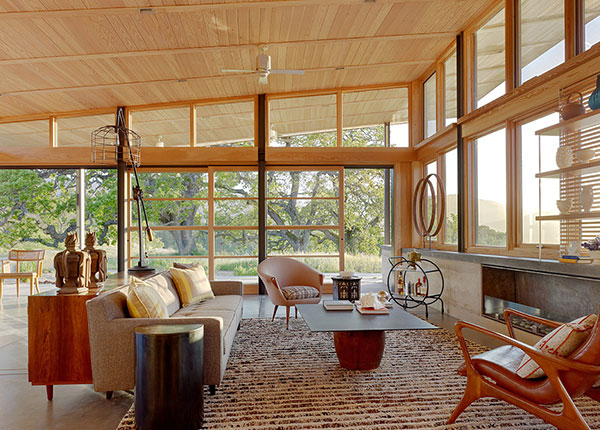 I love a wall full of windows, the kind that invite nature and bring the outside in. They add another level of interest to a room but can be quite tricky to dress. How do you enjoy the view but ensure privacy and light control? What types of treatment is best suited for this style of design? When do you go bold with color and pattern or stay subdued with a more neutral palette? It can be tricky knowing where to go with an investment like window treatments but, with a little guidance, dressing windows in a mid-century room feels as comfortable and hip as the décor itself.
There are two style choices one can make when finishing a mid-century window; clean and modern or soft and traditional. To maintain a clean, minimalistic modern look, the application of roller or solar shades and wood or faux wood blinds are the ideal choice. A solar shade allows easy access to the outside view during the day while controlling the level of light allowed into the space through a neutral-toned visage. Similar to a solar shade, roller shades are also a hip alternative when wanting to maintain a cohesive, polished look but function with slight difference by blocking the view when extended. The minimal headrail and lack of stack ensures that your room will sing harmoniously with nature while the diverse selection of colors, patterns, and textures ensure that your room's personality still shines through. Falling in line with a staple of MCM design, bringing the outside in, wood and faux wood blinds are an easy choice due to their natural look and ease of light filtration with the twist of a wand. All three of these categories lend easily to rounding out a mid-century modern design by complementing the space but not commanding extra attention.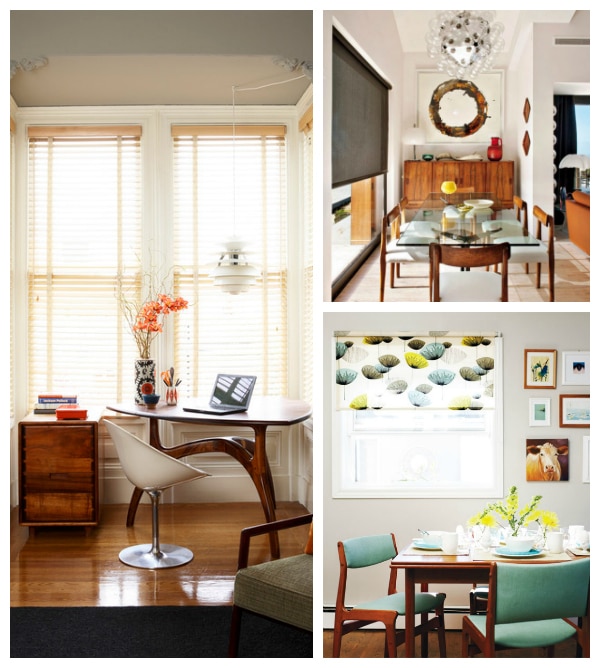 If you desire a bolder statement or are looking to soften the modern edge of an expansive window, soft treatments prove to be a perfect fit. Whether it is roman shades, drapery, or even a fine spun grassweave, adding a little flare and drama to this design style isn't as complicated as it may seem. Choosing ceiling to floor drapery expands the size of your space, creating an inviting feeling and adding another layer of fabric and texture to the room. Not comfortable with all the fabric drapery provides? Try a flat fold roman shade in a pop color or bold print to brighten up a room and add a quintessential mid-century vintage look. No longer limited to just bamboo and reed, woven wood shades are now available in grassweaves, spun like yarn to create a softer texture and a more fabric-like hand to bring nature in without the rough edges.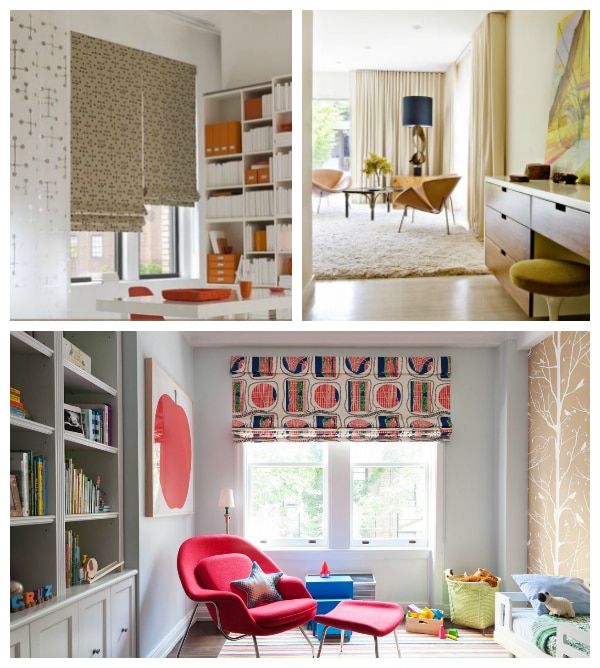 The final step when addressing your windows in a mid-century modern home, inspired or authentic, is the decision of how much color to integrate. When considering this design style, many people think of bright, multi-hued furniture, white walls, and bold, patterned window treatments. While this is most certainly a fun direction to take your space, it doesn't work for everyone. Can you have an all neutral room and still call it mid-century? Yes, you can. Layering neutral on neutral, working with all white, or even keeping an all neutral space with minimal pops of color can all be applied to mid-century modern design. When designing mid-century, I always refer to the trusted four; Aqua and Tangerine, Citrus Triad, Color Pop, Technicolor. Tried and true, fail proof and steadfast, working within these color palettes will ensure an authentic, but modernized, feel every time.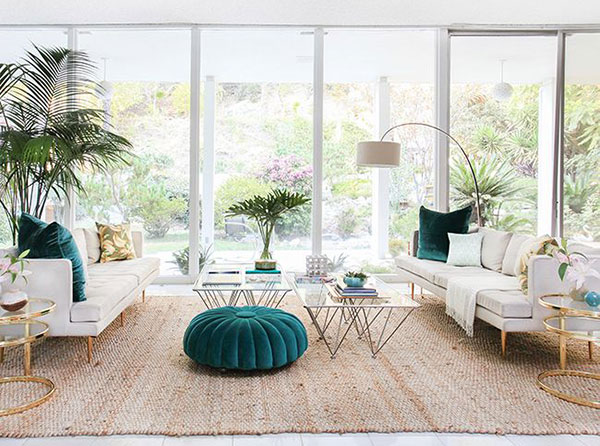 While most design "trends" come and go, this clean, livable design style of 60+ years continues to keep one finely tapered leg firmly planted in everyday, modern design.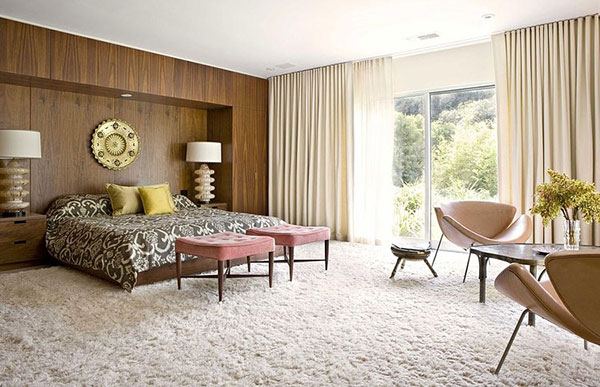 Make your wildest window treatment dreams a reality at Blindsgalore.