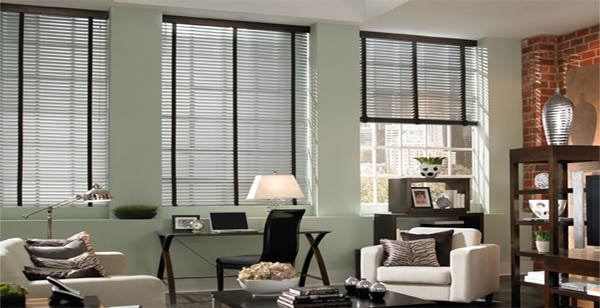 You have many choices when it comes to window treatments for your home and although the possibilities already seem to be infinite, I am throwing another option at you – decorative cloth tapes for window treatments!  Cloth tapes are a unique window treatment idea for your wood and faux-wood blinds and are another decorative way to embellish these types of blinds.  They disguise the cords and route holes in your blinds and are available in a variety of colors and patterns making them both functional and pleasing to your eye.  Since there are endless colors and designs to choose from, cloth tapes enhance any style and color scheme in your existing room.
If you are looking for a way to tie color into your space, use cloth tapes as an accent color just like you would with pillows or a painting.  The blue cloth tapes create playfulness in a traditional dining room.  The image on the right shows how a subtle green tape can bring out the organic green tones in the textiles and plants in this nature inspired bedroom.
Does your kitchen have a vintage black and white feel?  Then fashion your white wood blinds with black cloth tape, which will harmonize perfectly with the checkered black tile floor.  Black and white always creates a "wow" look with the "bistro" feeling, unifying any kitchen.
If you prefer a more muted style, select a color of tape that will enhance and blend in with the colors of your wood blinds.  The subtle tones of the cloth tape are mirrored in the furniture upholstery in both of these images and complement the warm terracotta wall color.
Choosing a slightly darker tape will add richness to the room.  Look how the cloth tape especially plays off the chest of drawers and dining table.
Using a patterned cloth tape will add another layer of interest and texture, especially in an area such as an office where accent pillows and rugs can be at a minimum.  Choose a pattern that is in the same realm as your room aesthetic.  A floral paisley pattern does not necessarily fit with a minimalist style while sage palm trees tie in perfectly with a contemporary beach style.
Cloth tapes lend such variety to the warmth of wood and faux wood blinds, be sure to think about these beautiful strips of fabric when designing your window treatments.
I hope this idea for a unique window treatment inspires you to think outside your average wood and faux wood blind.  By simply adding a coordinating cloth tape to your windows, you will achieve a put together and finished look, making your room worthy of any designer.  For more tips, please review, "The Ultimate Guide To Window Treatments Ideas."