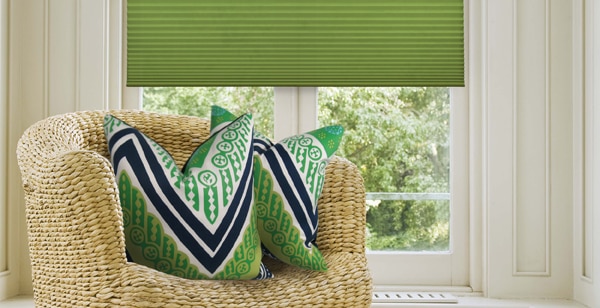 With all the recent focus on Pantone's color of the year, I couldn't help but think of how well our new collection by Kellie Clements fits so well into this new trend. The greens in her roller and cellular shades are lively, punchy and just the thing to bring some updated color into your space. Have a look at some everyday rooms that would pair beautifully with one of her treatments.
The Star Crossed style of Simply Chic Roller Shades: Patterns in color Verdant, coordinates so ridiculously well, it seems as if this kitchen and attached dining room were designed around it!
The simple, contemporary living room featured below would be a good candidate for Simply Chic 3/4″ Room Darkening Cellular Shades: Solids. The Kellie Green color is a perfect fit and since these shades are room darkening, they are ideal in a room with a television.  By blocking out the light, the screen is much easier to view and who wouldn't like to create their own media room by just closing the shades?
Another current trend is the bold mixing of patterns.  This casual sitting room has a calm feeling from the use of a monochromatic color scheme, but the use of patterns keeps it interesting.  Simply Chic Roller Shade: Borders in Key Lime would be perfect in adding another pattern, yet staying within the existing color family.
Let's not forget our little ones!  In most homes, the kids' rooms are the most colorful.  This nursery is no exception.  The vibrant green striped ceiling and chandelier really bring this space to another level.  While a bright nursery is wonderful for play time, the light needs to be blocked out for a restful nap or two (or three if we're lucky!) during the day.  Again, I found an ideal match for this decor in our Simply Chic Roller Shades: Solid Colors in Kellie Green.
Whatever room in your house needs an update, putting some green on your windows will surely provide a fresh and inspiring touch to your home.