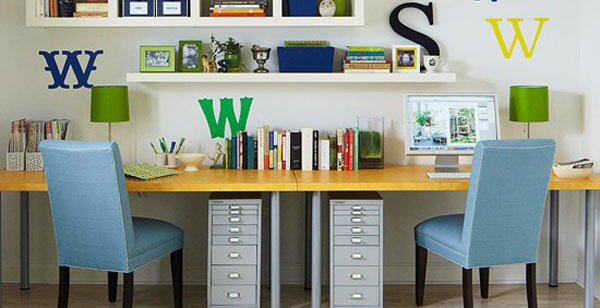 Just as we settle into summer, the school year has snuck up on us once again. As the sunny, poolside, lazy days of August begin to fade away, it's time to get ready for a new year of classes, homework, and soccer lessons. Getting set up ahead of time will help tame the typical fall chaos and make everyone a little less anxious when that first bell rings. Kids always need new school supplies, but a freshened up space to sleep and work in will help them stay focused and organized so they can finish their homework faster and go outside and play while they still can! Below are a few elements needed to create a stellar back-to-school room, which will encourage the development of a studious, organized, and happy child. We can dream, right?!
Work Space
Creating an area free of distractions is the best way to make sure homework gets completed. A designated kid's workspace will give them some independence and a sense of pride in their work. Ask them for some input in the décor so they feel like they are part of the process and take a bit of ownership over that space.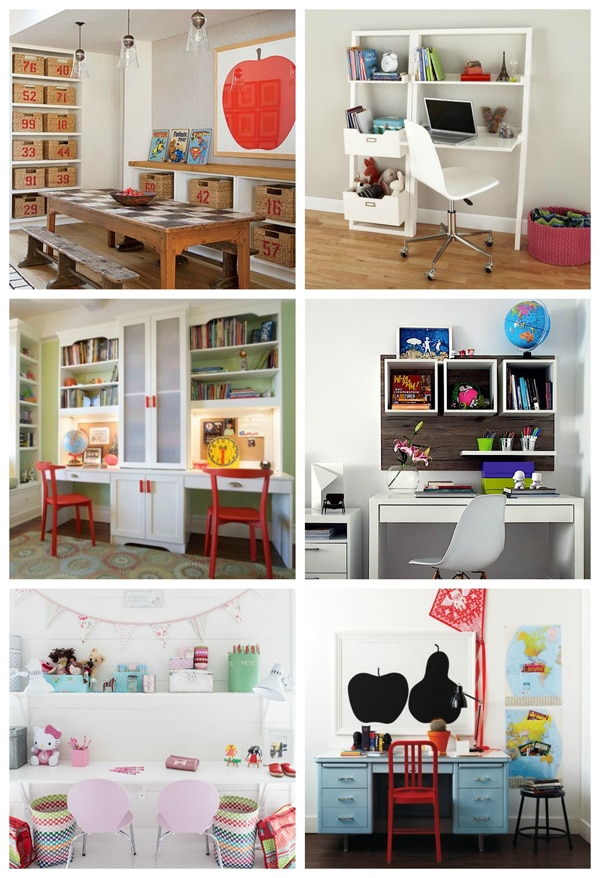 Lighting
Whether you're young or old, we all need proper task lighting. Homework is hard enough and poor lighting only makes the effort more demanding. Lighting makes up an important part of any room design and children's rooms are no different. There are so many amazing lighting solutions out there for little ones including lights for reading in bed, creating at a desk, or just providing a comforting hint of light when it's finally time for sleep.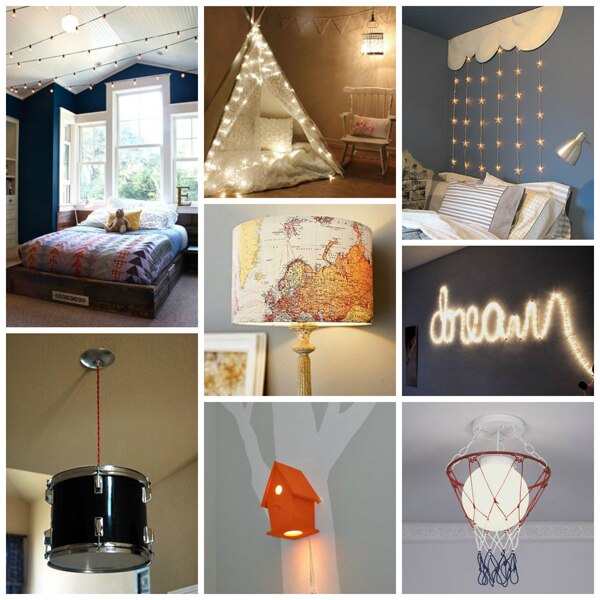 Storage, Storage, Storage!
Kids have so much stuff. You can try to put away the summer stuff to get ready for the fall stuff, but it won't make much of a difference. It just seems to multiply! The best way to manage all the loot is to utilize as many storage tools as possible. Large storage containers are great for backpacks, shoes, and soccer balls. All those teeny tiny toy pieces you step on in the middle of the night and hair ties, clips, headbands, and bows are just the right size to keep in smaller storage containers. Hanging storage is wonderful for coats, scarves, and hats. The more spaces there are to store things, the more likely they will actually get put away. By giving kids the tools to stay organized, you are helping them help you!
Window Treatments
Little or big, all kids need their rest. Using a blackout shade or adding room darkening drapery to a window will ensure the maximum hours of sleep needed to stay alert through a long day of classes and activities. Layering the two will provide the best coverage from late night street lights or the early morning sun. Cordless cellular shades and roller shades are so kid-friendly because they are free of dangerous dangling cords. Window treatments in kids' rooms do double duty as they block the light and add fun bursts of color to an already lively room.
Just For Fun
It's not all about spelling bees and times tables, to help get kids excited about the new school year, it's a fun idea to surprise them with a cool new lunch tote or personalized pencils to start the year on a fun note. They've got a lot of work ahead of them, so a little token of encouragement is sure to go a long way.  These rooms are full of fun!
Design Ideas
The following inspiration boards combine all of the above ingredients to create a fabulous back-to-school room for your little students.
Roller Shades / Drapery / Work Space / Lighting / Big Storage / Little Storage / Wall Hooks / Just for Fun
Roller Shades / Drapery / Work Space / Lighting / Big Storage / Little Storage / Wall Storage / Just for Fun / Bookcase
Roller Shades / Work Space / Lighting / Big Storage / Little Storage / Wall Hooks / Just for Fun / Art
Cellular Shades / Drapery / Work Space / Lighting / Big Storage / Little Storage / Wall Hooks / Wall Storage / Just for Fun / Art
Best wishes for an educational and well-designed new school year!
"Education is the most powerful weapon we can use to change the world."
-Nelson Mandela