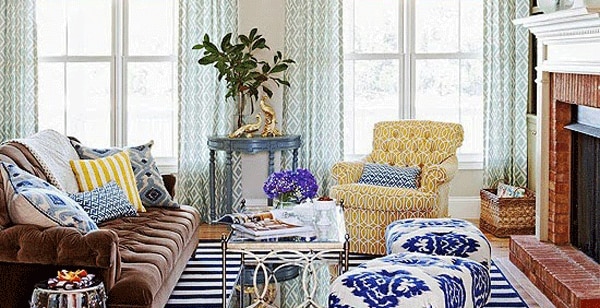 Patterns strike a spirited mood and add energy and bounce to any design.  Along with the use of color, texture, and scale, successful decorators also have a mastery of using and combining patterns. Introducing patterns to a room lends so much visual interest and really gives a space personality. If you're looking for an inspiring window curtain idea, patterned drapery can be a lively window treatment idea and can be counted on to bring that extra something special to your decor.
The beauty of patterned curtains is that they bring color and interest up the wall, which draws the eye around the space and causes the room to feel more put together.
Pattern mixing is extremely on trend these days. The idea may seem overwhelming but if you break it down, it's really quite simple. The trick that's always helped me mix patterns is the rule of three. Simply choose three different patterns in three different scales that share a common color palette. It's as straightforward as that! It's best to start with a bold pattern first, then just coordinate the remaining two. For example, start with a large ikat pattern, then coordinate with a medium striped pattern and a small houndstooth pattern. Or try a paisley paired with a geometric and a polka dots. The possible combinations are, of course, endless and are guaranteed to add a truly designer feel to your room. Drapery is such a simple way to bring pattern, and along with it, color and texture, into your home. I've paired some stunning drapery panel patterns with rooms that are lovely in their own right, but imagine the extra lift these delightful spaces would gain from the addition of these patterns.
From neutral and subtle to bright and bold, patterns-galore has got to be one of the best window curtain ideas going right now! For more answers and inspiration, be sure to visit "The Ultimate Guide to Window Treatment Ideas".
Want to save your favorite ideas for later? Pin them now!