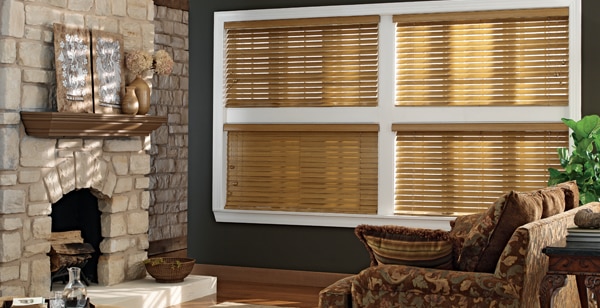 Here's another frequently-asked question we get at Blindsgalore:
Q. I live in New Jersey, and many homes are built in a more traditional style. The popular window treatments tend to be classic looks like drapery. How can I update the look of my windows without straying too far from the home's character?
A.  Wood blinds are a great way to freshen the look of your room without getting into a contemporary style. Wood blinds offer a rich, warm look that enhances your décor, and there are many options available. Consider the size of your window when you select the slat size. Most blind slats range from 1" to 2 ½" wide. In general, a larger window will look better with a wider slat size. Wider slats also mean a less obstructed view when the blind is down and the slats are open.
The fun part is choosing your finish. There are painted finishes in various shades of white, but some of the best looks are the stained finishes ranging from natural pine to ebony colors. You can match your other wood tones in the room or match your window trim; or choose a contrasting finish. Either way, wood blinds will bring warmth and depth to the window. Designers in New Jersey love to use wood blinds in dens and studies because of the homey, lodge-like feel they create.
There are many ways to customize your wood blind, too. Add decorative twill tapes to bring some color or texture to the window. Cordless, privacy and remote control options are available from most manufacturers.
If you choose to add drapery to your existing blinds or shades, wood drapery hardware is enjoying some renewed interest in recent months. We have been seeing new wood drapery poles and intricate finials being featured at drapery shows and in trade magazines. Some poles are painted or have hand-applied distressing, and others are stained in a more traditional manner in a variety of finishes, most of them darker wood tones. Keeping all the wood tones the same can be a dramatic effect, especially in a den, office or study.