As a mom, I am especially vigilant about childproofing my home and always on the lookout for potential hazards as those little ones are super speed demons and ever curious wonder wizards. Enticing dangling cords hanging from your blinds or shades are a disaster in the making and kids can't help but find fascination in "cord play". Thank goodness these unsafe cords were at our favorite outdoor cafe and not at home, but I want your home to be absolutely cord protected. Always go cordless when you can.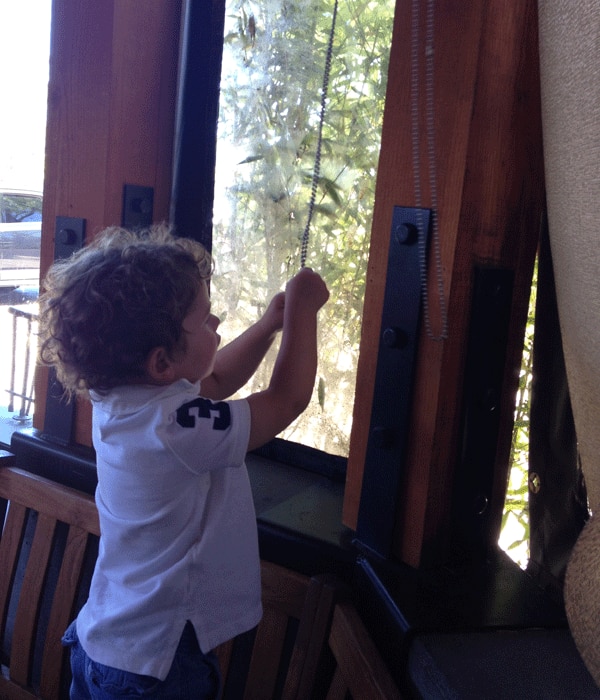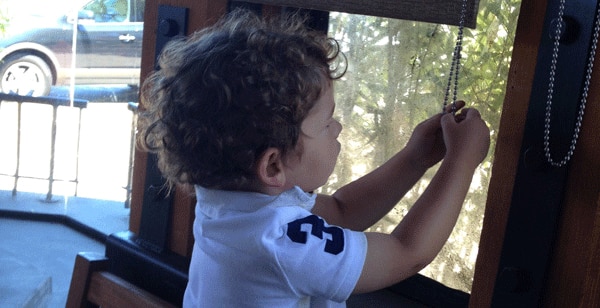 Now that it is already October, which is Window Covering Safety Month, please take the time to give your windows extra scrutiny so there is no chance for any cord accidents. This is the 16th anniversary of this important child safety initiative and Blindsgalore has been a supportive member of this special event from the beginning as we are dedicated in providing you with safe choices for your window coverings.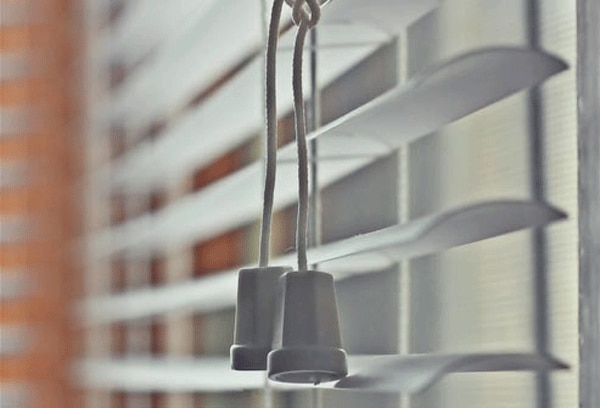 For me, "cordless" is the only way to go for the ultimate in peace of mind and cordless window treatments are my first choice for homes with children.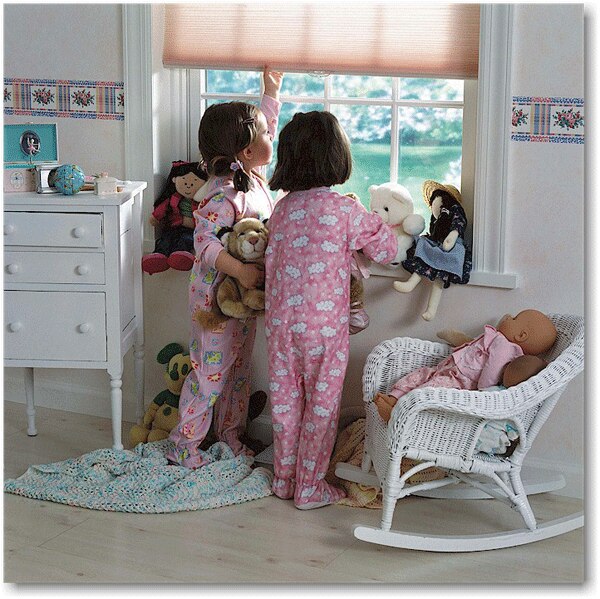 Here is my Blindsgalore checklist for safe windows, and safe kids!
Safe Windows, Safe Kids Checklist
1. Examine all shades and blinds to ensure there are no accessible cords on the front, back or side of the window treatment.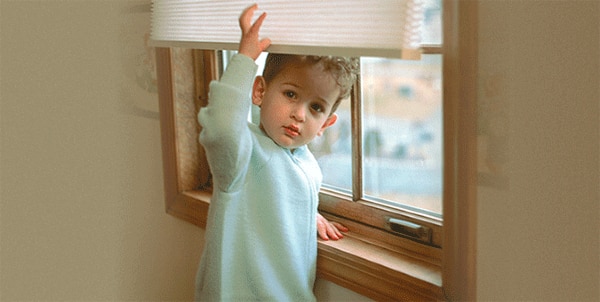 2. Secure any loose cords out the reach of your children. Firmly anchor continuous cord loops to the wall or the floor. Lock cords into position when using horizontal window treatments to avoid any inner cord entanglements. Always check to make sure that your cords are kept taut by the tension device.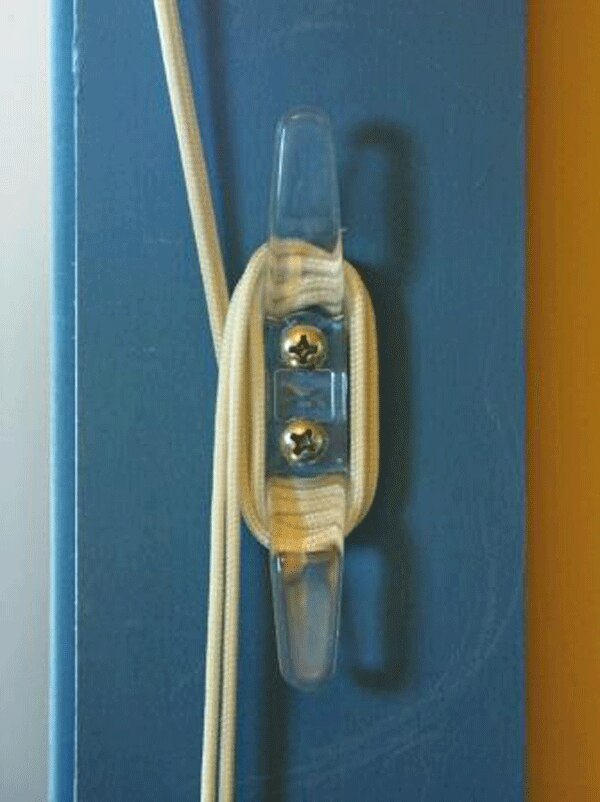 3. Do not place cribs, beds or furniture near any windows to prevent babies or toddlers from climbing onto furniture, encouraging play with dangling cords. If you have lots of windows in your nursery, you must choose the cordless option.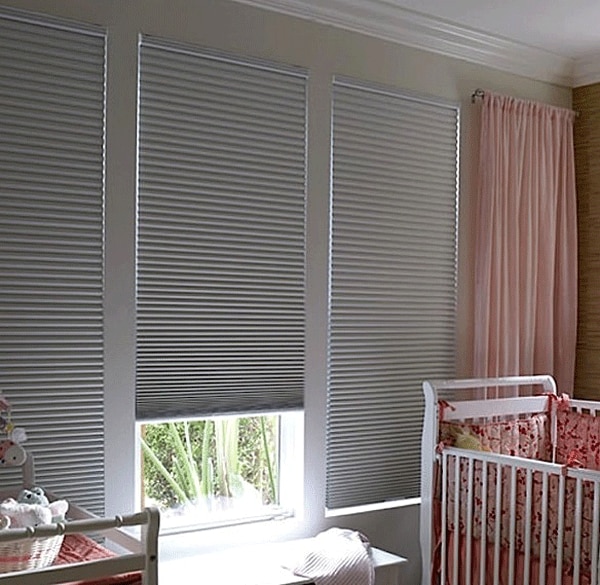 4. If your windows are styled with pull tassels, keep them as short as possible.
5. Any window treatments in your home that were manufactured before 2011, should be replaced with our newer and safer technology or go to www.windowcoverings.org to order your free retrofit safe window kit. Please get those unsafe windows taken care of today.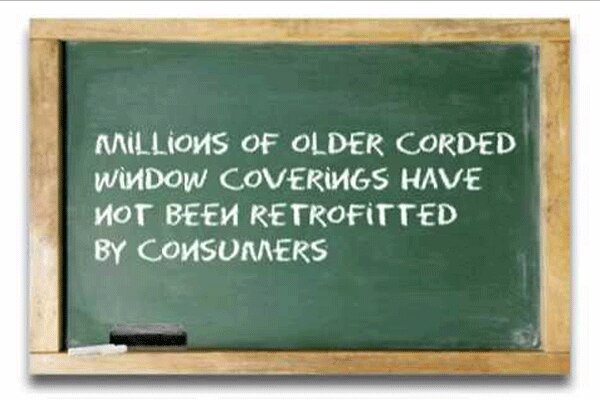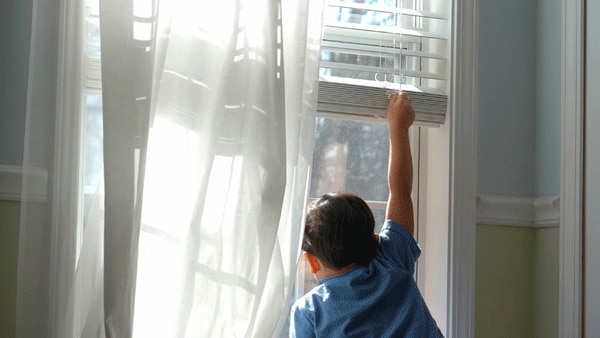 6. Again, go cordless. You will not be disappointed as the safety, ease and sleekness of cordless window coverings complement any decor! I promise!
Follow these simple rules and sleep soundly, knowing all is quiet, safe and happy on the home front.