Kitchens are the hub of our house and where everyone likes to gather, to snack, make a smoothie, whip up a quickie-throw-together dinner or lovingly prepare many favorite home cooked recipes. Open kitchens are the rage today and since privacy is not an issue in the kitchen, window treatments can be lively, colorful and fun and add a stylistic dimension to your family gatherings.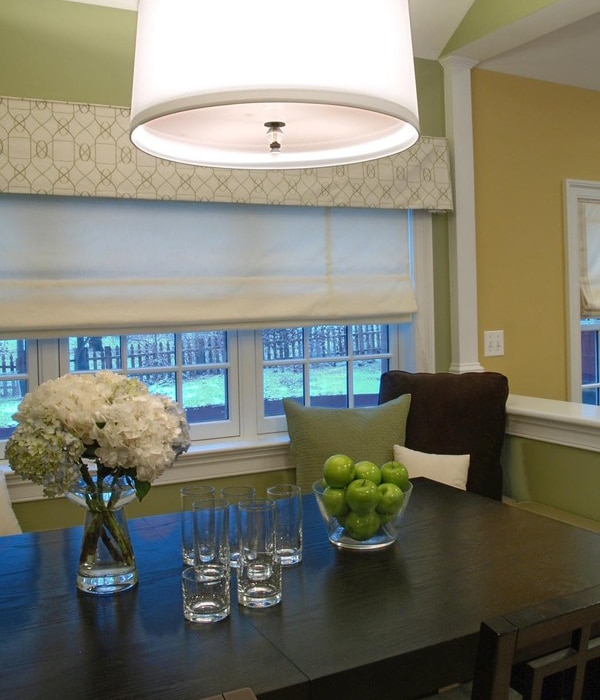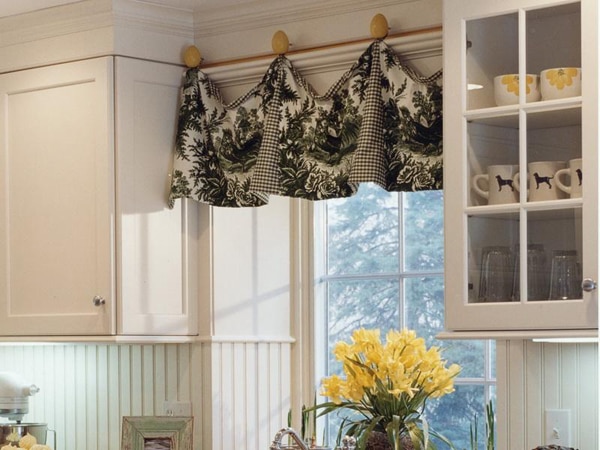 With a renewed interest in local, organic and wholesome foods, kitchens are becoming the star of the house. The classy, sleek granite and quartz counter tops, shiny stainless steel appliances and professional stoves create sharp angles and surfaces that can easily be softened with kitchen window treatments.
A top treatment to your already existing blinds is one of the simplest ways to change kitchen windows. A pole-mounted valance or an upholstered cornice board placed over the sink or cooktop, instantly transforms the kitchen as the fabric treatment gently adds a mellow touch, in addition to being safe and out of the way of splatters and messes. Use large-scale patterns in appetizing colors if you really want your windows to pop. For more subtlety, try a mini-print or a tone-on-tone fabric. Remember to choose a pattern that matches the overall theme of the house and the kitchen. A fabric that repeats one of the colors in the countertop or cabinets is a clever way to tie the room together and add harmony.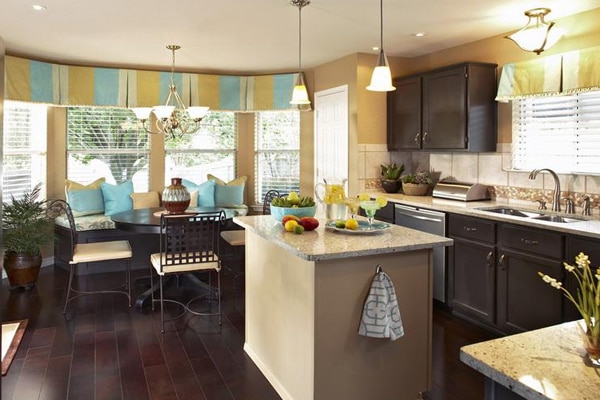 Remember the cafe curtains in your grandmother's house? Now, they are back in fashion, refreshed and updated for today's modern spaces. I love cafe curtains for so many reasons; they are easy to make, easy to hang, versatile because they offer privacy if needed, and they make a kitchen look so happy. When I walk into a kitchen with cafe curtains, it looks super cozy and makes me want to sit down and stay awhile and linger over a hot espresso and a chocolate croissant, my idea of heaven. There is just something perky and inviting about cafe curtains. Just think what the phrase suggests: a small, intimate Parisian bistro, filled with delicious aromas and yummy dishes. Cafe curtains are not confined to traditional homes either, as they also look fabulous in a contemporary setting, in the new trendy "chef-styled" kitchens.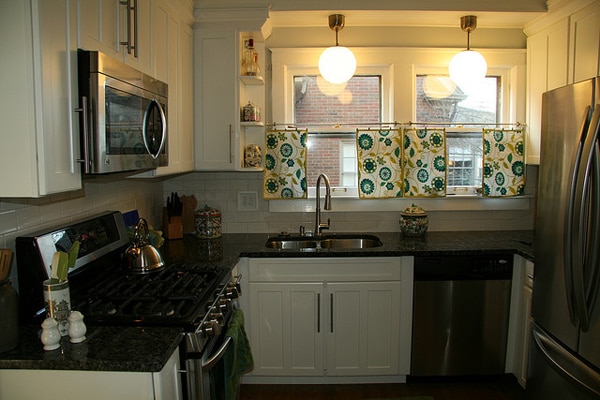 Roman shades are another very popular designer choice in kitchens as they look especially appealing in separate eat-in areas with windows. The fabric selection is endless, and if your taste runs more traditional, adding trims can add additional style and lend a more formal tone to the kitchen/dining area. Use the same fabric in the top treatments for the other kitchen windows and you will have a coordinated designer look throughout your area.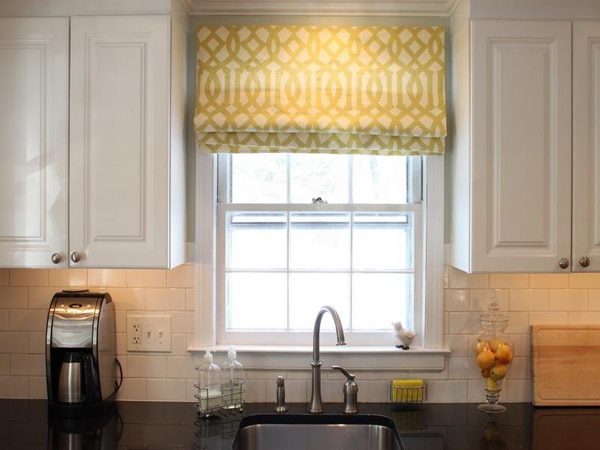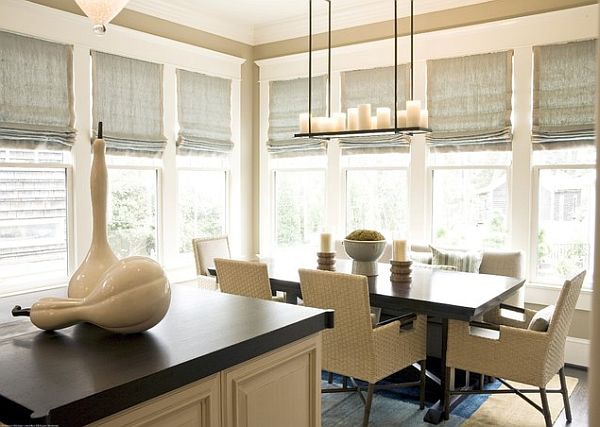 Fabrics do add personality to your kitchen, but roller shades or faux wood blinds add a polished look and easily blend into any kitchen decor. If the natural look of wood grained blinds appeals to you, choose faux-wood blinds as they do not warp and can withstand the heat and humidity of the kitchen and are so easy to clean. Go for motorized or cordless, too, as dangling cords can create a hazard around sinks, stoves and countertops. The last thing you need is getting a cord stuck in the garbage disposal or having to pick out a chili-spattered cord from your cooking pot. Ugh!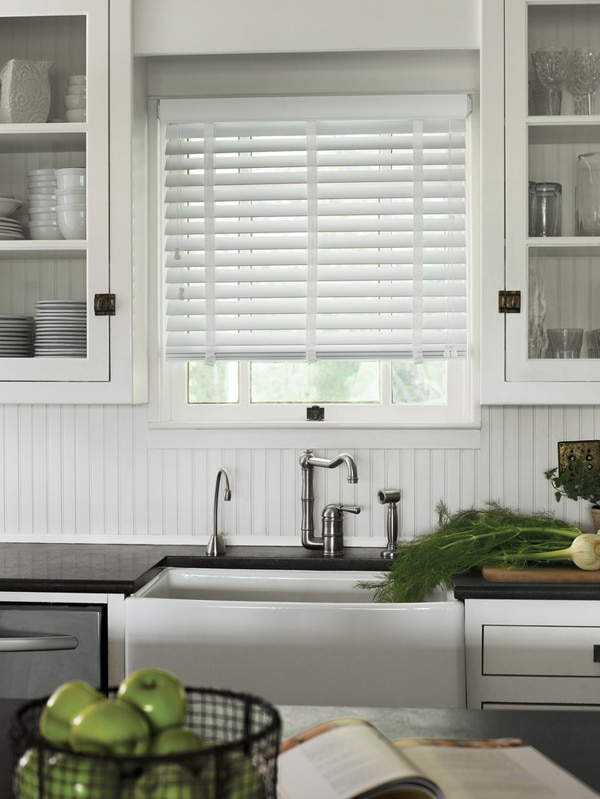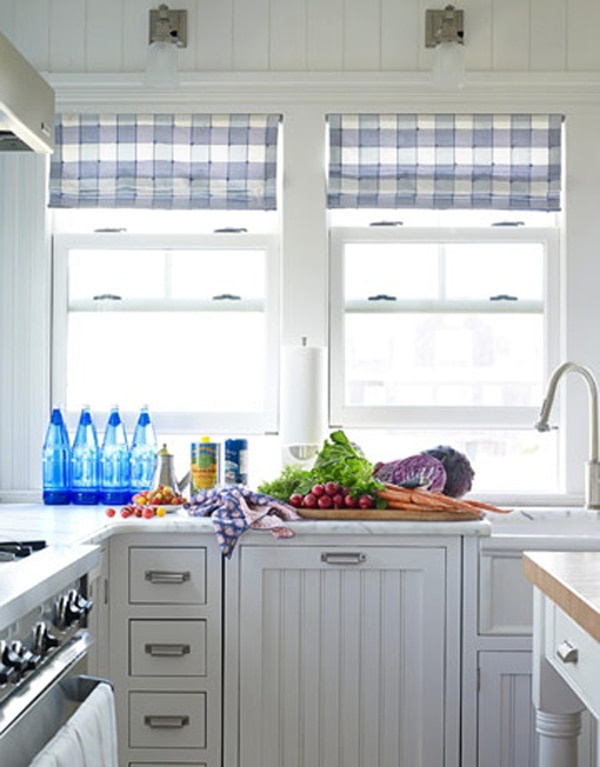 Kitchens are the heart of our homes. Make your kitchen window treatment ideas safe, bright, happy, the ideal complement to all your delicious cooking adventures. If you would like to explore more ideas, please review our "Ultimate Guide to Window Treatment Ideas."