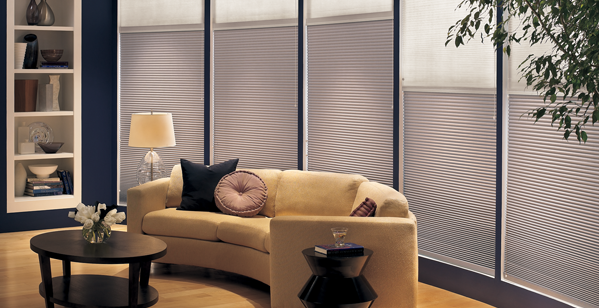 I sometimes watch Selling New York on HGTV, and in The Big Apple, no one is willing to sacrifice form for function, especially with so many great floor-to-ceiling windows and great views. New Yorkers know you can have it all in when it comes to home decor, and they demand it. With that in mind, I started looking around for the best ideas in window treatments that showcase the latest home fashion trends.
Blinds and shades made from green/sustainable materials
Natural materials are what fashionable windows are wearing right now. More consumers are choosing natural window shades made from eco-friendly, renewable materials like bamboo, sisal, jute and grasses. Natural shades are available in many styles: roman shades, rollup, sliding panels and more. Concerned about privacy or light filtering with natural materials? Add an optional liner to create the level you need.
Need some ideas? Check out the February 2012 issue of Coastal Living magazine to see Bali's Natural Shade in Cordoba Grasses featured in a stylish home remodeling project.
Insulating blinds
Insulating blinds offer energy savings during tough New York winters through their ability to block outdoor temperature extremes, resulting in less energy consumption. Today's cellular shades (also called honeycomb shades) are available in a variety of styles, with different pleat sizes to suit your window, plus single, double and even new triple-cell configurations. Blackout, cordless, privacy, top-down/bottom up and motorized options are available, depending upon your needs.
Solar Shades
Solar shades also offer a level of energy savings by blocking UV rays. Solar shades reduce glare, preserve views, and limit solar heat gain. They also help prevent fading of fabrics and furniture, so they're a great purchase. Because they are transparent, solar shades are sold in various degrees of "openness" from 3 to 15%, depending on the exposure of your window and the amount of light you want to block, balanced by the view you want to keep–especially important when you are choosing shades and blinds in New York City. Be sure to order swatches so you know what to expect. (That's true for any window covering!)
Media rooms
To fully re-create the experience of the theater, you will want blackout blinds or shades that block out all light, especially for daytime viewing. There is an ever-expanding array of blackout options: cellulars, woven woods, roman shades, panel tracks and pleated shades. To assist with surround-sound, you will also want to consider the sound-absorbing quality of your window treatments. This is where heavier fabric blinds like roman shades and drapes will come into play. In New York, a popular look is layering window treatments: a blind with a velvety drape over it will not only help with sound, but will create that old theater atmosphere that makes your room cozy and inviting.
Safety/Motorized options
More homeowners than ever before are concerned with the overall safety of their blinds. For homes with small children and pets, cordless and motorized lift options are more appropriate. Not only do they offer safety, but a cleaner, sleeker look that many New Yorkers prefer. Cordless operation couldn't be simpler: simply push up or pull down on the integrated handle to any position you desire.
Motorized remote control window treatments offer the simplicity of push-button operation for your blinds, and are a great addition for hard-to-reach windows or simple New York luxury. Options vary by manufacturer.