As a sought-after architectural feature, bay windows can be as extravagant as a stunning exterior building attribute on a Victorian home or as simple as a bit of additional space behind the sink in a modest kitchen. Whether they house a sunny breakfast nook, frame the coziest window seat, or frame the view of the hills in an elegant living room, bay widows always command attention and become the focal point in a room. They allow more light in, and with not much more square footage, easily make a room feel larger and more connected to the nature on the other side of the glass.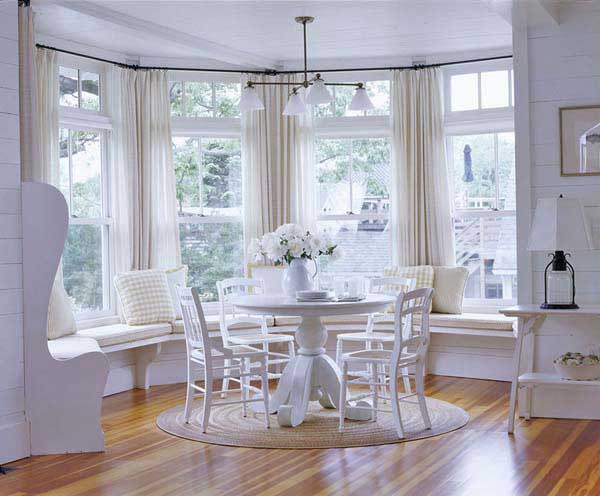 When it comes to window treatments for bay windows, some may be intimidated because of the angles and the fact that it's not just one window, it's three! But never fear because options, ideas and inspiration are here.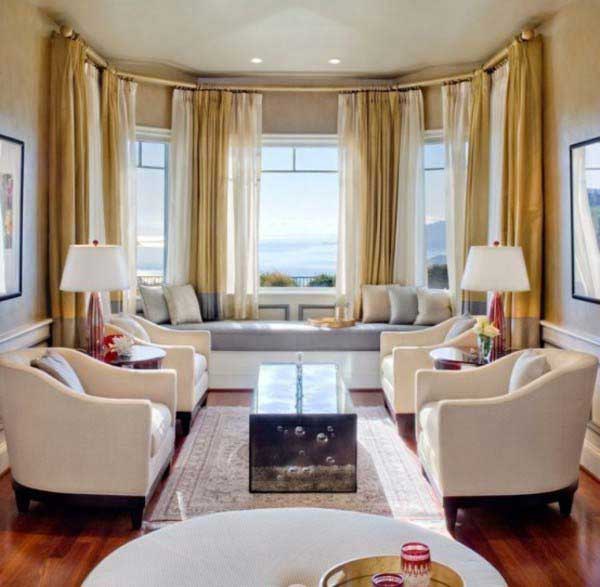 Roman Shades
Roman shades are always a classic choice, but they are particular enchanting on bay windows. While they can be on the more frou-frou side of the window treatment spectrum, when inside mounted in a bay window, these shades appear clean, structured and contemporary. It must be because it's a set of 3 shades next to each other set into the window frame which provides visual alignment.
See Blindsgalore's huge selection of roman shades.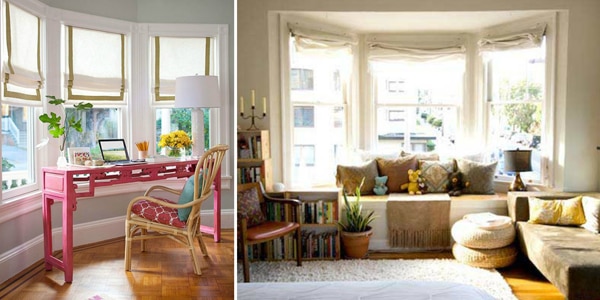 Sheer Shades
For a simple, clean look, sheer shades are lovely on a bay window. The glow of filtered sunlight paired with the horizontal layers of these shades lend a calm and peaceful feeling to a space. They may be closed for privacy, opened to allow light to filter in, or rolled up completely for an unobstructed view.
See Blindsgalore's huge selection of sheer shades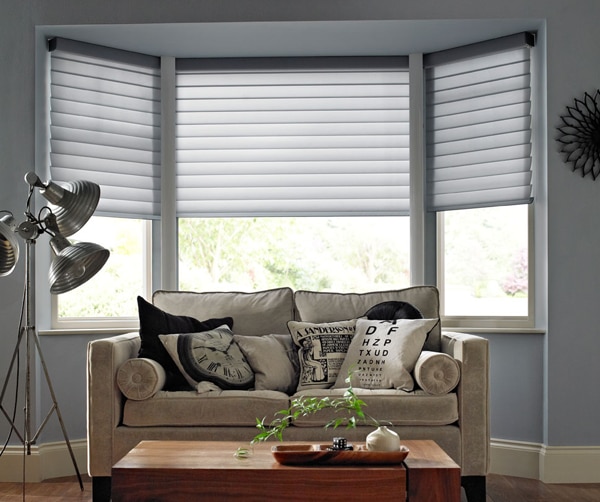 Woven Wood Shades
Bringing a little nature in and adding decorative texture, woven wood shades are also a fitting option. They span many décor styles and can easily add interest to a casual space or make a formal room feel more approachable.
See Blindsgalore's huge selection of woven wood shades.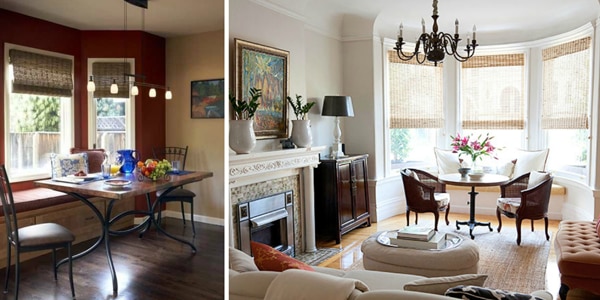 Valance
If a bay window is the portal to a beautiful view or privacy isn't a concern, sometimes all the treatment these windows need is to be topped with a valance. While at first glance valances appear to be solely decorative, they also serve to hide other treatments such as wood blinds or cellular or roller shades.
See Blindsgalore's huge selection of valances and cornices.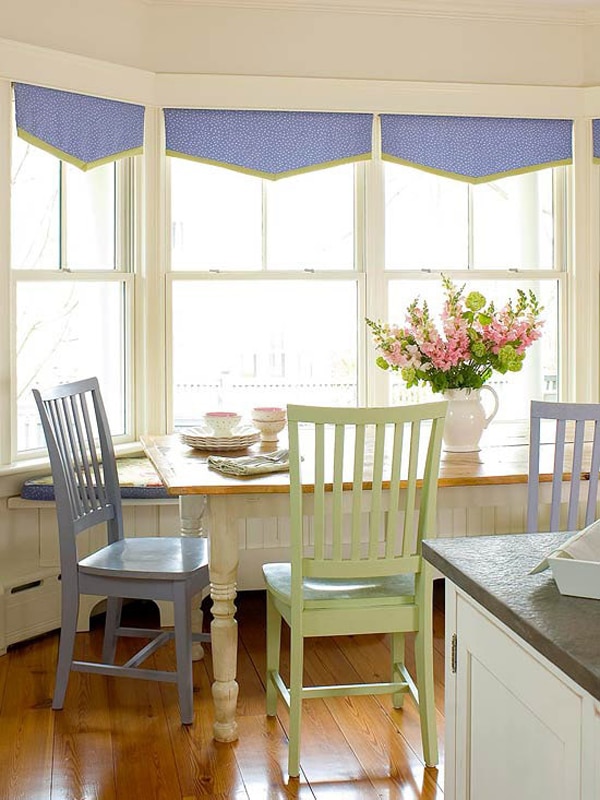 Drapery
To keep the focus on the window instead of the window covering, adding inside mount drapery hung on tension rods can add a little color and softness while highlighting the bay window as the main attraction.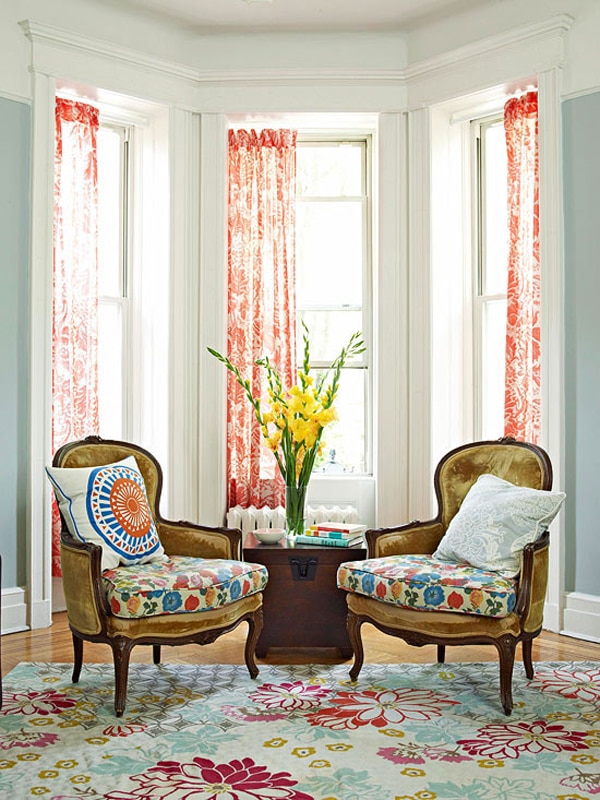 Outside mounted drapery panels add drama and can even make your bay windows appear larger than they are. The vertical length of fabric gives the illusion of height.
Shop Blindsgalore's huge selection of custom drapery.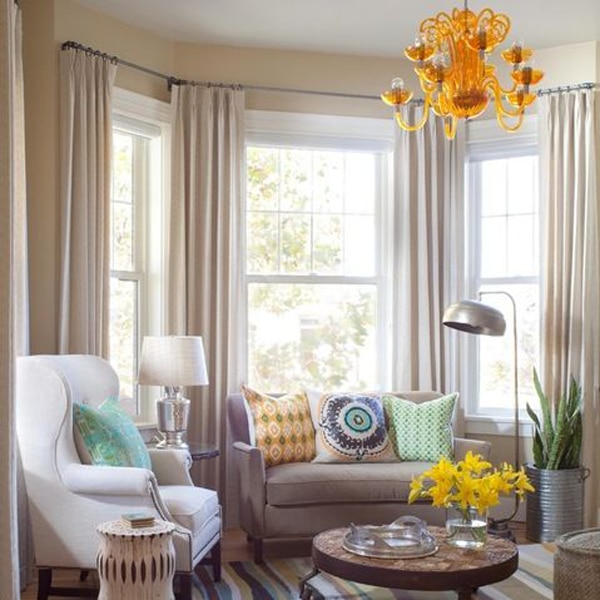 Another option for drapery, if the architecture allows, is to mount the hardware on the wall keeping it on the interior of the room instead of in the bay. Using this method, the drapery acts as a frame for the bay window making it appear as a work of art.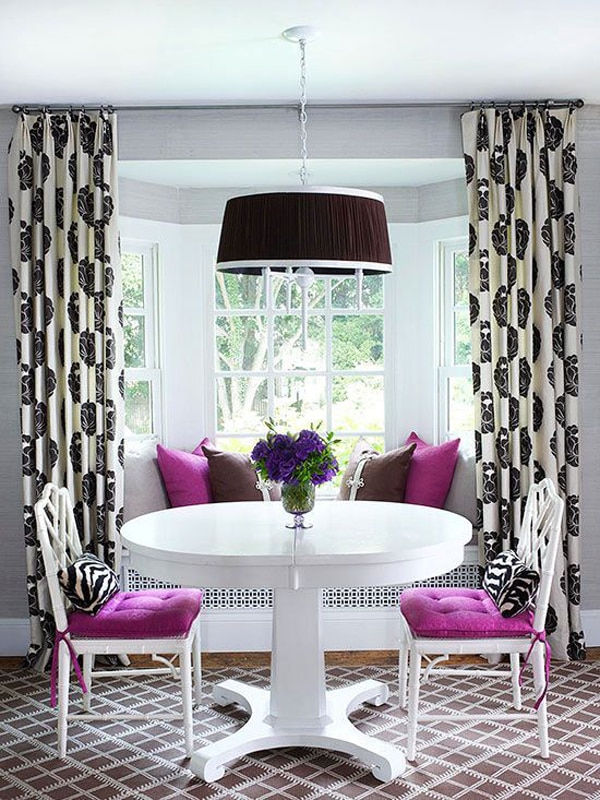 Layered Treatments
In the case of bay windows, the more treatments the better! As with any window, the way to get the best performance AND the most style is to layer treatments. Pairing a blind or shade with drapery or a valance gives you light control and insulation as well as adds a layer of texture and/or color to your room. Combining two treatments is typical, but we've even seen three treatments used simultaneously….now that's loving your windows!