Café curtains are usually found over the sink in a kitchen. They are a casual, cheerful accent to brighten the space where we spend so much time washing the never-ending pile of dishes. While kitchen curtains are pretty, they may not be the most practical window treatment for a hardworking kitchen. Wet hands, soap bubbles and splattering of sauce are all commonplace in the kitchen, but not very conducive to keeping curtains clean and damage free.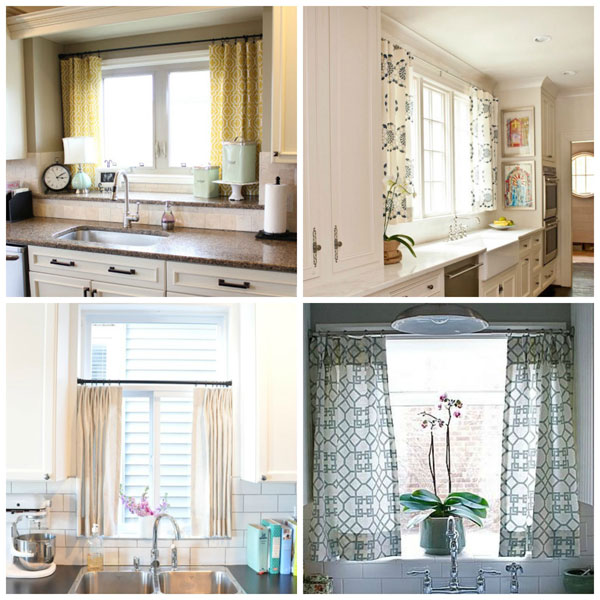 Sources: Life on Nickelby, Cantley and Company, Kerrisdale Design, Caitlin Creer Interiors
Roman Shades

As an alternate to kitchen café curtains, roman shades provide greater light control and feature the same benefit of adding color and pattern to the windows. They can be frilly and feminine or tailored and sleek depending on the architecture and existing style of each particular room. Roman shades help to visually break up a sea of the same colored cabinets and add a touch of softness to all of the hardwood found in kitchens. A colorful fabric shade can be the inspiration for other decorative accents to cohesively create a well-designed space.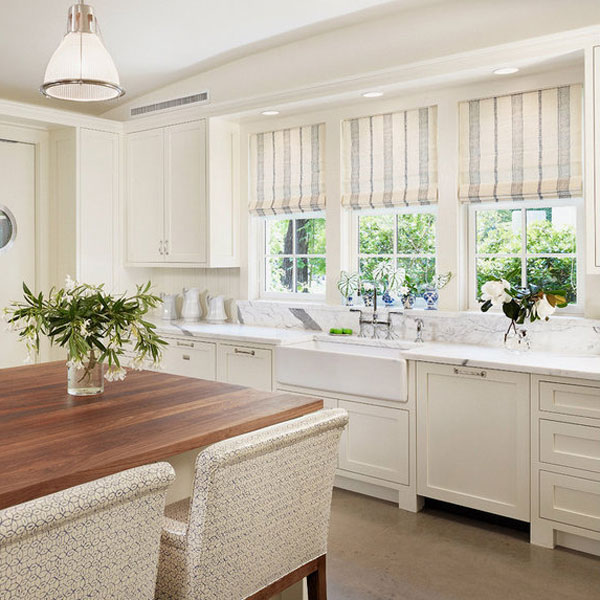 Source: Decorpad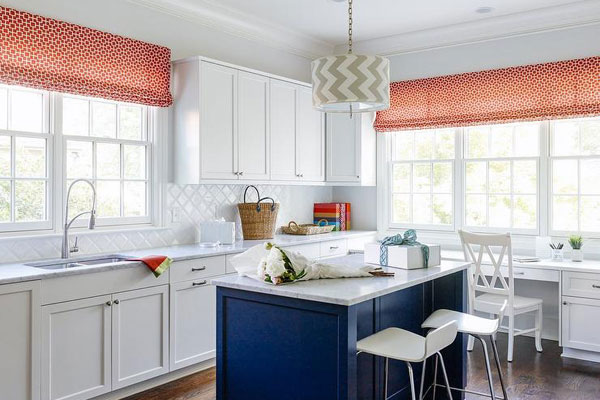 Source: Laura Casey Interiors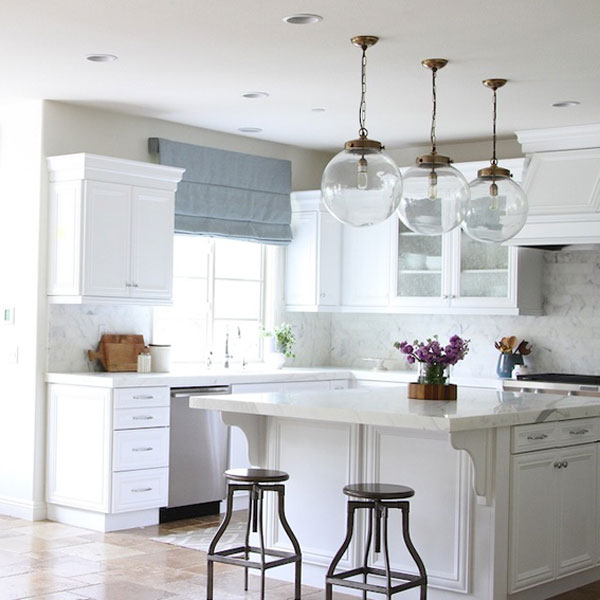 Source: Owens and Davis
Top Treatments

Top treatments, such as valances or cornice boards, act as an accessory for your window. A tailored, decorative accent, they also have the added benefit of concealing hardware when paired with another treatment, such as blinds or roller shades. These are a fine option if you'd like to preserve your view by not entirely covering your window but still prefer to add a stylish fabric touch to the room. From solid colors to bold prints, valances and cornices can range from very formal styles to casual accents.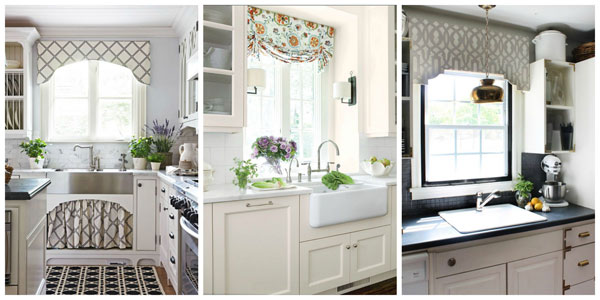 Sources: Hello Lovely Decor, Suzanne Kasler, Hunted Interior
Shutters

Shutters are always at home in the busiest room of the house. Durable and attractive, they are a classic window treatment that never goes out of sight. Today's shutters have been reimagined and reinvented, moving away from the bulky, view-blocking frames and now offering sleeker profiles which take up less room within the window frame. Another available feature is hidden tilt bars. Historically, the only way to move the louvers in a shutter panel was to move the front tilt bar up and down. While this worked just fine, the tilt bar was one more hindrance to the outside view. Hidden tilt bars are located on the back edge of the panel, out of site to provide a fuller view. Since so much time is spent in the kitchen, it's always nice to be able to enjoy as much of the surrounding outdoor scenery as you can.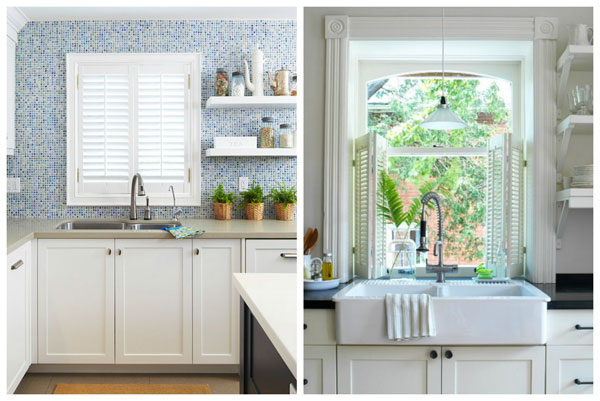 Sources: Sealy Design, Margot Austin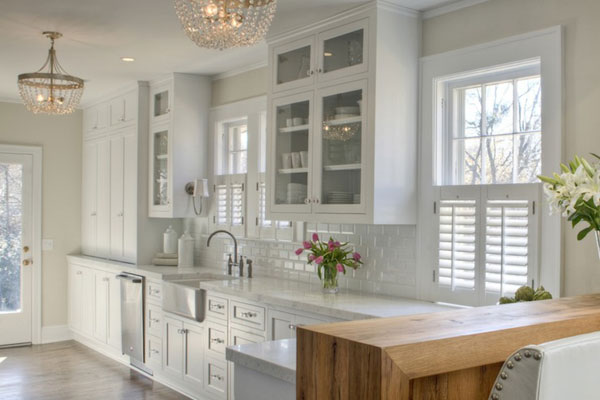 Source: Allison Harper Interior Design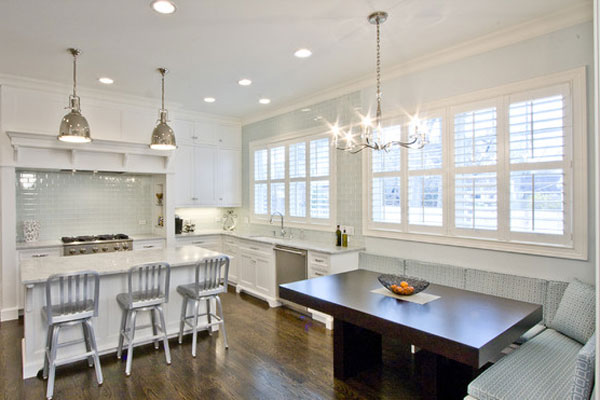 Source: Oxford Development
Faux Wood Blinds
Providing flexible light control, faux wood blinds are a low maintenance window covering that provide the best value. They look clean and crisp and are a carefree window treatment. Remnants of sticky fingers and dog nose smudges can be quickly wiped off with a damp cloth and they'll seem brand new. Classic white is always popular, but there are also numerous stain colors if the look of real wood blinds is preferred.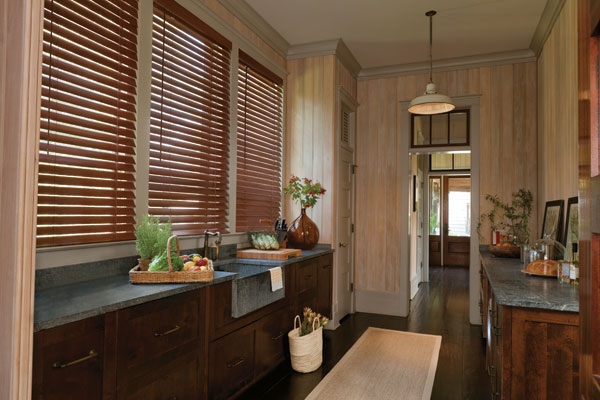 Source: Blindsgalore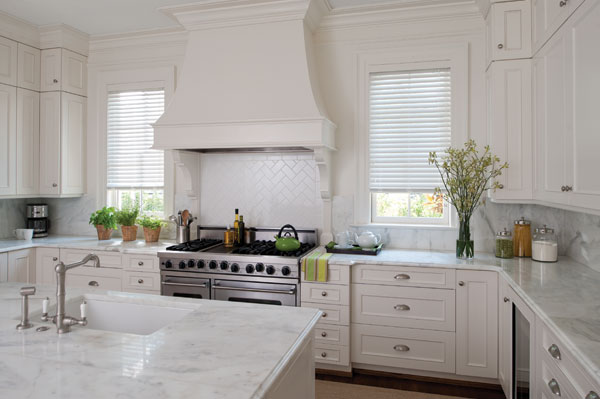 Source: Blindsgalore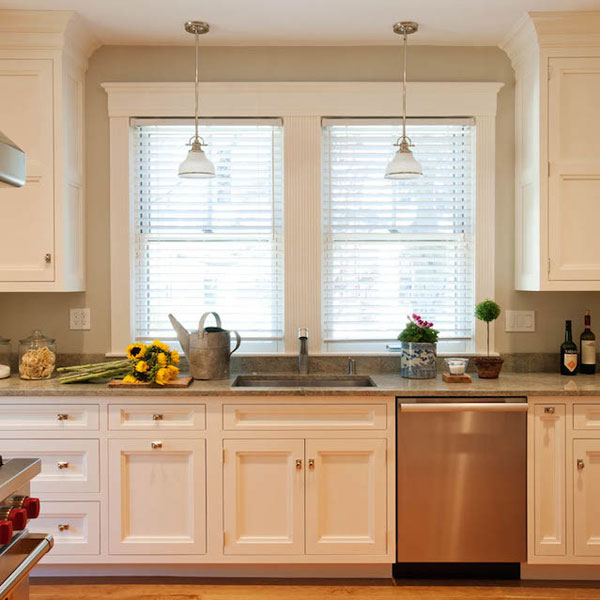 Source:  Crown Point Cabinetry
Since so much effort is put forth in the kitchen and so much love comes out of it, treat this special room right by having it set up for your comfort and style. Control the incoming heat and light while adding to your décor. You're not going to want to make grandma's meatballs or mom's pecan pie if you're the one being baked and blinded by the sun.
Treat your windows so you can continue to treat everyone else.