Few interior design elements are so classic that they truly never go out of style. Shutters are a prime example of a common detail in a home that has been around for centuries, yet is still sought after as a feature in the newest of homes. Similar to an updated bathroom or kitchen, investing in Shutters only adds value to your home. Another perk is that the value added is not limited to the interior of your home. Shutters are just as attractive from the outside as they are on the inside, definitely benefiting your home's curb appeal.

While some iconic interior design elements only fit into a specific design style, Shutters can blend in with traditional, transitional, and contemporary styles. What makes them classic is their history in traditional environments and how they can be seamlessly incorporated into modern homes. Shutters can enhance the look and mood of any home with their timeless and beautiful structure.
Traditional
For traditional, classic homes, Shutters enhance the warm and comfortable feel if your design style leans toward vintage or historic.
Sources: Martha O'Hara Interiors, Trend Decor
Transitional
Since transitional homes are a blend of old and new, Shutters are a flawless window treatment to complement a varied combination of color palettes and mixture of eclectic tastes.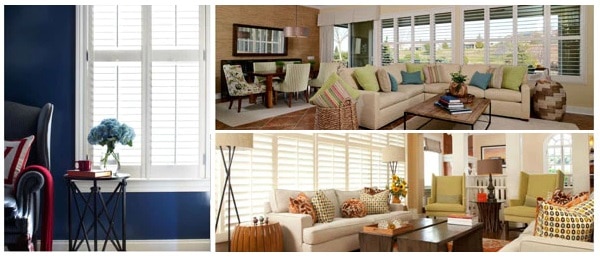 Contemporary
Whether your home is vibrant and colorful or spare and reserved, the clean lines of Shutters create a perfect background for any of today's modern homes.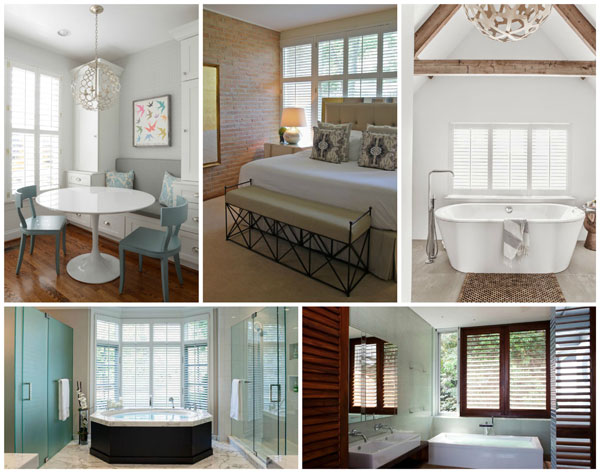 Just as Shutters can blend with different decorating styles, they are also suitable for varying room environments because the choices of materials are so varied. Vinyl Shutters are lightweight, durable, and easy to clean, making them ideal for humid environments like bathrooms and kitchens. Composite Shutters are made from a blend of real wood and synthetic materials, creating a stable and attractive shutter that resists dings, warping, and fading. Available in painted whites and rich stains, Hardwood Shutters are the most classic choice and provide a natural charm unmatched by the other materials. While budget, environment, size and weight restrictions all need to be considered, with the range of shutter styles and materials, there is sure to be a fit for any room or need. Our Blindsgalore Shutters are available in a variety of choices from standard or custom window sizes to Bi-Fold Plantation Shutters and Sliding Plantation Shutters.
Source: Pippa Jameson
Moving past the composition of Shutters, further customization options allow them to be a match for any window. Different louver size options help create the perfect scale depending on window size. Always cord-free, they are ideal for homes with children and pets. In addition, further customization of our Blindsgalore Shutters can create a match for any window. Different louvre sizes help create the perfect scale, depending on the window size. Always CORD-FREE for peace of mind, Shutters are ideal for homes with children and pets.

Circling back to the range of decor styles that Shutters can complement, below are inspirational concept boards to help illustrate the range that can be reached with this quintessential window treatment. To fit right in with a traditionally decorated home, available options might include a front tilt rod, bi-fold panels, combined with a classic frame style featuring decorative details. A transitional styled home would benefit from Shutters with an off-center divider rail in a soft ivory finish to harmonize with a variety of other home furnishings. To integrate well into a contemporary home, choose shutters featuring a simple, clean lined frame, rear tilt rod, and stainless steel hinges.
Traditional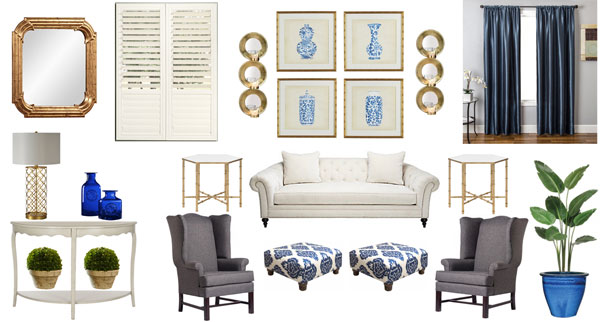 Transitional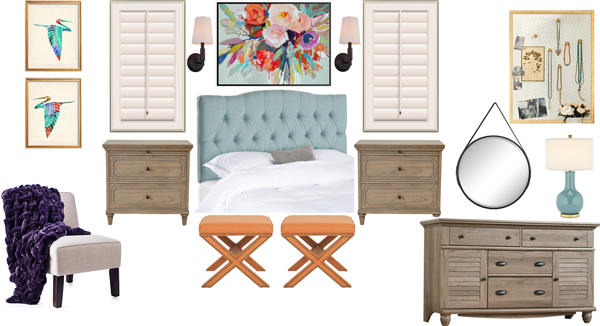 Contemporary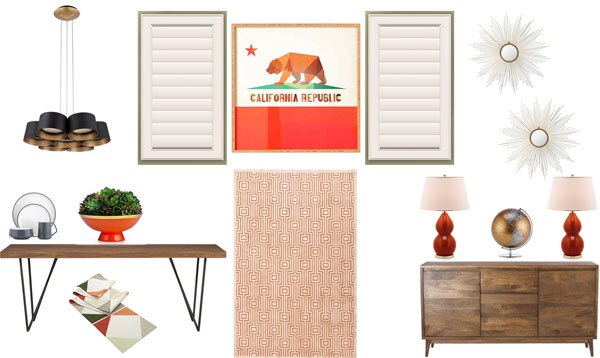 Design is IN the details and classic Shutters are a timeless choice to complement your existing style that will always grace your personal look.