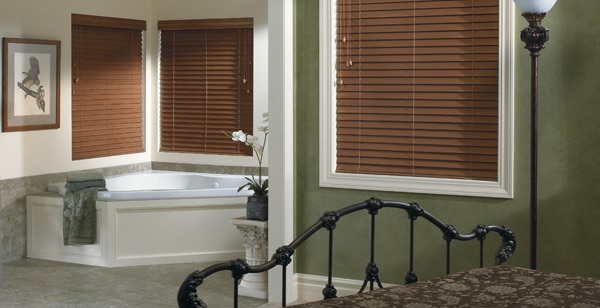 Designing your room is the fun part, but it pays to be a bit technical in the beginning and know what type of window frame you have before you start shopping for blinds. For example, more traditional homes in areas like Massachusetts will often have beautiful wood trim windows that can complicate the installation process. And, many people don't want to drill into the handsome wood trim. In homes like these, it may be easier to get outside mount shades or blinds. Plus, an outside mount will allow overlap and additional privacy at the sides of the shade.
Newer homes and more contemporary homes often have a drywall return to the window without any wood trim. This type of window frame will accept any kind of window treatment, from roman shades to wood blinds, solar shades, cellular shades,rollers and more. The main thing to know is the mounting depth that is required for your shade, and whether or not you want a flush mount. Flush mount means that the window shade will not extend beyond the opening of the window frame top. Each manufacturer will list the minimum depth required for each type of window shade and blind, and will offer different types of mounting brackets depending upon your mounting depth.
If you are considering shutters to enhance the look of your Massachusetts home, you will need to really understand your window frame, the available trim options and the overall look you want to achieve. Because shutters are a significant investment, you may want to have a professional installer measure and install them for you to avoid costly mistakes. Shutters will enhance the value of your home and the best part it, they can stand alone and don't need anything else like a valance.
In Massachusetts, some homeowners prefer drapery instead of, or in addition to, blinds or shades. With drapery, the main consideration is where to mount the drapery hardware. Some questions to ask yourself: How high do you want the pole? Do you want to create the illusion of height by mounting it close to the ceiling? How long are the drapery panels? Do you want them to meet the floor, or form a slight puddle at the bottom? Once you determine that, you can then choose the fabric, pleat styles, hanging, and trim options.
You might find watching our installation videos helpful before you decide on which type of shade and which type of mounting style you prefer. And as always, please call us if you need advice!