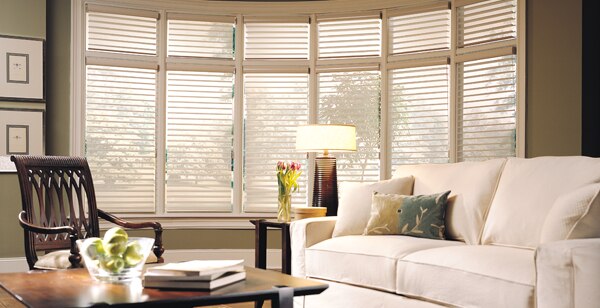 In the last 10 years, energy efficiency guidelines have encouraged businesses to take up the charge and make window coverings that are not only good for the planet, but will save customers money in the long run.
It used to be that being eco-friendly meant emptying your pocketbook. But as companies have wised up, they are finding that affordable window blinds bring them more customers, meaning prices are lower than ever, and the styles are endless. However, be choosy and try to get the very best that you can afford, as quality parts and materials last longer, which means they break less and won't get thrown in the trash, and they'll be worth your investment.
Solar screens used to be prohibitively expensive, but are now widely available at much lower prices in plenty of different materials and colors. Solar screens can block up to ninety percent of the sun's harmful rays and heat, which means you can keep air conditioning costs at a minimum. Solar screens won't compromise your view while also protecting you from experiencing too much glare and brightness.
Faux wood blinds have a quintessential warm look in that yes, they look like wood, but are actually made from recyclable materials that will fool even the cleverest of eyes. Faux wood blinds look like the real thing, but actually have durability and strength that will outlast actual wood. Choosing faux wood blinds will make you feel good about preserving the natural resources of our environment while enhancing your home with the look of masterful elegance.
Cellular shades, also called honeycomb shades, resemble regular window shades in appearance; the difference is that they have pockets of air within their seams. These pockets help to insulate the room, keeping it cool or warm and reducing energy costs. Cellular shades also have the added feature of helping to block out noise, making them a good choice for light sleepers or in urban areas. You can order cellular shades in varying cell sizes, colors, opacities, and light filtering options.
Essentially, in staying eco-friendly, you want to get quality products that keep the summer heat out, and the warmth inside during winter. Paying for quality may seem expensive at first, but will eventually save you plenty of funds for your piggy bank. Heating and cooling costs will both decrease, which is nothing to laugh at these days.