If you are like me, you are spending a lot more time at home working and and being secluded for most of the day. Since the hours seem to be endless and here in Southern California, the summer here doesn't really begin until the beginning of July as we are finally over "May Gray" and "June Gloom." Even though I can't really complain about the weather, the sunlight does bear down on our homes and I am reminding you of the magic of solar shades. Solar shades, sometimes called solar screens, dramatically reduce incoming UV rays, help reduce the radiant heat coming in through the windows and reduce glare, all while maintaining the view to the outside. For me, I love looking at the ocean and my garden, but the afternoon heat builds up and the sharp angle of the sun is even too much for me, the sun-worshiper. My solar shades do the trick, no matter what season. Solar shades are a sleek and contemporary window treatment to mitigate the heat of the summer but allow us to enjoy our vistas to the outside world, which seem even more precious and untouchable these days.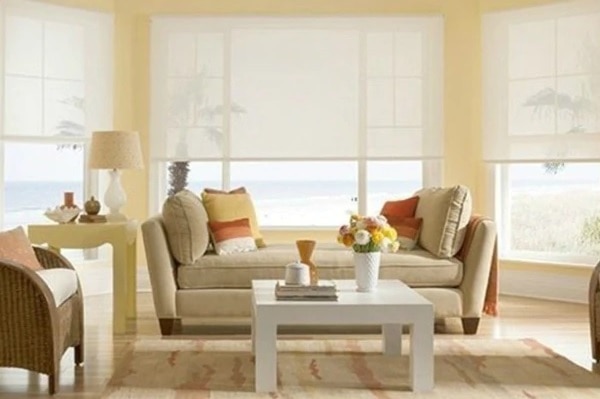 Quick Tips
If you are thinking about solar shades, know that the material has an openness factor which relates to tightness of the weave. Material with a looser weave will have a higher openness value, such as 15%, meaning it offers more view through but also allows more light to pass through. Conversely, a low openness factor blocks more light and provides less view through.  Also, keep in mind that choosing a lighter color solar shade, such as white or cream, will reflect light, brightening and cooling the room. The view through a light colored fabric is similar to looking through sheer drapes. Darker colors, such as chocolate brown or black, will provide the best glare reduction and warm the room with ambient heat. Choosing dark solar screen colors resembles the view that you get from a tinted window. On my patio doors, I had to install two layers of solar screens, one light and one dark, as bright construction lights at night from across the lagoon, shine right into bedroom from 9 pm to 5 am. Yuck! Not only does this double layer keep the blinding spotlights out of my room, but also reduces the blasting noise of the 5O-foot-high construction cranes digging all night long.

In The Living Room
A popular room for solar shades is the living room. They won't only reduce the glare in this room, but also provide much-needed protection for your art and other furnishings from damaging UV rays. If harsh incoming light is preventing you from relaxing and enjoying this social space in your home with your friends and family, solar shades are a simple solution to control the inflowing light and heat. The view to the outside will be preserved and the shades can always be paired with drapery to increase privacy in the evening with a level of sophistication. Another benefit of pairing with a set of drapery panels is that solar shades do not provide privacy at night when indoor lights are on and drapery panels can easily be drawn for complete privacy. Together, solar shades and drapery are versatile and extremely functional for both day and night.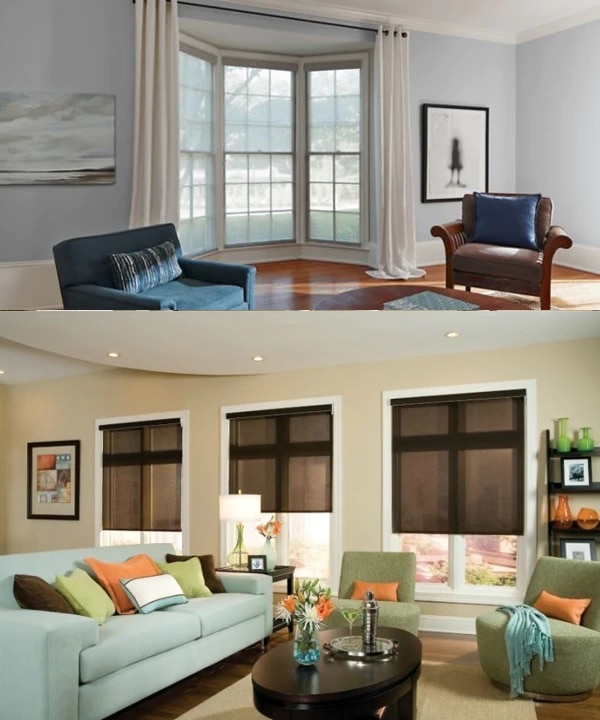 In The Office
It makes it very difficult to work if you can't see your computer monitor or are constantly having to refocus your eyes due to the glare from the windows. Solar shades are an excellent application in your home workspace, now more than ever. Our home offices have become a focal point for many of us, as I had to create a new corner for work. Our garage has become my new office, among two scooters, a vintage motorcycle, my grandson's skate board, a fully loaded tool bench, sewing machine and now, a new niche for me, in front of my old patio solar shade,
newly mounted in the middle of the garage to to shade my funky desk from all these distractions. I hope you are able to carve out a better workplace with new solar shades to reduce the sun's glare, yet keep you engaged with light softly filtering in through the windows. Whether you have a quaint home office or a make-shift little spot, or if you are still in a corporate office, solar shades will help to create a comfortable place for productive work.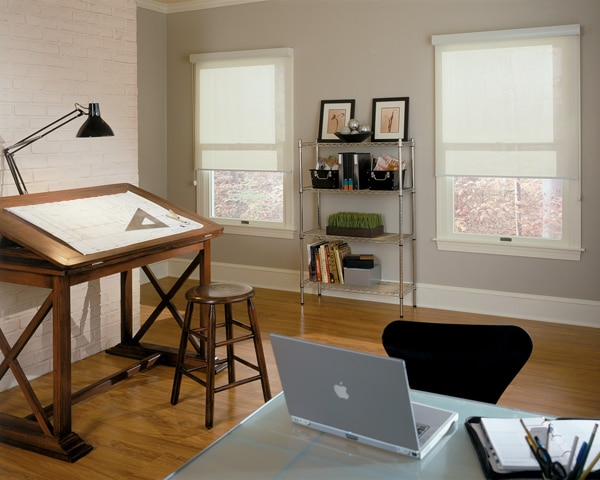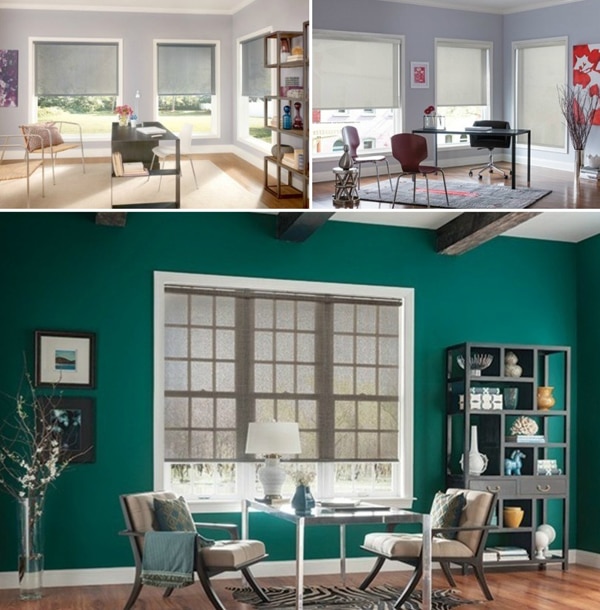 In The Kitchen And The Dining Room
Solar shades are a superb option for the kitchen windows and dining areas. It's hot enough when you're cooking that you don't need the invasive sunlight heating up the room to an even more intense level. Also with the change in seasons, the patterns of the sun change. Some months it may be very pleasant to dine in your kitchen or breakfast nook with the shades up, but when spring and summer roll around, that sun may be just the right height to annoy you and prevent you from enjoying together time with your family. Solar shades cleverly cut down on the harsh light and help to control inside temperatures while still allowing you to observe the view with a minimal, modern window covering.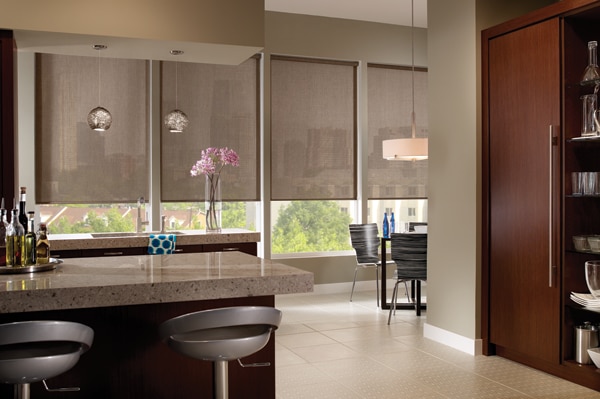 Embrace the warm weather and these longer, luxurious nights, for everything else seems so uncertain now. You can keep your home cool and sheltered as you linger during a few moments of grace where a new destiny awaits us. Your home is the one safe hangout, so make it the relaxing place where these new, unique memories will be revealed.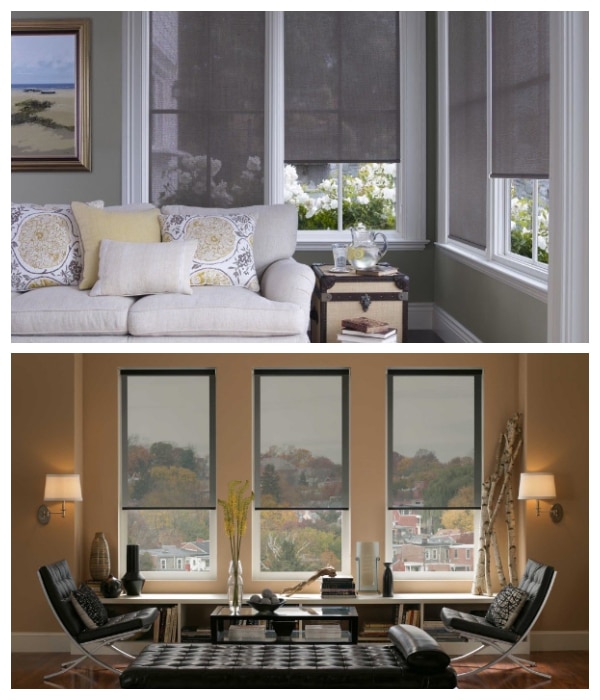 Feature Image Product: Prorab