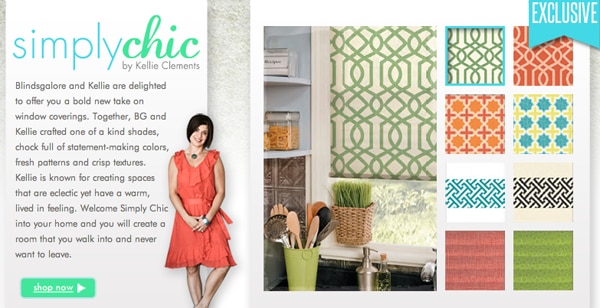 Blindsgalore launched this week an exciting and inspiring new line of window treatments, "Simply Chic", that is truly trend setting.
These designs are fresh and imaginative and will create a unique look for your home, just in time for the holidays. Blindsgalore has partnered with Kellie Clements, a fan favorite on season six of HGTV's Design Star and HGTV's Design Star All Stars. She lives in Edmond, Oklahoma, where she has established herself as an innovator in residential design. She is an accomplished professional interior designer and her warm, modern and eclectic style will invigorate your window treatments.
Kellie and I share the same zest for dynamic windows and think window treatments are often overlooked and under-decorated.
Not anymore! Bold and bright colors are the hallmark of "Simply Chic". Just the names, Lemon Drop, Blush, Calypso make me want to dance.
Soothing organic textures such as Jute, Herringbone and Papyrus, in warm neutral shades, create a tactile, yet comfortable feeling for your home. I can almost feel a calm, gentle wind blowing through my windows.
My absolute favorite in this whole amazing line are the unique modern patterns. Choose from the architectural Trellis Design or the intricate Star Crossed Pattern. Pair these vivid patterns with Kellie's bold color palette and your ideas about window treatments will be revamped forever.
Our new line is a BG exclusive, hand-crafted and custom made for your specific window size and style. "Simply Chic" is made from quality materials with attention to detail and safety to ensure your peace of mind, all the time.
"Simply Chic" makes great design simple and accessible and is a perfect fit for your window treatments, whether your style is bashful or bold.
Welcome "Simply Chic" into your home and you will never want to leave!