Are you dreaming in white, expectantly waiting for the first dusting of snow to envelop the season? I hope an ethereal magic of softness is descending upon you at this time of the year, reminding us to make a place for this peaceful color. I say embrace white. Exploit it and imagine the possibilities of white. White will never let you down or spoil your design dreams. White is unmatched for its clean, crisp and airy look and never loses its trendsetting appeal. White is the ultimate blank canvas to spread all the colors in a wash of magnificent shades or brush a pale palette of muted delicateness. White will cozy up with you, whether you camp out in an apartment, a shabby chic bungalow, a traditional home, a seaside cottage or a modern townhouse.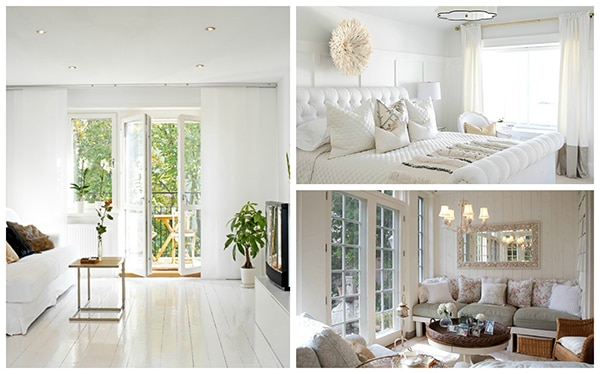 White is really the ultimate color as it is a combination of all the colors in the spectrum and loves to latch on to all the other colors, reflecting and magnifying many hues. It is rare to find in nature or in our simulated white things, a true white, as a whole panoply of hues emanate from a bright white to a buttery white to bluish white and all the shades in between. We can thank the paint manufacturers for overwhelming us with white colors, each with a subtle, almost imperceptible shade difference.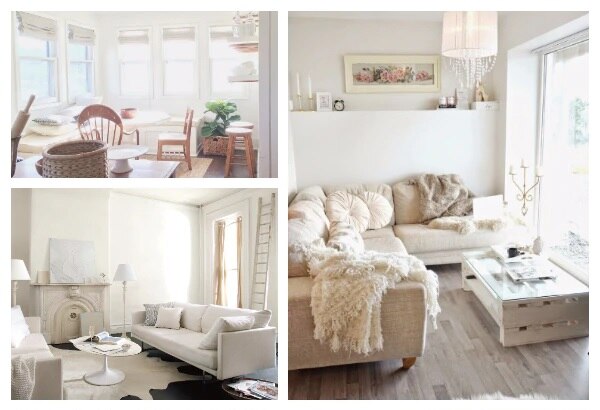 Whites and off-whites continue to be our most popular color of window treatments at Blindsgalore and we currently have 500 white swatch samples that span the spectrum and are available in many of our categories, ranging from Cellulars, Shutters, Rollers, Verticals, Faux Woods, Sheers and many others. Even our color names make you want to dream in white: Snow, Linen, Whisper, Confection, Glacier, Moonlight, Porcelain, Coconut, and Frost. In our "Shop By Color" section, you will find an inspiring array of hues.

White is an evocative and passionate color and can create magic by bringing luminosity and opening up a dark or boxy room. Window treatments can be the finishing touch of white brightness as the sparkle of the day greets us each day. Let's take a look at how to use white to create a warm and welcoming home or room.

Find Many Shades Of Pale
I know that many of you are perplexed by all the shades of white, so it is critical to look at whites in bright sunlight, in a lighted room and at night to determine its chameleon qualities to carefully determine the shade that works for you and if you need to match or coordinate furniture, finishes, flooring, walls or other decorative objects. Try to use varying shades of white, but whites are finicky and don't always like to be friends and might fight or muddy a particular look. The different main families of white don't always mix and match together.

White falls into these 6 main categories: neutral, chalky, creamy, cool, muted and gray. Chalky whites are the pastel colors, giving off a flat subtle feel. Neutrals are those more beige and tan colors that can look yellowish. Creamy whites are soft and blush and "cottagey." Cool whites emit bluish tones that fit a modern, slick feel. Muted whites are old-fashioned and warm. Gray whites are a popular color today for its everyday, comfortable ambiance.
Decide on the particular mood you want to evoke and play with the hues of the color family you have chosen, instead of dipping into many different families that will not get along and create a raucous, discordant room. You can have lots of shades and textures of white, once you decide on one of the above families. White loves to tempt and entice our senses.

Discover Texture
Don't let a white room become flat and one-dimensional, as without texture, white just becomes boring as everything blends in a monochromatic vibe. Include a variety of fabrics such as a nubby linen, a satiny damask or a fluffy faux-fur, even if in the same shade of white. Texture reflects the light differently and can be viewed by the eye as a dissimilar color. You can easily add texture by filling up bowls with prickly pinecones, jagged seashells or a tall vase filled with spiky birch or manzanita branches.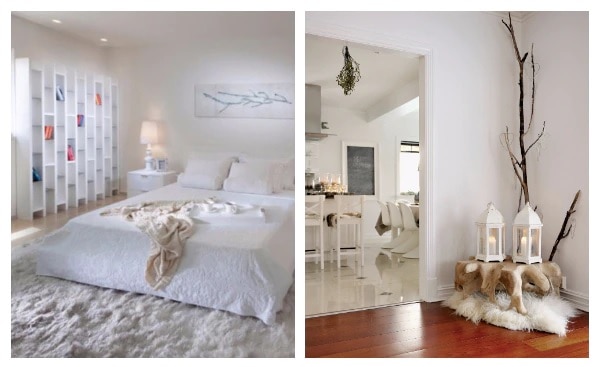 A variety of pillows from needlepoint, to suede to printed silk, add contrast effortlessly. Mirrors serve double duty by making a room appear larger and refract light to make all the white surfaces come to life, creating shadows and depth. A jute or any natural fiber rug is an instant complement to any matte surface.

Woven wood and bamboo window treatments add instant pop and trending now for the natural, tactile feel they impart. Subtle natural Woven Shades with a neutral stripe flow easily in any white room to impart texture.

Texture is imperative in a white room.
Burst Color
Your white room can still be peaceful, as one bold burst of color might be all you need, but if you want a more provacative room, you can use color in many places. Just try to stick to one or two accents of color or you will defeat the purpose of the all-white interior. The most obvious place to add a color is to paint one of the walls or the floor a favorite shade, or plunk down a pastel rug or an acid bright rug. One of my favorite color touches is to add a vibrant piece of painted furniture. For that little extra bit of design, find a funky vintage chair or chest or stool and let that color and shape be the color centerpiece in your white room. A graphic or abstract piece of artwork works well and can easily be changed out as your mood dictates.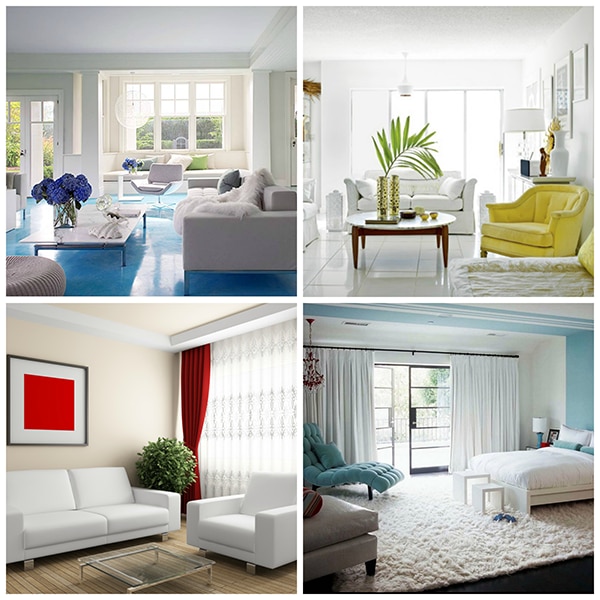 Of course, in my world, be brave and highlight some windows with a colorful attack to uplift the monochromatic color scheme.

Play With Pattern
Patterns can perform magic in a room and are even more noticeable in a white room. Subtle ivory and eggshell vertical stripes can make a room look larger and any alabaster or vanilla floral print can brighten any dark room. Softly shaded textured rugs break up the monotony or a herringbone or a Moroccan pattern contrasts with the spareness of white. Drapery and window treatments which come in a multitude of patterns, whether bold or mellow, floral or striped, checked or dotted, or splashed or linear, visually impact a room with a striking presentation.

Should you veer toward a more subtle touch on you windows, these patterns have a bit of spunk to add variety and interest to an all white décor.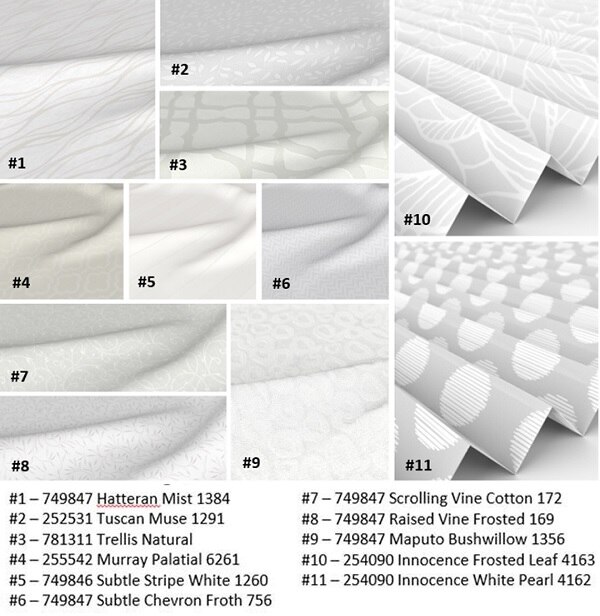 Window treatments should never be overlooked as a perfectly fashioned window completes the room. The color palette of white is wide and intriguing and is a testament to the popularity and versatility of white window coverings. At Blindsgalore, we welcome all our fans who love white window treatments.


Set A Mood
Once you have selected your special shades of white, added texture, bits of color and intricate pattern, all of your choices coalesce to create the final mood of your personal white stamp. Most of us resonate to a unique style, even if happens in a haphazard manner or is carefully detailed. Our most comfortable and pleasing homes don't have to be overwrought or expensive or cluttered, just planned with what you love with a few simple rules. A white room is truly an open invitation to create a place you want to be. It can be romantic, classic, boho, modern, country, beachy, shabby chic; or just chuck out all of those impressive labels and make a room meaningful and happy for you!

What still is most important is that home is where you get to decide what matters the most to you, regardless of style, color, design rules or any other fancy ideas. Let your home tell your story.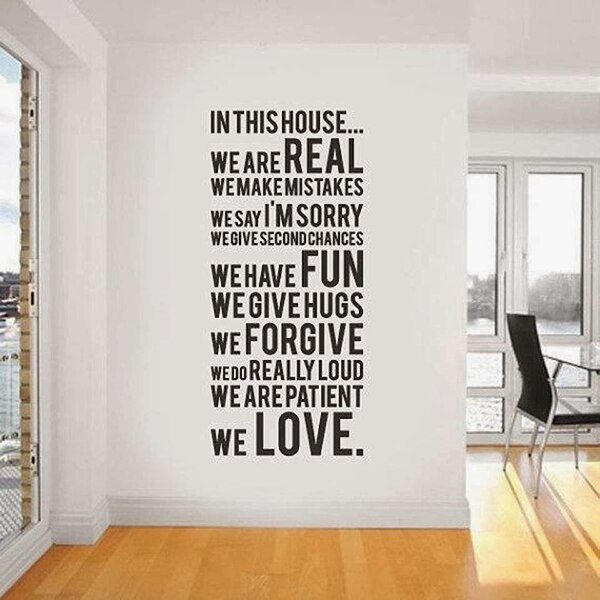 Featured Image Source: 365 Greetings