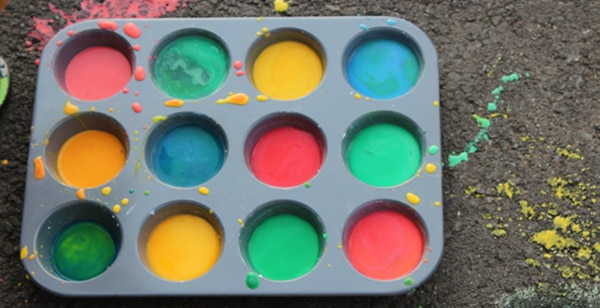 Hopefully, summer is coming your way, even though the weather patterns seem to have been seized by the evil climate gods, plotting the demise of sun and fun and "the incredible lightness of being" of our favorite season. To avenge these moody days (here in Southern California, we call it May Gray and June Gloom), I have put together 11 easy ideas to saturate your home with color and brightness and banish any dark spirits lingering around your doorway.
1. Chic Watering Cans
Salvage an old metal watering can from your garage, backyard or flea market and grab some paint and pop some color to bring this iconic shape to life. I think this vintage garden accessory looks even more chic as a decorative piece in your home.
If you are feeling artsy, stencil on multicolored dots or paint a summer garden scene. Inside or outside, your new garden "objet d'art" will make you smile.
2. Bright Mirrors
Mirrors reflect and spread light and create a dazzling glow, making any room seem bigger. Why not take your ordinary mirror and splash on a vibrant color or take a quick jaunt to your local discount designer store and grab one ready for you to hang. I just found a luscious turquoise one at my "Homegoods" store and snatched it up quick as a wink.
But, gosh, I love these, too.
3. Dazzling Walls
If you are feeling especially dreary, just one small can of paint and one wall or just a teensy bit of a wall can uplift any cloudy day.
4. Dreamy White Bedrooms
White is a color, too, and a dreamy way to soothe your spirits after a hectic, hot day to help you drift away on a cloud. An all white bedroom is always all right! Ruched duvet covers and sheer drapes make any bedroom float.
5. Powerful Purples
Purple always packs a punch and reminds me of grape kool-aid and my Mom's favorite summertime treat, grape ice cream, cranked by hand with her homemade vanilla ice cream recipe, spiked with grape juice-an awesome color and soooo good. The color was so outrageous that we had to eat it outside, lest we stain anything purple inside the house. You can enjoy purple in lots of ways, but if purple is too much for you, just make a batch of ice cream which never fails to please everyone.
6. Vivid Blooms
Nothing refreshes and adds a spot of color like a gorgeous flower- nature showers us with glorious color that is unmatched by any paint palette. You don't need a bounteous, stylized bouquet, just a few bright stems of tulips, peonies, sweet peas or iris or whatever flower beckons you to become part of your decor of the day.
7. Secret Closets
If bright color scares you and overwhelms your design spirit, but you are feeling color hungry, paint a closet. No one needs to see it but you, and it can be a secret that makes you happy every time you open the doors.
Strike a colorful note in the kitchen by painting your favorite bright hue of blue inside a kitchen hutch.
8. Snazzy Slipcovers
Slipcovers have been updated in styles, colors and fabrics to instantly update your couch or armchair-not your grandmother's or cheesy cabin get-away decor, but a chic and fashionable way to slip on sheath of fabric, just like your favorite summer sundress; a cool and breezy look.
9. Fun Fireplaces
Another white idea-banish old, traditional red brick fireplaces…so yesterday. I just coated my brick fireplace with glossy white paint and my living room swooned…modern, fresh, classy, bright!
10.  Super Seashells
Are you dreaming of a beach retreat but can't seem to fit in the sand and surf this summer? Just gather a bunch of seashells or a handful of starfish or sand dollars; pick your favorite color and infuse these beautiful beach shapes with those hues. I love blue to remind me of the sparkling azure ocean.
Pastels are just as reminiscent of a calm summer day.
Gold and silver add a luxurious touch and glow for sparkle.
11. Variety of Valances
As for your windows, a valance can add unique style that can change on a whim. Think of a valance as any topping for your window, a little, "piece de resistance," that can be fanciful, fun and seasonal or just downright funky. This is not your perfect decorated window treatment (I know, sometimes you just have to let go and toss out the rules). Anything works here…knotted ribbons, children's artwork, scarves, driftwood, embroidered handkerchiefs, fabric scraps. Windows crave attention.
Now, pick your color and burst your home…
Cheer up!
Color up!
Create up!