Whether you like to cook or not, we love to eat, get together and gather around the kitchen, one of our most used spaces in our homes. Good kitchens are at the heart of this activity and we certainly want this spot to be a colorful and lively place to hang out. Kitchen window treatments are often an afterthought, but with so much going on with cooking, cleaning and all the other hardworking stuff happening in this centerpiece of our home, let's see how we can choose the best window coverings to complement our kitchen tasks.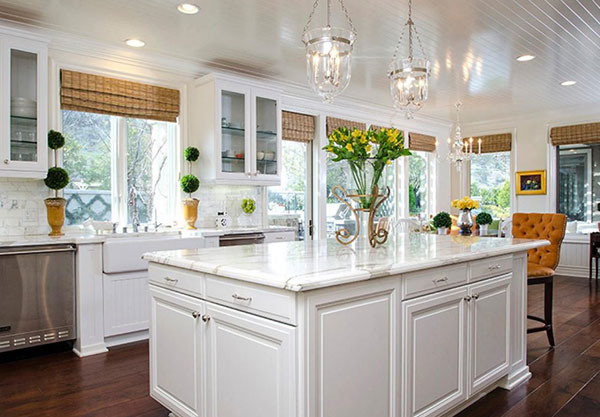 Need Clean?
Many of us have windows over or across a sink or stove and if you are like me, a whirling dervish, tossing dirty dishes and pots and pans in the sink, scraping bits of burned pasta from the stove or wiping up grease splatters, an easy to clean window treatment should be on your window shopping list.
Faux Wood Blinds and Shutters
Faux Wood Blinds can take the abuse of water splotches and messy spots and can be wiped easily with a damp cloth and won't warp. If you have a wall of windows across this area, these PVC built blinds can be a real dynamo choice for this busy workplace. Faux Wood Shutters are always one of my favorite choices, being easy to clean and offering a timeless, refined look to your kitchen. Shutters are always a flawless choice anywhere in the home. However, in the kitchen, Shutters need a bit of extra attention to maintain their beautiful integrity.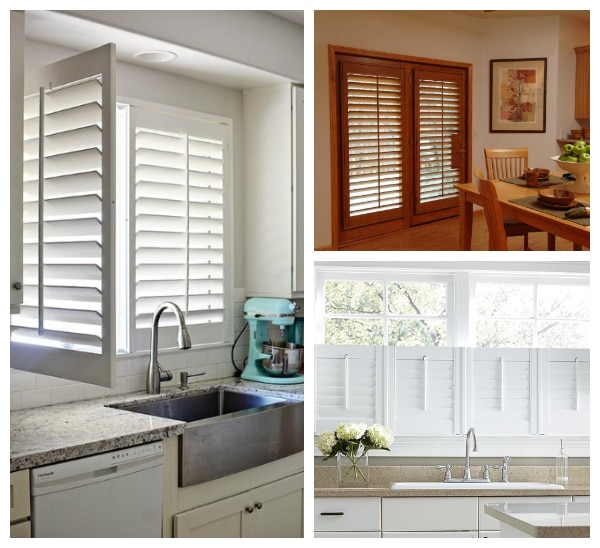 Solar Shades
Solars are another option for those messy places for an easy clean up as they only need to be wiped down with soap and water. Solars offer a minimal look and as an added bonus they keep out the glare but let you enjoy the view as you work in the kitchen. Nobody wants the sun shining in your eyes as you do the daily "dish dog" duty. Solars are slim and modern and a no hassle window treatment.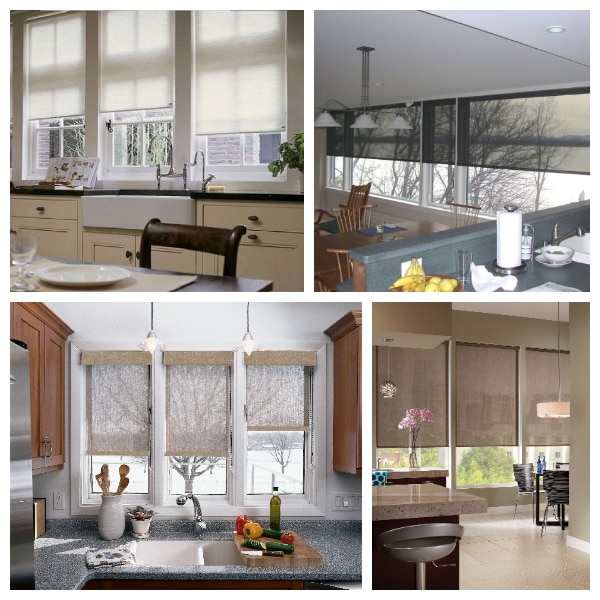 Need Color?
For those kitchen areas where you want to energize a neutral space or color is what keeps your juices going, color as a stand alone element or color in a pattern can be accomplished with the right window treatment. Since we spend so much time in our kitchens, let's make them bright and happy and uplifting.
Roller Shades
For your breakfast nook, dining kitchen area or island bar, Rollers with sprightly patterns or one of our many chic solid colors will instantly zing up any plain kitchen. Rollers cleanly fit seamlessly into the window and when rolled up into the frame, brighten your view and mood when tackling a challenging recipe or picky kids. Anything is possible with a Roller Shade. Choose a fabric Roller Shade for these non-splattering, more design-worthy spots when you want to add variety and style.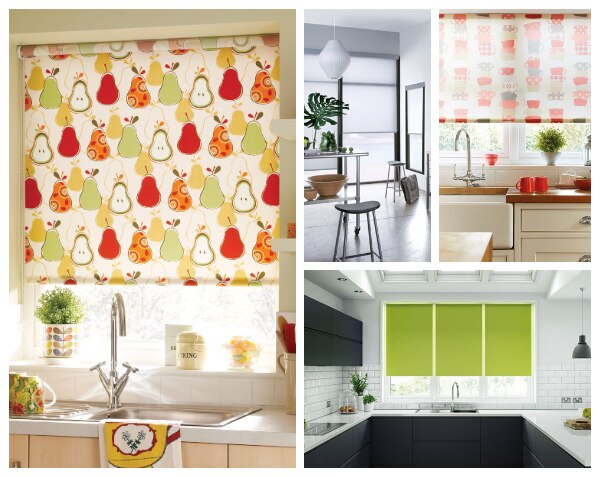 Cellular Shades
Cellular Shades are another smart choice for the wide assortment of color for any decorative scheme which lend themselves to a bold statement across a bank of windows. Cellular Shades are phenomenal in increasing the energy efficiency to keep you cool or warm as you heat up your kitchen space. These shades will bounce back as you open and close them, always looking brand new, splashing your kitchen with an easy comfort.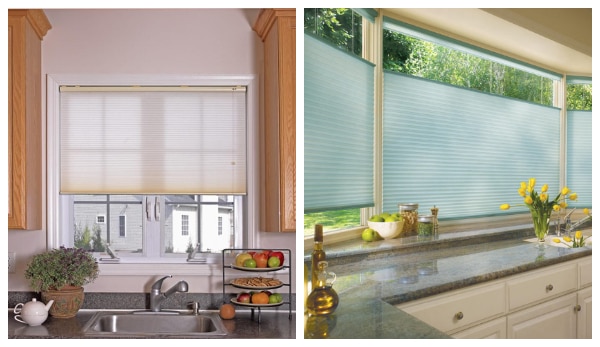 Need Design?
For a stylish, eye-catching kitchen, choose either soft and luxe or textural and organic. By introducing visual impact via your window treatments, a boring blah kitchen will no longer bother you.

Woven Woods
An all time favorite of mine are Woven Wood Shades. Our renewed interest in natural and handmade things couldn't be more apparent when designing with Woven Woods. To offset all the stainless steel and other "hard" surfaces of our kitchen appliances, these nubby and tactile window coverings are one of a kind which are really woven from grasses, reeds, jutes, bamboo and other naturally grown materials. Many of our kitchens are white or neutral and by adding the character of Wovens, our kitchens become more dramatic. Woven Woods are quickly becoming a subtle but impressive window treatment in our homey and comforting kitchens.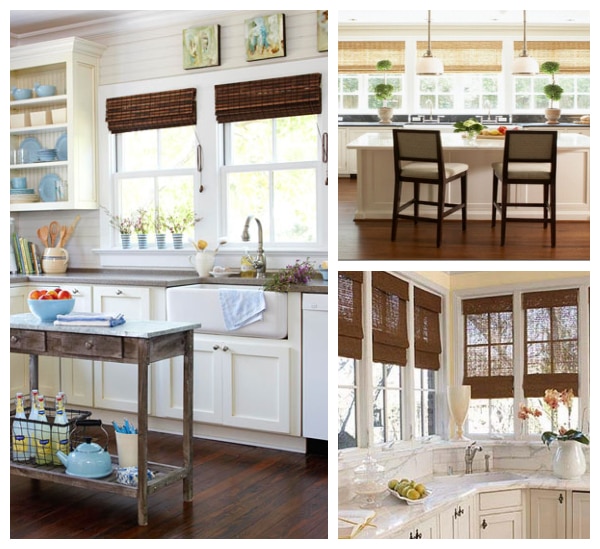 Roman Shades
Roman Shades add the beauty of a soft drapery look but create a more contemporary, relaxed feel for a more fashionable kitchen and dining area. Patterns, stripes and subtle patterns can personalize your kitchen for a light and graceful feeling. Decorating with Roman Shades imbues any kitchen with flair and sophistication.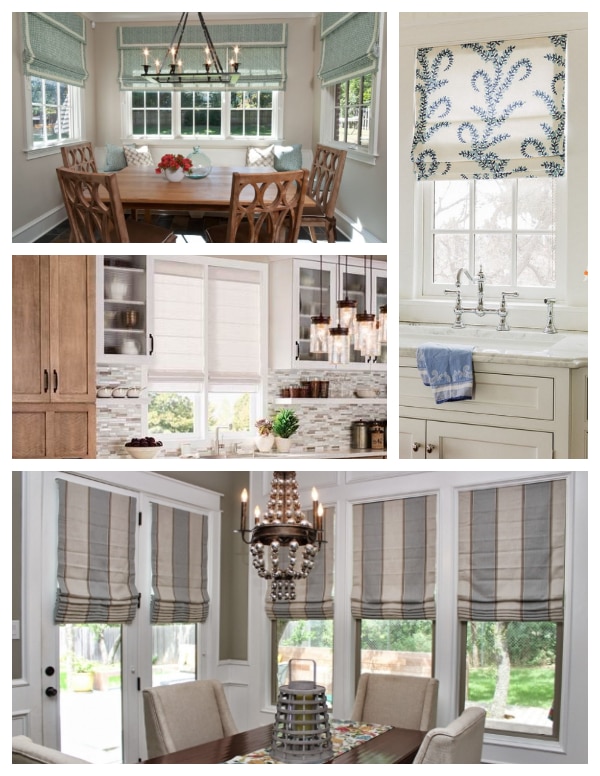 Whatever kitchen style is calling your name …be it sleek and modern, or colorful yet traditional, or coastal and sunny, or warm and natural, or retro and funky, Blindsgalore has it all right here, custom designed for your kitchen windows, your way!
Need More?
"Kitchen time" can be all-consuming. I am never one to pass up a few good design ideas to send your way when the kitchen in my home is always brewing with tempting aromas, sweet temptations and well-seasoned times.
– Cook in color with any of the bright KitchenAid mixers, an indispensable item in my kitchen . Honey is the new color but check out the enticing array of choices.

Source: Food Network

– Tier up with a woven countertop fruit and vegetable basket.

Source: Pinterest

– Score some splashy new barstools.

Source: Decoist

– Punch up your backsplash with simple geometric patterns or flaunt with florals.

Source: Designferia

– Display a whimsical display of whimsical vintage inspired kitchen towels at zazzle.com.

Source: Zazzle
However you whisk up all the new ingredients for your kitchen, I know it will all come together in a tasteful way.