As we embark on our journey for 2018, I find myself reflecting on what I would like to change. I love to freshen up at the beginning of every year and utilize my home as a blank canvas. Last year, for many of us, was a rollercoaster derby and I must say I am looking forward to a clean slate. As an interior designer, one of the first things that comes to mind is how to refresh my living spaces. It can get quite expensive updating every year, so I am always looking for new ways to spark change in my home that doesn't break the bank. I find one of the quickest, easiest ways re-energize a room is to change the color palette. Color can uplift and rejuvenate, relax and soothe, and everything in between. It is the foundation upon which many different industries build their stories and spark inspiration in the media and with consumers. In years past, we've seen colors take the design world by storm. These colors were so inspirational that the shockwave radiated into fashion, interior design, and beyond.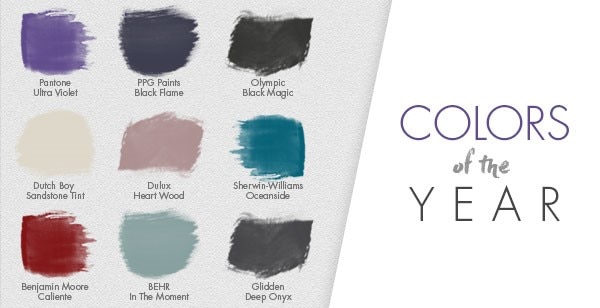 At the end of the year, color companies forecast and announce their colors for 2018. These new hues of paint stimulate creativity and stir excitement for the biggest color reveal from Pantone in December. Lucky for us, the wait is over. I am pleased to present the colors selected for 2018, including Pantone's Color of the Year and creative ways to introduce each of them into your home.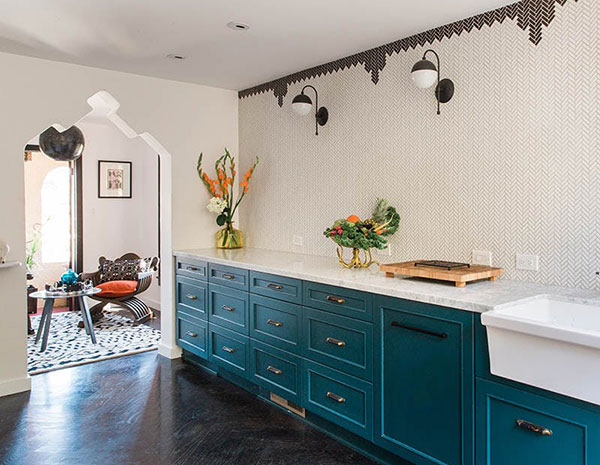 Heavy Saturation
Both Sherwin-Williams and Benjamin Moore moved away from the softer tones we have been seeing in recent years in favor of bold, infused colors. Benjamin Moore opted for a color that has vibrant energy and a name to match its fire. Caliente is eye-catching, not for the faint of heart, and ideal for a feature wall or piece of furniture such as an accent chair or nightstand.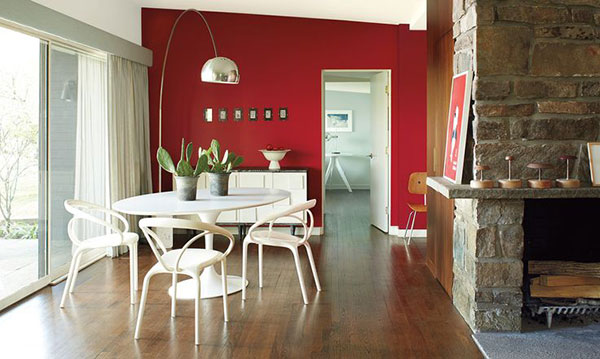 Its neutral base lends perfectly to the show-stopping red front door. I recommend painting the interior for even more drama. Where Benjamin Moore went hot, Sherwin-Williams went cool by introducing Oceanside as their color of the year. This rich teal blue is meditative and inviting, perfect for complete room domination or as an accent.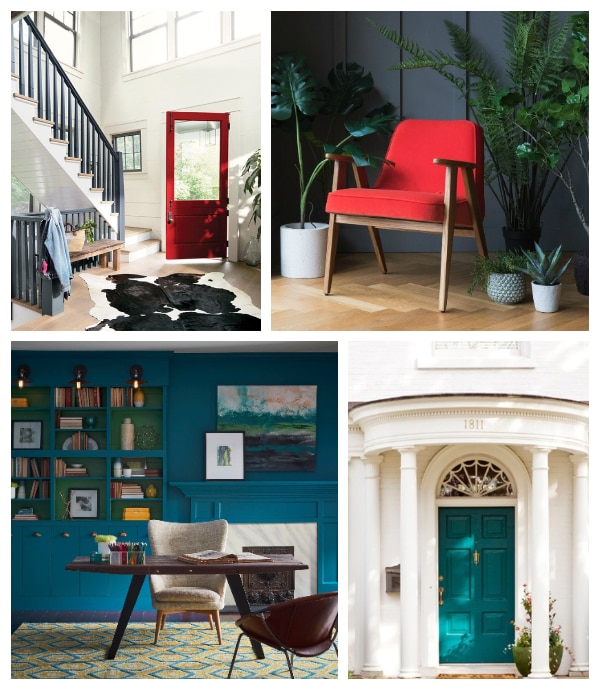 Like Caliente, Oceanside also serves well as a furniture accent, such as a sofa or buffet, to a neutral palette room, as well as a finish for permanent structures such as kitchen cabinets. Both of these bold colors also lend themselves perfectly to roman shades. I recommend a flat fold with a seamless front for patterns or a classic European fold, which is swiftly increasing in popularity, for solid colors.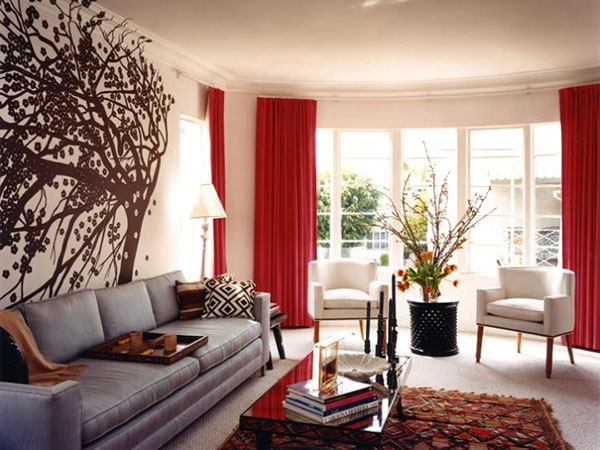 Pitch as Night
Black is back in a big way. PPG Paints and two of its brands, Olympic and Glidden, are featuring shades of black for 2018. This starry night stunner isn't just for your favorite LBD, it is a fun addition to the home as well. Black, whether glossy or matte, paints a beautiful feature wall or fully saturated small guest bath. Its dark personality injects daring flare and drama into any space even as an accessory, such as a piano-finish coffee table or wooden railings. I am a strong believer in the power of dark hues and adding them to every room in some way. Black is such a classic color and its palette translates onto any surface or medium.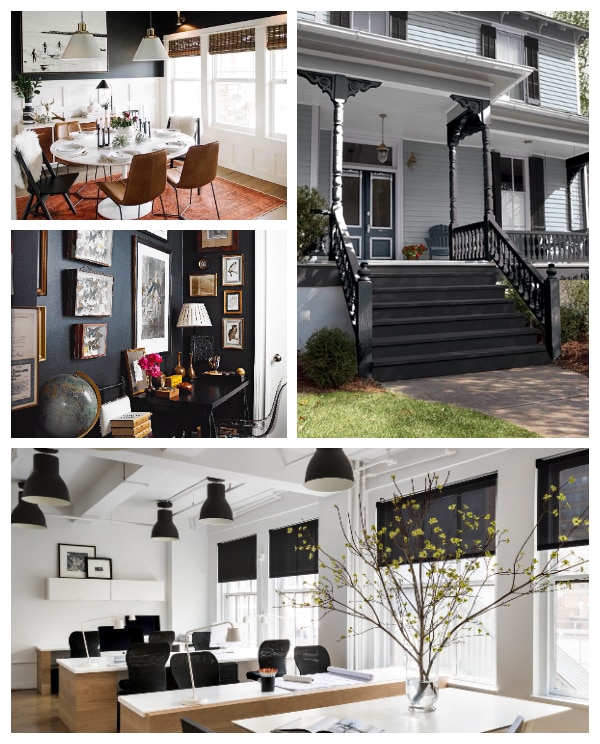 PPG's Black Flame features slight undertones of last year's new neutral, Deep Indigo. Glidden offers up a direct, streamlined black in Deep Onyx and Olympic's Black Magic is bold and sophisticated, perfect for making a statement. Want to add black to your windows? Paint the frame and interior of your window casing black and add roller woven wood shades of the same tone to add flare and drama to your room. Our Boutique Natural Roller Shades have several beautiful options to create drama.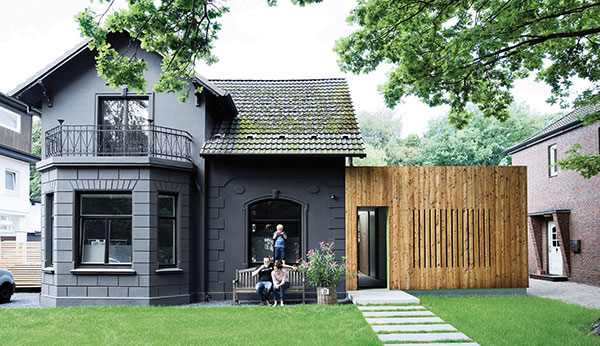 Subtle Statement
There is something to be said for soft, subtle tones and the calm energy they imbue. Not all color companies are going for the loud, wow factor for 2018.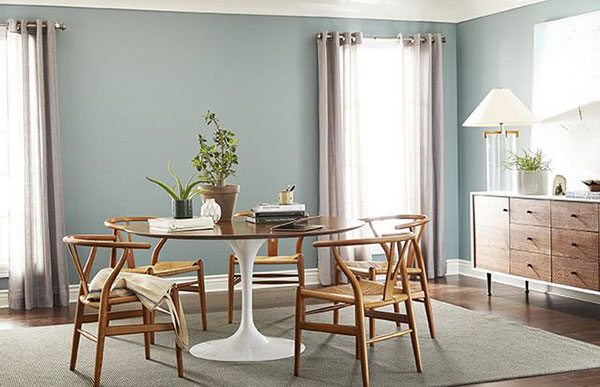 BEHR, Dutch Boy, and Dulux all selected softer, dusty shades as their color of the year. BEHR's In The Moment is inspired by nature and is hued in the most lovely spruce blue tone. This is the kind of color that quietly demands to cover all the walls and provide a relaxing backdrop in your sanctuary, the home.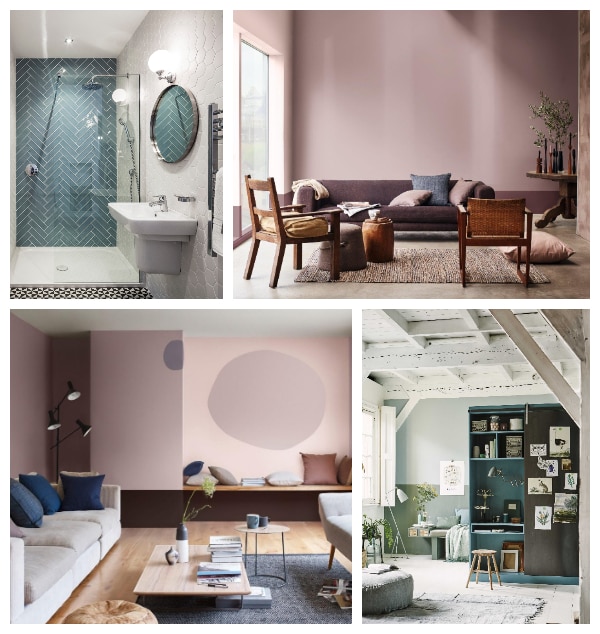 Dulux opted for a spin on the wildly popular Millennial Pink. Their Heart Wood is a blush pink in a dusky hue with a touch of lavender undertone. This color provides a beautiful canvas for a gallery wall or feature wall in a primarily neutral room and is also beautiful on bedding and accent chairs. For those of us who favor neutrals, Sandstone Tint from Dutch Boy is a subtle but rich shade.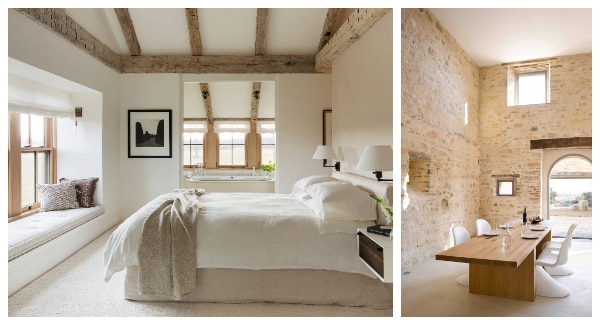 This toasty neutral dips into the warmer light taupes that have been absent in recent years. Inspiration can be found in this color for more than just paint. A heavily textured wall created from natural materials or a pickled floor are just a few ways to be creative with this not-so-boring neutral. Of the three colors, Sandstone Tint is also the most likely to make its way into your window via wood blinds in a weathered wood finish, like our Blindsgalore Premium Wood Blinds in "Tilla Sand", or roller shades in a bold pattern, such as Bali Roller Shades in "Reception Scarecrow."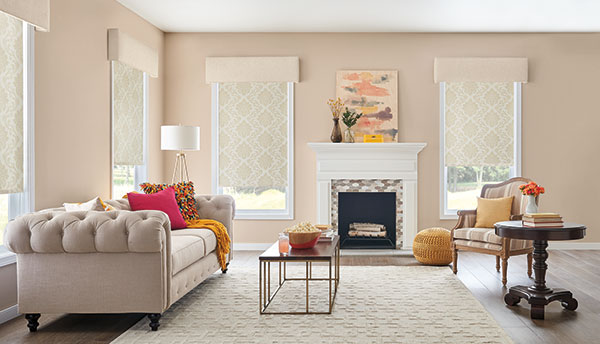 Pièces De Résistance
The color that the design world waits on baited breath for is Pantone's Color of The Year. In December, on the second Friday to be precise, the wait is over and the color that is selected to inspire the year to come is unveiled.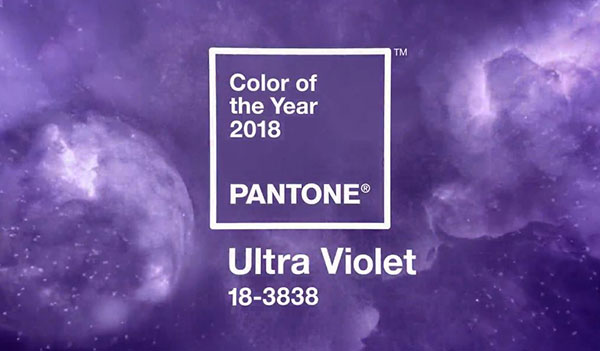 This year's CoTY, Ultra Violet, is a bold shade of purple, reminiscent of Prince's Purple Rain. This complex and dramatically provocative hue "suggests the mysteries of the cosmos, the intrigue of what lies ahead, and the discoveries beyond where we are now". As a color, purple combines the calming stability of blue and the fiery energy of red. It is considered a royal color and symbolizes luxury and extravagance. Often used in reiki and meditative spaces, Ultra Violet is associated with the seventh chakra, the crown chakra, considered the body's connection to spiritual awareness and the gateway to the cosmic self and universal consciousness. While Pantone's CoTY was originally designed to be a mirror for what's trending and coming in the world of design, the color team that researches and selects CoTY have come to understand that it has become more than just color for design but a reflection of what's needed in the world we exist in at the moment.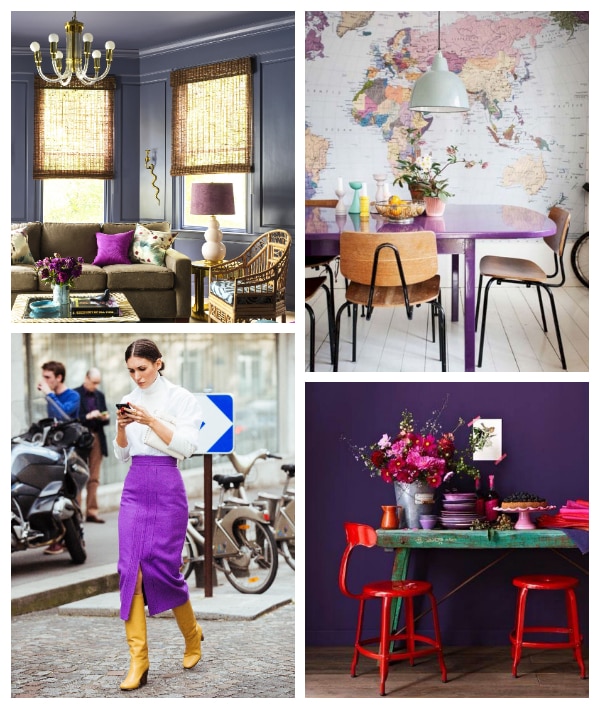 I would suggest adding a bit of cosmic wonder to your wardrobe or home as an accent more than four wall full saturation. This color is so bold that only rock stars, like Prince, can don it as an entire outfit and most rooms will be overpowered by more than an accent chair, drapery, or rug.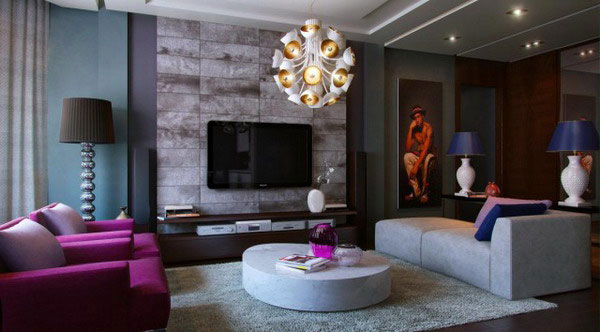 Whether they are soft and calming or bold and invigorating, the range of colors for 2018 are sure to find a fit in your home. If you are like me and feel a restless need for change and a décor facelift, pick a color (or three), pop a can of paint and get to work. It will be 2019 before we know it and we will be ready for something fresh and new all over again.
Featured Image Source: Trouvés